Myriam Younes | March 28, 2022
By Myriam Younes
Our most recent Travel Recovery Trend Report explains how the travel industry and travelers alike demonstrated their resilience in Q4 when faced with unpredictable pandemic circumstances, such as the emergence of Omicron. We recently shared our takeaways for the North American (NORAM), Asia Pacific (APAC), and Latin American (LATAM) markets. Here we look in more detail at the story of the quarter for travelers based in Europe, the Middle East, and Africa (EMEA) region. 
1. Omicron Had an Impact, But the Recovery Continued
On the face of it, it appears that the arrival of Omicron did dampen interest in travel in EMEA to an extent, with searches down 35% compared to the previous quarter. However, we also know that a lot of the searches taking place in Q3 came from people booking ahead for the key Christmas holiday period, and much of that demand had been met by the time Q4 started. More encouraging was the view back to Q4 2020, with search volumes in Q4 2021 up almost 120% in comparison, and year-on-year demand for lodging seeing triple-digit growth.
Looking at when EMEA travelers were searching and booking travel provides further evidence of greater resilience and an increasingly positive outlook. Q4 demand from EMEA markets was more heavily weighted towards trips later into 2022, with 10% of flight and hotel bookings for trips in April or beyond – the highest proportion of any of the super regions. In fact, searches for trips more than a month in the future grew by 30% in EMEA compared to Q3. Also, as seen globally, lodging cancellation rates fell back during the quarter, as people continued to travel in spite of Omicron and other challenges.
2. European Cities Continued to Rule
The top 10 lists of most-searched and most-booked destinations for EMEA travelers were both comprised solely of cities in Q4. Of these, only one was outside of Europe in the EMEA region (Dubai), and only one was outside of EMEA altogether, and that was New York. With the summer season over, we saw beach destinations such as Antalya and Palma de Mallorca drop out of the most-searched list from Q3, being replaced by Stockholm and New York. In terms of bookings, there was only one change from Q3, with Amsterdam replacing Edinburgh.


However, unsurprisingly, it's a different story when we look specifically at vacation rental bookings. Based on bookings made via Expedia Group's Vrbo brand, we do see a couple of cities appear in the top 10—namely Paris and London—but the remainder are sunny or ski destinations, such as Playa Blanca in the Canaries or Bourg-Saint-Maurice in the French Alps. The desire for sunny getaways also explains the two destinations on the list located in Florida: Kissimmee (near Orlando) and Davenport.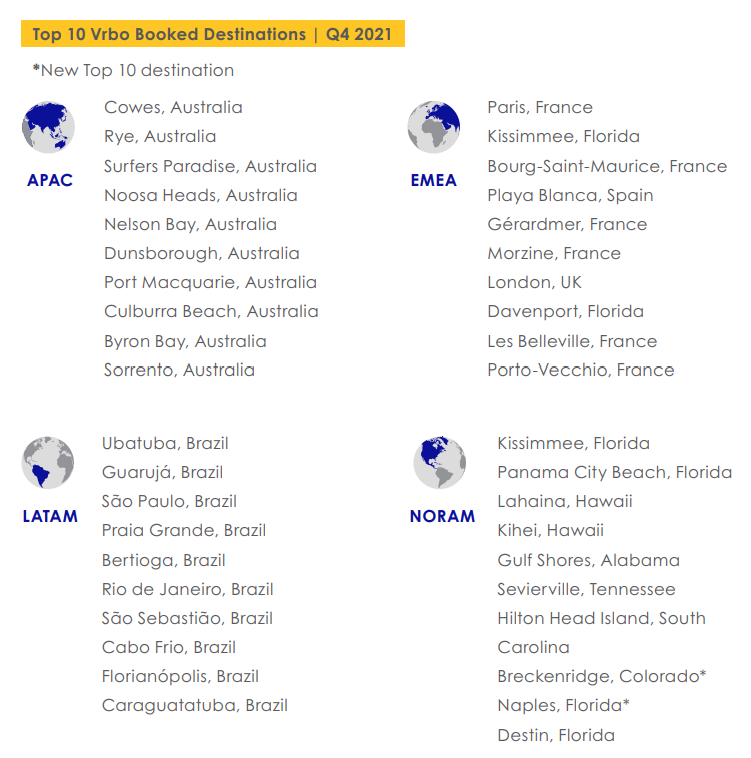 3. They Intended to Spend More, But Valued Flexibility 
Our Traveler Value Index: 2022 Outlook gauged the feeling of shoppers in three key EMEA markets: France, Germany, and the UK, along with five other global markets. The study found that 54% of travelers globally planned to spend more on travel than before the pandemic, and the anticipated figure for the three European markets was $1,660 for France, $1,830 for the UK, and $2,060 for Germany (a figure that puts it in line with the North American markets of the U.S. and Canada). But what the study also found is that EMEA travelers were keener than in other markets for reassurance around that expenditure; for example, a third of those surveyed rated flexibility (e.g., free cancellation and no change fees) as the most important factor when booking flights, making it the most popular offering ahead of discounted fares, free upgrades, or convenient connections.
To uncover even more insights and learn about ways you can implement these learnings into your marketing strategy, join us as Skift Forum Europe, where we'll hear from Ariane Gorin, the president of Expedia for Business.
You can also register for our upcoming virtual Insights Summit on April 7, with a focus on EMEA. Or to find out more about the trends covered here at the global scale, download the full Q4 2021 Travel Recovery Trend Report. This in-depth report is based on over 300 petabytes of first-party Expedia Group data plus the latest custom research.