Expedia Group | November 16, 2023
The latest installment of our quarterly traveler insights look at Expedia Group's exclusive first-party traveler search and booking data from Q3 to show shifting demand patterns and changing traveler behaviors. Our Q2 2023 data showed that traveler enthusiasm held strong, with many travelers seeking out quick trips for events and spring and summer holidays in the Northern Hemisphere. We also see that traveler confidence remains high as travelers plan short- and long-term trips and continue to travel for events. Read on for more insights on 2023 travel trends and behaviors.
Global search volumes remain steady, EMEA shows continued growth
Consumers are continuing to prioritize travel, as indicated by global search volumes in Q3 which held steady quarter over quarter (QOQ) and year over year (YOY). Search volumes remained relatively consistent throughout Q3 week over week (WOW), highlighting a steady drumbeat of traveler optimism.
Following a trend we observed in Q2, Europe, the Middle East, and Africa (EMEA) again showed the strongest search volume growth, with a 10% increase QOQ and 5% increase YOY. This continued interest in EMEA was further supported by search volume growth for several European cities — another trend from the previous quarter — including smaller Italian cities like Brindisi, Catania, and Genoa, along with Dalaman in Turkey, which saw triple-digit QOQ growth.
With holiday and end-of-year travel on the horizon, many travelers are planning early for Q4. In fact, travelers in Asia Pacific (APAC) and Latin America (LATAM) are planning farther ahead for the holiday season and end-of-year travel compared to last year, with YOY searches in Q3 for travel in November and December increasing by approximately 10%.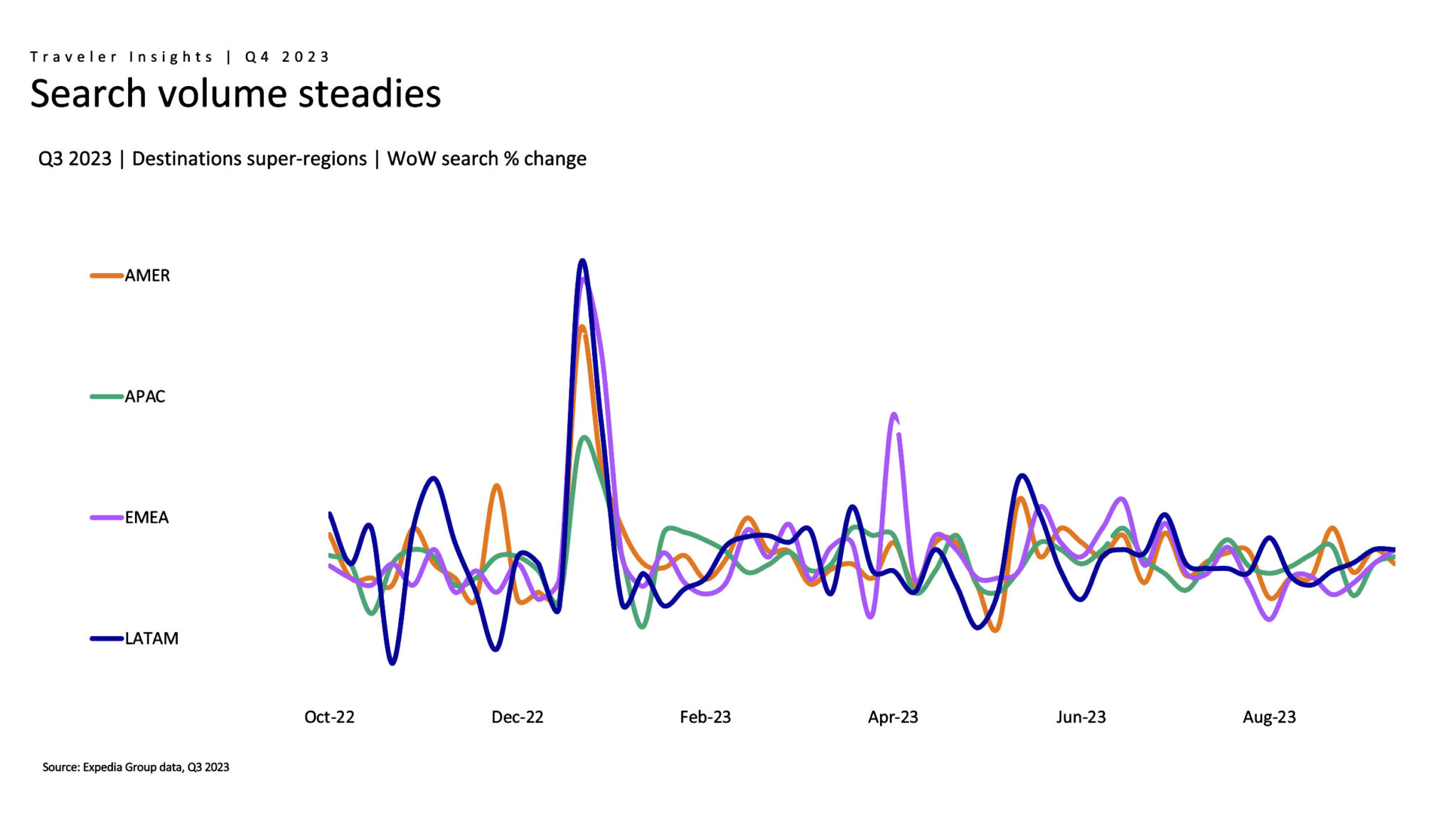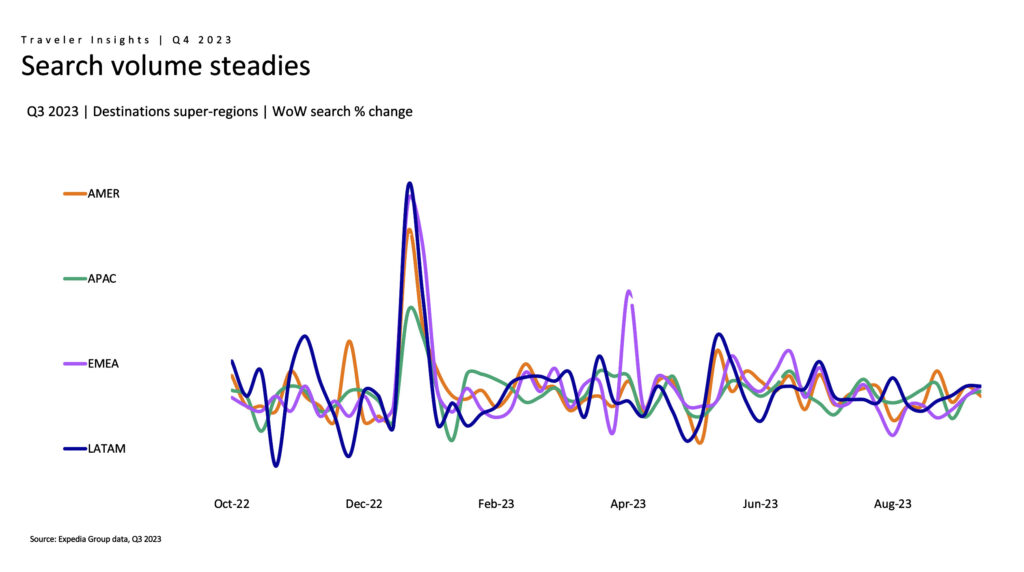 Travel search volumes show travelers plan for the short- and long-term
Following a trend that emerged in our Q2 insights, travelers continue to plan for trips in the near-term, but travel searches for more than five months out are also on the rise. Globally, Q3 searches in the 0- to 21-day window increased by more than 5% QOQ, while the 22- to 30-day search window increased by over 10% QOQ. Share growth for the 0- to 21-day search window was driven by EMEA and North America (NORAM), both increasing 10% compared to the prior quarter.
For travelers planning trips further ahead, searches in the 180+ day window increased by 20% QOQ, driven by a 75% QOQ increase in EMEA and a 20% QOQ increase in NORAM. This is a pattern we've observed in Q3 performance YOY and pre-pandemic in 2019, where globally, the 180+ day search window increased by 20% QOQ. This return to longer search windows emphasizes that traveler intent remains strong, with many looking further ahead and planning for trips months in advance.
In addition to quarterly search data, we also looked at top booked destinations to see where travelers are going. The cities appearing on the Q3 global top 10 list of booked destinations were mostly consistent with the previous quarter, with a few new additions, like Berlin and Orlando. Looking at the Top 10 booked destinations across all regions, long-haul destinations outside the origin region continued to perform strongly in Q3, with an uptick in intra-regional destinations.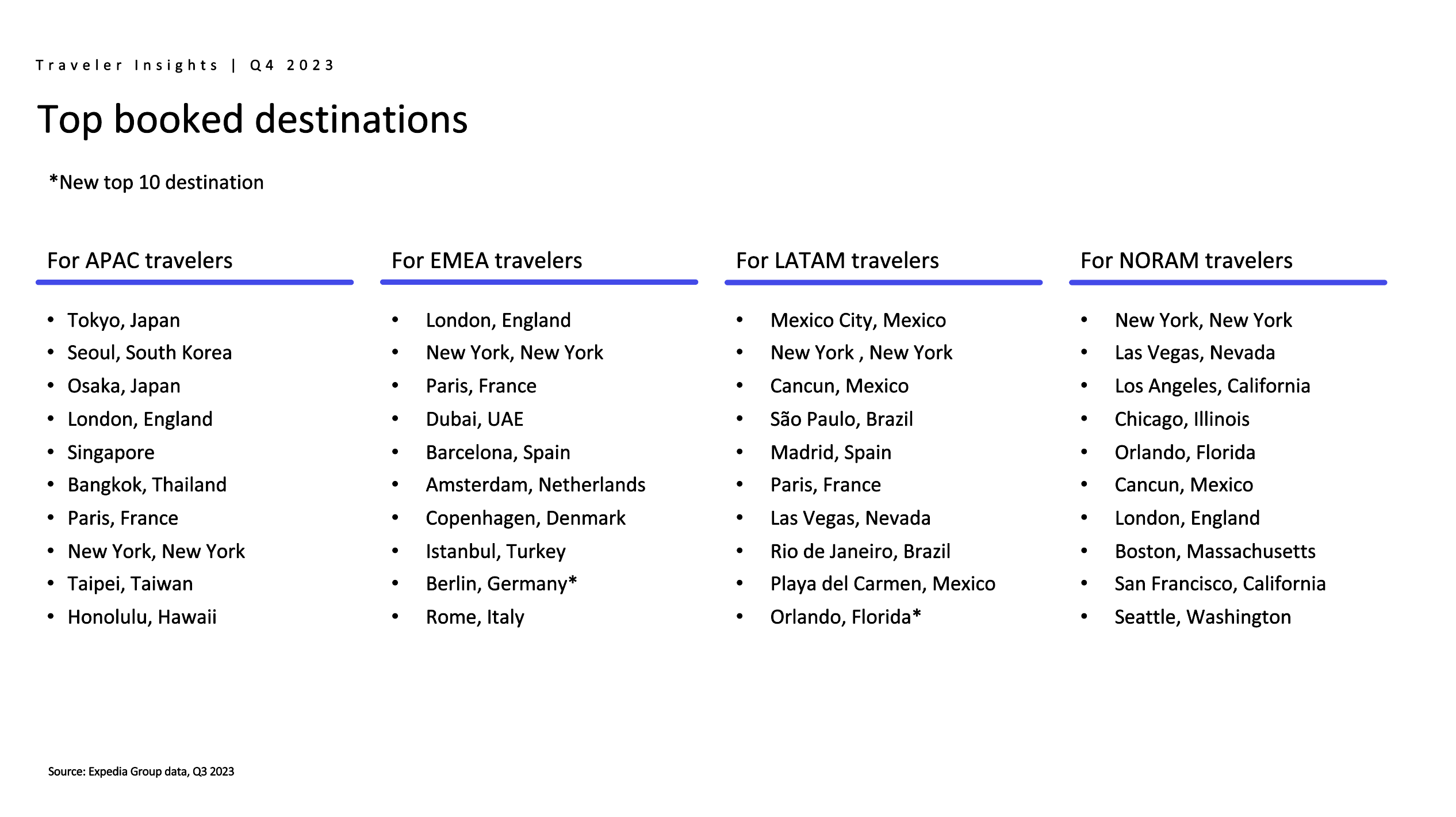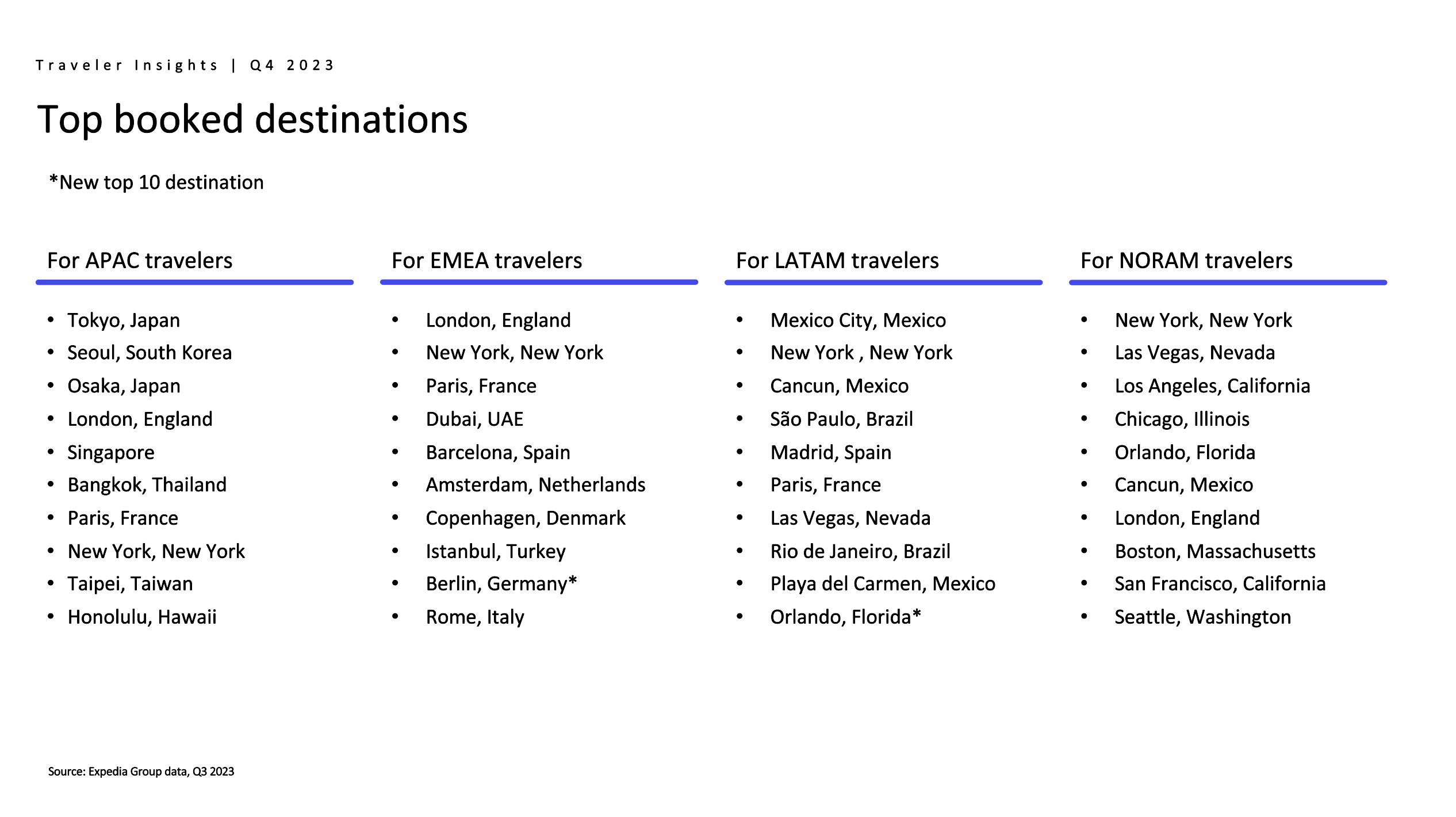 Domestic travel continued to drive the vacation rental category, with intra-regional locations representing all new additions to the Top 10 booked Vrbo destinations list in each region.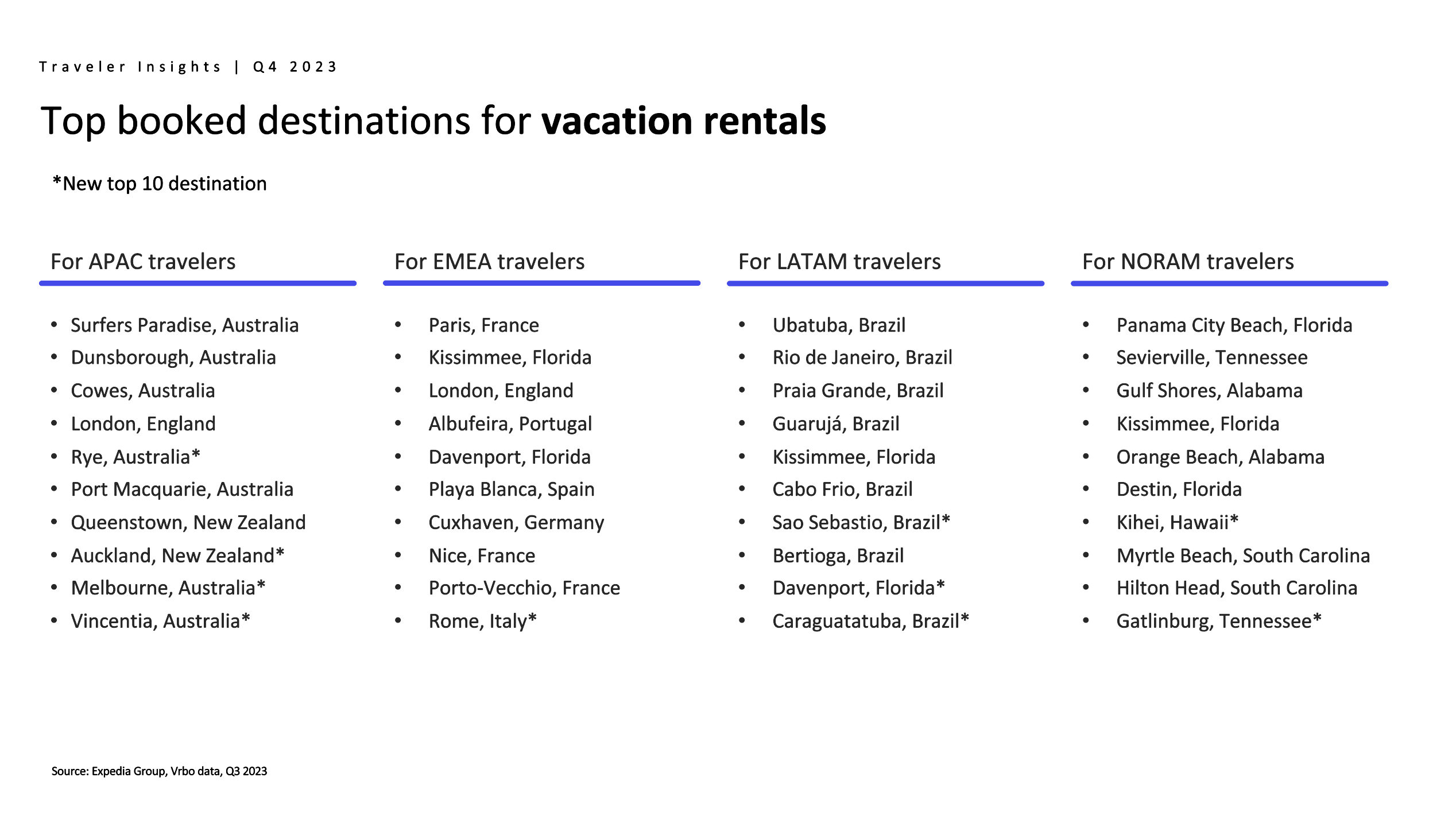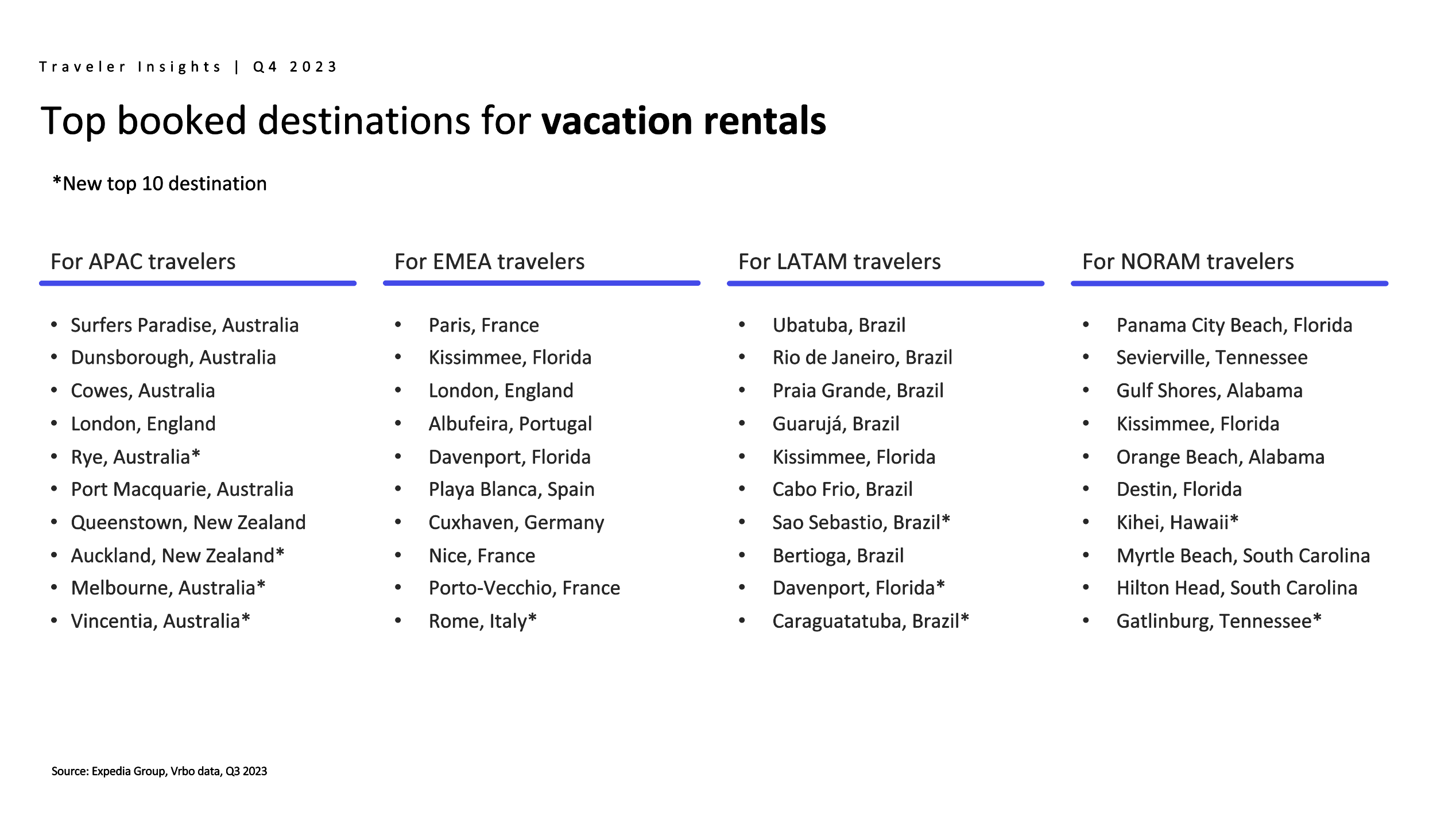 Traveler trends: Events continue to drive tourism
One of the key global travel trends we highlighted last quarter was the rise of tourism around sporting events, and this trend carried over into Q3 with major sports games and music tours sparking strong traveler interest. For example, the day before the July 25 Wrexham vs. Manchester United match in San Diego, searches for San Diego rose 20% month over month. When Taylor Swift's 2024 Eras Tour schedule was announced for Asia and Australia, Swifties jumped into action and travel searches for February-March 2024 increased by over 250% YOY for the corresponding tour cities. Similarly, when the 2024 European tour dates were announced, travel searches for May-August 2024 increased by nearly 65% for cities with tour stops. This uptick in searches to these regions with major events further highlights the opportunities for travel brands, activity operators in host markets, and travel advertisers, to reach and connect with travelers actively searching and booking.
The positive momentum we saw in the first of half of the year holds strong as travelers continue to plan short- and long-term trips and look ahead to the holidays and 2024. People are eager to travel, and we're to here to help you reach them, wherever they are in their trip planning journey. To get started, contact us today.