Expedia Group Media Solutions | September 28, 2023
In today's digital-first era, there's a myriad of influential resources that inspire travelers to seek out certain destinations. From viral content on social media and posts from friends and family to destination sites and travel blogs, where people decide to travel can be a click away. Given that travelers are inundated with these outside influences and factors, how do people decide where to go?
Insights from Expedia Group and Luth Research's study, The Path to Purchase: Uncovering How Travelers Plan and Book, explores the complex online path behind the travel customer journey and provides actionable insights to help destination marketers — large and small and around the globe — reach the right travelers at the right time during their shopping journeys. Let's look at how you can use these key findings to build and execute impactful destination marketing campaigns.
How travelers find destinations
Early in the path to purchase, most travelers are undecided on where to travel. Before selecting where to go on their trip, more than half (59%) of travelers did not have a specific destination in mind or considered multiple destinations, which shows that people are open to destination inspiration in the beginning stages of the travel research process.
Travelers from Mexico and the U.K. seem to be more open to destination inspiration: More than 80% and 62% of travelers, respectively, said they were undecided on where to go. The research also showed that 63% of vacation rental bookers did not have a specific destination in mind when they first decided to take a trip. This highlights the opportunity for destinations and vacation rentals to connect with travelers early in their shopping journey.
When it comes to travelers who consider multiple destinations, 13% said they considered three different destinations, on average. And of those considering multiple destinations, when asked about destination consideration similarities, the top influencers were weather or seasonality (53%), trip type such as beach, active, city, cruise (48%), travel costs (47%), how to get to the destination (46%), and length of time to arrive at a destination (45%). Interestingly, only 20% of travelers said the destinations they were considering were in similar regions, further indicating that travelers are open to destination inspiration and may not be tied to specific regions or countries when they start planning their trip.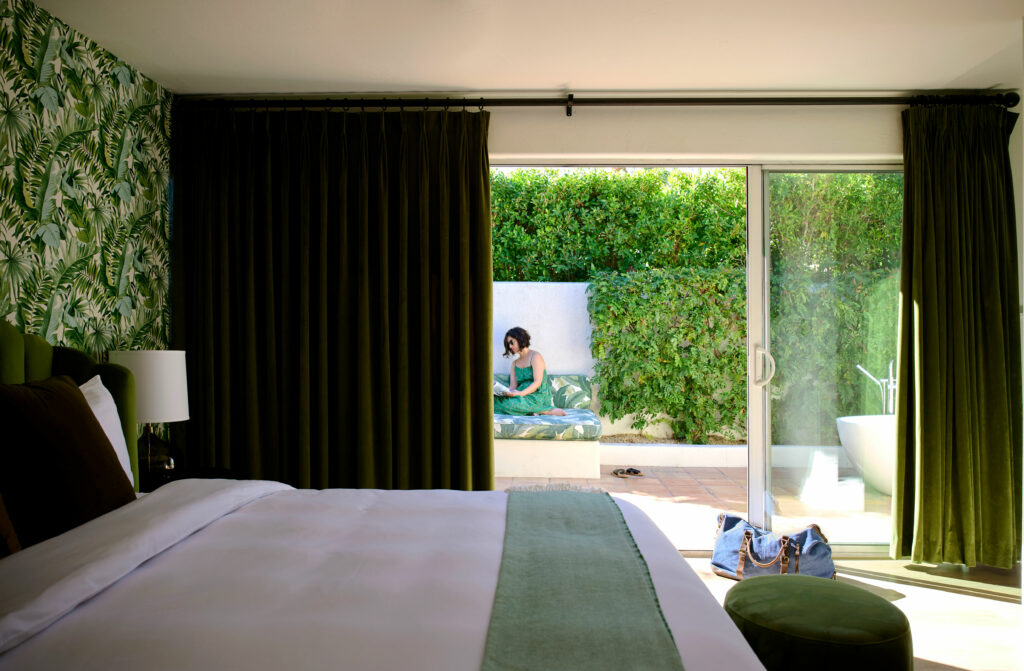 Destination indecisiveness among most travelers at the beginning of the travel research process illustrates the opportunities for destinations and travel brands to inspire and influence travelers early in the booking path. With nearly one in five (19%) travelers saying advertising influenced their decision to book a trip, destinations should consider solutions that allow you to showcase your location, experiences, and other special offerings with beautiful imagery and customized copy, which can help appeal to travelers as they decide on their next destination.
Social media's role in the path to purchase 
Social media has a strong influence throughout the traveler's shopping journey, and travelers primarily use it for inspiration and recommendations. When it comes to researching and discovering destinations, social media plays a prominent role. Among travelers using social media during their path to purchase, 65% use it to find destination inspiration. Japanese travelers in particular turn to social media as a primary resource to discover destinations, with 76% using it to figure out where to take their next trip.
Of those who use social media during the purchase path, 40% use it to view travel pictures, videos, and content from friends and family or influencers and celebrities. More than one-third (35%) use social media to gather feedback from friends or family on destinations they are considering. This shows that travelers are drawn to original content and travel advice from others and can be influenced to travel to destinations based on social media content
When planning a trip, Instagram (65%), Facebook (48%), YouTube (40%), and TikTok (37%) are the most popular social media platforms for travelers, illustrating the range of social resources they are tapped into.
To connect with travelers seeking inspiration on their social feeds, consider combining inspirational social content that promotes your destination, along with special deals or offerings to further entice travelers. Leveraging user-generated content in social campaigns may also resonate with travelers looking for authentic information and tips from other travelers. Additionally, social media solutions such as custom social promotions and co-branded videos can help take your social media campaigns to the next level and enhance social storytelling across platforms to ensure your destination stands out.
How travelers find destinations and narrow their options
During the research phase, travelers use a variety of resources to gather information and figure out their options, including online travel agencies (OTAs). Three-fourths of travelers use search engines, meta travel websites and social media, followed by destination sites and OTAs for travel research. Most travelers also use OTAs for research regardless of where they book, with 80% of travelers visiting an OTA before any travel purchase. When looking at those who booked on a hotel website or app, nearly two-thirds (61%) visited an OTA during their journey. Similarly, more than half (52%) of customers who booked on an air website and 58% of customers who booked on a car rental website visited an OTA.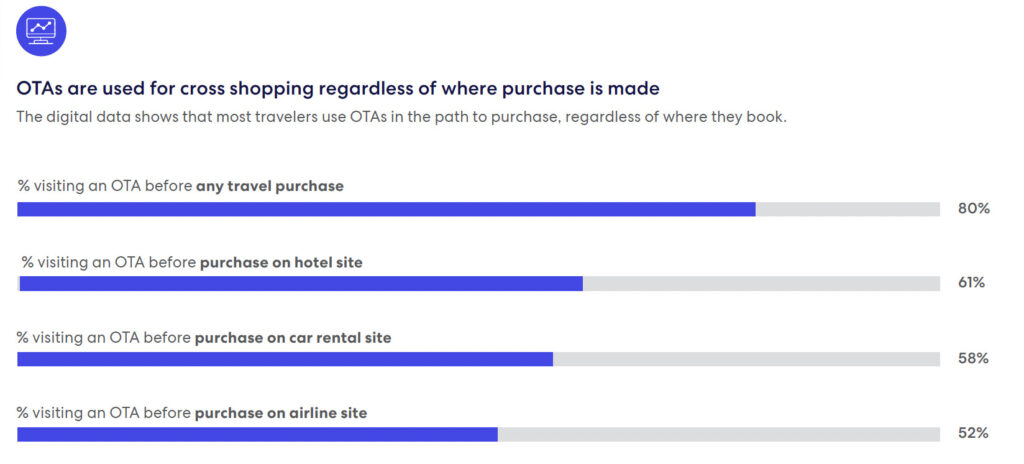 Among those using destination sites during the path to purchase, 68% of travelers use them for research, as many as 80% in Japan. More than 40% of travelers using destination sites said the websites were influential in their decision-making process, meaning that it's imperative your destination site is current, contains compelling imagery, showcases what makes your destination unique, and includes other key information like amenities or activities to help travelers narrow their destination options.
Finalizing destination options
In the planning phase, travelers are considering their destination options and, like the research phase, they turn to numerous different resources. OTAs are a top online resource in the planning phase, followed by meta travel websites, car, hotel, and rail websites or apps, vacation rental websites or apps, and social media. Among those using destination sites during the path to purchase, 27% of travelers use them for planning (32% in the U.S. and Japan), indicating that destination sites are still a vital resource for travelers as they consider their final options.
32% of U.S. travelers use destination websites to plan a trip.

THE PATH TO PURCHASE: UNCOVERING HOW TRAVELERS PLAN AND BOOK
In addition to finalizing their destination options during this phase, travelers are considering where and how to book their trip. When deciding where to shop and book their trip, nearly half (49%) said getting the best price is an important factor, nearly one-third (31%) consider their positive previous experience with a travel brand (37% in the U.S.), and 28% look for travel brands that offer flexible cancellation policies or refundable rates.
For destinations, this highlights the importance of working with travel partners, including OTAs, to maximize your destination's reach with content beyond your owned channels to ensure your destination remains top of mind as travelers decide where to go. Creating unique and impactful content that showcases your destination, both on internal and external channels, will extend your reach and help you connect with travelers who are poised to purchase.
Help travelers make travel decisions
For more findings on what drives traveler decisions, and travel insights for more effective destination marketing campaigns, download the Path to Purchase study.