Nicki Graham | October 02, 2019
This is the final article in a preview series of H2C's Global CRM Study, a collaborative report that leverages interviews and a global survey to explore the current state of CRM in the hospitality industry. 
The importance of a single source of truth as the centerpiece of a profitable customer relationship management strategy is one of the key takeaways from H2C's Global CRM Study. The vendor-agnostic study combined findings from an online survey of 62 executives of both global and regional hotel chains and interviews with 25 hotel executives and 11 technology providers.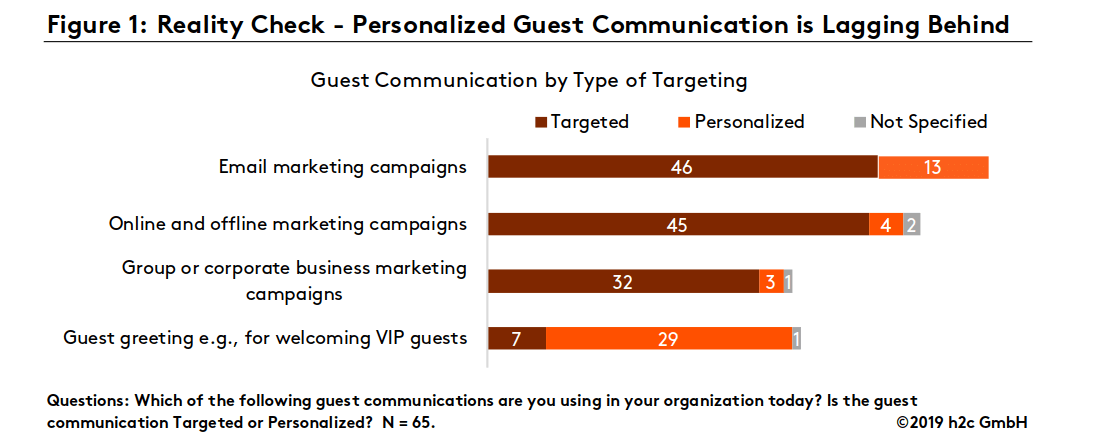 In our third (and final) set of takeaways, we focus on how hotel technology buyers envision the future of hotel CRM. As hoteliers look ahead to the CRM of tomorrow, it's helpful to harness these perspectives into building the CRM of the future. Missed our previous recaps of this comprehensive research study? Take a look at a recap of what hotels look for in a CRM and the top challenges when it comes to CRM.
Investments in CRM: The growth continues
The importance of CRM looks to only increase for hoteliers. The study found that investments will continue their growth trajectory: CRM will be the largest segment of IT investments for many companies by 2023 when global CRM software spend reaches 35 billion.
Driven by the desire to personalize marketing communications, a large majority of respondents plan to invest in tools that help them deliver a better customer experience:
82% of organizations plan to increase investments in and CRM and customer experience over the next three years.
On the flip side, just 2% expect a decrease in investment; this signals the staying power of CRM technology, a $35 billion category that's forecast to become the largest segment of IT investments for many companies by 2023.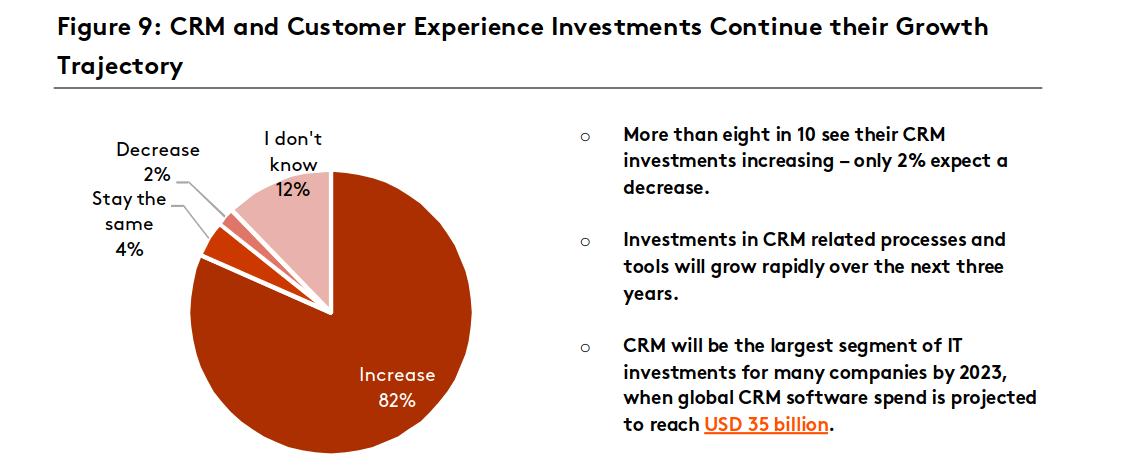 Collaboration required: Building consensus around CRM 
Accompanying this growth is an awareness that departments from across the organization must align around the technology. Best practices must be shared and understood – especially around data capture and cleansing. It's when departments are kept siloed that data is often poorly captured, which creates issues for other departments who then either don't have usable data or must invest resources in cleaning the data.
The cross-department cooperation challenge affects many hotels. Two-thirds of respondents report that only a single department defines CRM strategy at their company. For 34% of all respondents, there are two or more departments for functions involved in the strategic decision process around CRM. Collaboration is essential to ensure the proper integration of CRM throughout the organization.
And, while CIOs and IT executives were traditionally the main decision-makers, responsibilities have broadened to include other C-levels, such as the 27% of companies where the COO takes the lead and the 21% that put that responsibility with the CMO (21%). In a positive sign for the sophistication of hotel CRM, 24% put the strategic decisions with the CRM department head or an equivalent position. Second only to the COO, this percentage highlights how vital CRM technology has become for many hotels.

Personalization bottleneck: The reality vs the dream
Even as many hoteliers plan to increase investments and CRM to drive stronger personalization, the study found a "personalization bottleneck," concluding:
"As technology evolves and CRM strategies become clearer for small and medium-sized hospitality companies, we believe that the pace of personalized services implementation will accelerate within the next three years. CRM needs to take the leap from an email marketing campaign focus to the next level: personalization."
Respondents confirm their focus on email marketing – and that existing personalization efforts remain quite limited. In fact, even though 84% say that their CRM supports personalized communications and messaging, only 19% report actually personalizing email marketing campaigns. This doesn't mean that communications aren't targeted to specific guest segments, as 81% currently use targeted guest communications.
However, the gap between segmentation and personalization remains a tough one to bridge. Segmentation groups by similar characteristics and traits, rather than their own unique characteristics. This reliance on segmentation prevents true one-to-one marketing – and goes against the experiences consumers have with other retail brands, such as Amazon. As consumers grow accustomed to greater personalization, their expectations grow.
Ongoing training: Better support over time
To achieve greater personalization, and ensure that hotels are using all available functionality, ongoing training was a frequent refrain.
"Only the combined efforts of human resources and system technology will lead to more/better personalization services."
The report highlighted just how critically underused most CRM functionality is: after just 12 months post-implementation, 70% of companies use less than half of a CRM's available functions. This percentage drops to 41% after 24 months of implementation, which is an encouraging sign that companies begin to dive into their chosen solution in the second year of usage.
Clearly, there's an opportunity to educate customers and ongoing fashion to ensure that staff across all departments understand the various functions of the CRM, how to use them, and how they relate to their everyday work.
Additionally, hotels may want to reconsider a one-size-fits-all CRM strategy that buries the most useful functions within a menu of unnecessary ones. A modular approach could allow hotels to build the solution that works for their unique needs and thus boost usage over time.
Bringing it all together
This extensive study provided plenty of informative and instructive insights into how hotels perceive their CRM technology, the challenges they face, and the future they look forward to.
As the study concludes, there are plenty of hurdles that hinder successful implementation. For hoteliers, the pressure to perform is high; vendors must deliver on the promises of personalization, ongoing training and support, and world-class innovations that push the technology further.
"Pressure on hotels is continuously increasing due to consumers experiencing personalization elsewhere. Enhanced guest services have advanced from a nice-to-have feature in the past to a must-have today. Providing the services implies an optimally integrated system infrastructure standard operational procedures and respective controlling actions."
With a customer-first focus, CRM vendors can help hotels consistently deliver exceptional guest experiences that define long-term guest relationships. It's not easy to unleash the true power of CRM, but the end result is worthwhile: greater loyalty, stronger revenues, and a more efficient marketing operation.
Download the full report here