Kimberly Yoong | November 18, 2020
By Kimberly Yoong
A look at how to navigate the generational stereotype minefield that has some hospitality brands scratching their heads. With all the age-related differences and particularities that exist among Baby Boomers, Generation X, Millennials and Gen Z-ers, it would be tempting, but ultimately a mistake, to focus primarily one generation based solely on demographics. Instead, developing a clear brand mindset that includes more behavioral themes such as authenticity, community, transparency and life experience could be more beneficial and attractive in the long run.  
Who are the real big spenders?
A Gen X-er and a Gen Z-er walk into a bar. If one orders a whisky on the rocks, who orders the mojito? If you intuitively guessed the Gen Z-er, you have probably, like most of us, fallen into the trap of generational stereotypes. The online marketing space is awash with tips and tricks on how to tailor marketing efforts and hotel offerings for consumers according to the generations to which they belong, as many companies pander to the needs and wants of Millennials, and more recently, the emerging 'Gen Z-ers'.
By 2025, Millennials are expected to comprise three-quarters of the global workforce. It is thus no wonder why most of the conversations about trends and preferences in the marketing sphere revolve around the perspective of Millennials. At the same time, however, Gen Z is believed to have surpassed Millennials in number in 2019, accounting for 32% of the global population (approximately 2.47 billion people), with many of them growing in purchasing power as they begin to enter the workforce. On the other hand, from a hospitality perspective, Baby Boomers were found to be the big spenders of the hotel market. In other words, there is no objective measure for which generation is the 'most important' in the world of consumerism. So, what are some of the key considerations for hoteliers in navigating the elusive definition of their target guests?
The evolution of generational preferences in hospitality
Baby Boomers, Gen X, and the age of cookie cutter hotels
Major hotel brands, including Hilton (est. 1919) and Marriott (est. 1927), were born at the dawn of the modern era of hospitality, when transportation systems were getting better and travel was getting easier. Growth was the name of the game and by 1968, the Holiday Inn chain had opened its 1000th hotel, just 16 years after the first one was built (an average of 5 hotels per month). The big brands sold their 'cookie cutter' hotels on the consistency they offered and the comfort of knowing what to expect. That was when the Baby Boomers and Gen X were the main spenders and to this day, they are the ones more commonly regarded as the target market of these 'safe' brands. However, consumer power then was not what it is today. If these generations were merely consuming what was available at the time (easily replicable products by hotel companies seeking rapid growth), would it be fair to continue assuming that their preferences lie in such 'safety and comfort', even today?
Millennials, Gen Z, and the rise of lifestyle hotels
Fast forward to the 21st Century, the hotel market has been all about the non-cookie-cutter 'lifestyle brands', with heavyweights such as citizenM and Mama Shelter dominating the scene. Likewise, the big players too have been focusing on entering this space by introducing their own lifestyle brands like Canopy by Hilton and Hyatt Centric, as well as growing their own soft brands. With increased consumer choice and greater price transparency, the power today certainly lies with consumers; and the younger generations and their pursuit of individuality had kick-started this shift in the hotel brand market. Naturally, the Millennials and Gen Z have thus been credited for the growing prominence of these lifestyle brands – but this does not necessarily mean that they are the only ones who will continue to drive such preferences in the hotel sector.
As it turns out, the different generations may not be so different after all. In 2016, it was found that frequent travelers of all types share similar travel mindsets, including seeking local immersion and spontaneity. Accordingly, lifestyle brands such as Hotel Indigo from the InterContinental Hotels Group (IHG) and Andaz by Hyatt have reported seeing a growing number of Baby Boomer guests at their hotels. In a similar vein, despite popular belief that loyalty programs are losing ground with the younger market, a PwC study revealed that while there are some differences in perception towards loyalty programs between Millennials and other generations, they are not as significant as previously thought.


Holiday Inn in Natal, Brazil (Left) vs. Mama Shelter in Rio de Janeiro, Brazil (Right). Source: Respective hotel websites. 
Targeting mindsets over generations
Although categorizing consumers by age offers loose generalizations for brand marketers, it is crucial for hoteliers not to tunnel in on the needs and wants of the predominant generation of the times (read: Millennials or increasingly, Gen Z). In this article, we explain four reasons why.
1. Avoid alienating whole generations
Being part of a generation does not define an individual's mindset nor necessarily their hotel brand preferences – a social media savvy Gen Z-er may prefer comfort over style and opt for a Holiday Inn, while a Gen X-er may take well to the liveliness of a citizenM. Purportedly 'Millennial-focused lifestyle brands' often offer some combination of contemporary designs, quirky check-ins and a swanky bar, but such features are not limited in their appeal to one generation. A brand that unintentionally makes consumers feel that they are 'too old' or 'too young' to stay at their hotel may risk alienating whole generations, ending up with a slice of the 'young' pie but missing out on the 'young at heart' slice and vice versa.
2. Increase customer lifetime value
Some brands have spent their lifespan crafting their image targeted at Millennial needs of the past decade. But zeroing in on the preferences of a certain generation means running the risk of getting trapped in a specific phase of life of that generation. The 'Millennial effect' has been a buzzword for years, but their purported image of being a 'hip, new generation' has barely changed. We also often forget that the bulk of Millennials are no longer in their 20s and the oldest Millennials will soon be turning 40. So, as they move from their supposedly free-spirited phase of life into the family and/or career executive role, a 'fun, hip hotel for the young' will likely lose these guests as they no longer fit the 'profile'. By espousing values and an image targeted at a mindset that spans across generations, brands will be able to increase their customer lifetime value by keeping the 28-year-old Millennials coming back even when they have turned 40 and have two children.
3. Achieve a wider brand scope but narrower focus
Despite the industry's current penchant for social mingling and all-things technology, Gen Z-ers, many of whom may not even recall life before social media, are sometimes said to be more socially inept, even being dubbed as the 'loneliest generation' – while others may say that Millennials are the socially awkward ones. Therefore, mindlessly pursuing generational trends is dangerous because they are hardly objectively definable (and certainly not universal). Instead, focusing on mindsets will allow brands to tap into markets across generations and life experiences. This way, brands can widen their scope whilst narrowing their focus – like picking out your favourite gummy bears; if you only want the red ones, it would probably be wiser to have four gummy bear packets to choose from instead of one.
4. Carve out a more distinctive brand name
Above all, defining a target mindset in an increasingly competitive landscape is more than just proposing 'cool experiences for the young and young at heart'. In 2017, luxury brand consultant Piers Schmidt spoke of how there were already over 100 different lifestyle brands alone. Today, nearly every new hotel brand is being introduced as a 'lifestyle brand', which means that the number has only gotten bigger. But as Schmidt describes, these brands boil down to the same four core ingredients: high-end technology, a sense of local culture, a social environment and amenities that cater to Millennials' desire for authenticity. In other words, lifestyle brands need to better define buzzwords like authenticity and go much beyond offering 'fun, local experiences for the modern traveller'. They need to seek out a specific, clearly-defined mindset to target and focus on strengthening that core. And now, with COVID-19 threatening the short-term prospects of hospitality, there are two further implications: an even greater need for hotels to carve out a distinctive identity to capture scarcer demand, but also downtime for hotels to find the reset button and reconsider branding strategies for the long-term.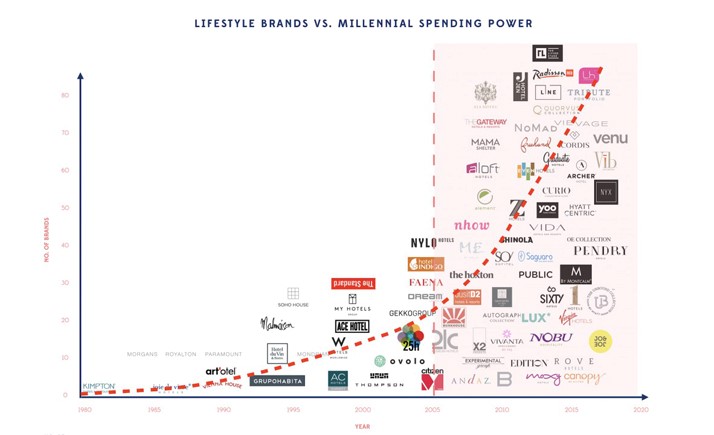 Exponential growth of the lifestyle brand market. Source: Luxury-Branding.com
Young in age, old at heart
Although the lifestyle brand scene is relatively young, the constructs of most of these hotels have remained from time immemorial: a bed and two lamps, with a front desk agent in the lobby and housekeeper knocking on your door at 8 am. The difference, however, lies in how you brand that bed and two lamps according to your target customer – perhaps a premium Heavenly Bed for deep revitalizing sleep in a wellness hotel, an affordable SmartBed for a tech-focused brand, or more simply, a comfortable, quintessentially-Hyatt Grand Bed? And if the concept of a 'Millennial Bed' sounds superfluous, then so should a 'Millennial-focused brand'.
Brand marketers would agree that if you try to please everyone, you will please no one. With generational marketing, it is not about pleasing all generations but seeking out the individuals across generations who share your brand's mindset. By focusing on higher-order segmentation methods like behavioural and psychographic instead of demographic measures, brands would be better able to attract people by who they are, rather than by what their age may suggest they are – because, well, Millennials are so last year!