Tatyana Tsukanova | July 19, 2023
By Tatyana Tsukanova, Lionel Saul
Education as a way to sustain the tourism and hospitality industry
In some countries, the hospitality and tourism industry is a fast-growing industry that is still very much in the developing stage. To sustain this growth, workers are needed. And to ensure a steady flow of hospitality workers, education and training are essential.
Albania, to take an original example, is working on developing its tourism infrastructure, such as local and regional roads financed by European funds. However, the country is also working on aligning the education system to support the development of the hospitality and tourism industry. Indeed, the Albanian government has put in place the Sector Skills Council in Tourism and Hospitality, which will help identify the most urgently required professional and vocational qualifications for tour operators, hotels, and other tourism firms.
In a similar vein, Texas A&M University has recently launched three new undergraduate degree tracks in hospitality and hotel management. This decision was made as employment in hospitality and hotel management is expected to grow 6.3% nationally and 17.2% in Texas over the next 10 years. Indeed, everything is bigger in Texas!
Likewise, the Ministry of Heritage and Tourism from Oman has put in place an e-learning platform for employees of local destination management companies and the hospitality industry. This initiative aims to build a database of local partners, nurturing business development while functioning as a crucial resource for information and educational needs.
Education as a source of inclusivity
The hospitality and tourism industry has a long tradition of hiring operational employees, often from developing countries. Indeed, many positions in our industry do not require post-secondary degrees. However, it does not mean that just anyone can be hired. In Nigeria for example, the country does not face a labor shortage as currently faced by some Western countries. Instead, it faces a skills shortage as many applicants do not hold the basic skills required for the hospitality and tourism industry, such as writing and speaking proficient English. As explained by the Managing Director/Chief Executive Officer of W Hospitality Group, Ward Trevor, the industry could hire more people from disadvantaged backgrounds; yet, business is business. He added that while the industry has a social responsibility to the community, it cannot be expected to completely make up for the shortages in the public education system. To ensure the employability of applicants it is important to improve the education system. To cope with similar issues in Thailand, TUI has created a TUI Academy. Its primary objective is to offer education and vocational training to disadvantaged youth, with a special emphasis on young women. By doing so, it creates pathways to increased opportunities and the prospect of a successful career in the tourism industry.

Can education and the environment find good synergies?
Hospitality and tourism need to improve their environmental impact and, to get there, education has a major role to play. For Richard Ekkebus, culinary director at The Landmark Mandarin Oriental "Many more restaurants and hotels are taking the lead to employ various sustainable practices. However, Hong Kong is aiming to be carbon neutral before 2050 and the clock is ticking." He continued: "Unfortunately, the changes are coming slow. We need education on sustainability to be a mandatory part of the school curriculum. We have to plant the seed with the young generation, and they will drive the change and educate the parents." The importance of sustainability in education is recognized by several actors. Recently, New Jersey has become the first state to make it mandatory to teach climate change at every grade level. The curriculum will primarily focus on problem-solving approaches rather than dwelling on the negative aspects of the issue. Lest we forget that the costs of climate change will weigh heavily on our economy, which could come at the expense of the essentials, like education, it is, therefore, crucial to educate the younger generations about how to mitigate the climate crisis.
—- INNOVATION —-
Hospitality Industry: Can education help close the skill gap?
From customer service to leadership: in hospitality there is a skills gap. To tackle this pressing challenge head-on, the industry must work hand-in-hand with educational institutions. Some visionary hotels have launched innovative hospitality training opportunities. Kingsley Hotel and Fota Island Resort have set up a Graduate Program to identify and cultivate future managers. This program offers candidates, most of whom come from their neighboring universities, a highly structured 12-month journey within the hotel, providing them with invaluable skills and experience to thrive in leadership roles. In a similar vein, other forward-looking organizations have chosen to shape their future teams through apprenticeship-style programs. Mariott International and International College of Management Sydney offer aspiring individuals a unique opportunity to work at numerous Mariott properties and in various operational departments during their four-year hotel degree program. As calls to rethink hospitality education grow louder because of its limited job prospects, programs, like those mentioned above, offer a potential solution to close the skills gap in hospitality.
And what if technology could bridge the skills gap? One institute of higher learning is doing just that. The School of Hospitality at the Metropolitan State University of Denver plans to integrate VR education initiatives with Meta support. By incorporating VR into courses on Resort Operations and Quality Service Leadership, students will experience virtual "site visits" without leaving the classroom. Integrating VR in educational courses is becoming increasingly prevalent, showcasing its ability to enhance the learning experience.
Educating with purpose
There are other remarkable educational initiatives within the hospitality industry. For instance, TUI Junior Academies, supported by the TUI Care foundation, also empower children to become environmental ambassadors in their communities, fostering a positive impact on the environment for the future. Additionally, the UNWTO collaborates with the MSC Foundation to offer a series of sustainability-related education courses onboard one of its cruise ships, aiming to create awareness of sustainable practices and enable people to take action. UNWTO is actively working towards positioning tourism as a key driver of the Sustainable Development Goals (SDGs). Their efforts include advancing tourism education and designing innovation competitions.
How to stay up to date: Keep learning, stay curious, and question the obvious
In a world where change is as rapid as it is relentless, lifelong learning and upskilling have become essential for all hospitality professionals. Recognizing this need, Explora is taking a proactive approach by collaborating with the esteemed EHL Hospitality Business School to launch a cutting-edge Guest Experience Foundations training program to onboard its employees.
Despite these pressing problems, numerous businesses are stepping up to offer innovative training solutions. For example, hotelBschool.com has launched an online and on-demand training platform exclusively tailored to hotel industry professionals, where the courses are created by practitioners for practitioners with a focus on addressing real challenges and providing practical solutions. Companies are increasingly forming partnerships to drive innovative educational initiatives. An example of this is the collaboration between Mews, a property management system, and Saira Hospitality, a non-profit organization focused on supporting hospitality education. Together they plan to launch pop-up hospitality schools and develop online training programs to enhance staff skills. Moreover, access to micro-credentials in the hospitality field has become increasingly easy, thus facilitating personalized learning experiences that enable employees—or anyone seeking personal growth—to upskill.
Hospitality companies expect to harness the power of the metaverse and expect to see from educational institutions enriched upskilling opportunities in virtual learning spaces for their staff. But the interest in technology extends beyond just companies. China's Ministry of Education is currently exploring the use of virtual classrooms and NFTs for storing educational qualifications. Shanghai has committed around $1.5 bn to multiple metaverse projects in the tourism industry to provide tourists with digitally immersive experiences in the city. These examples showcase the wide-ranging possibilities that emerging technologies offer in enhancing education, transforming traditional systems, and reshaping the future of learning.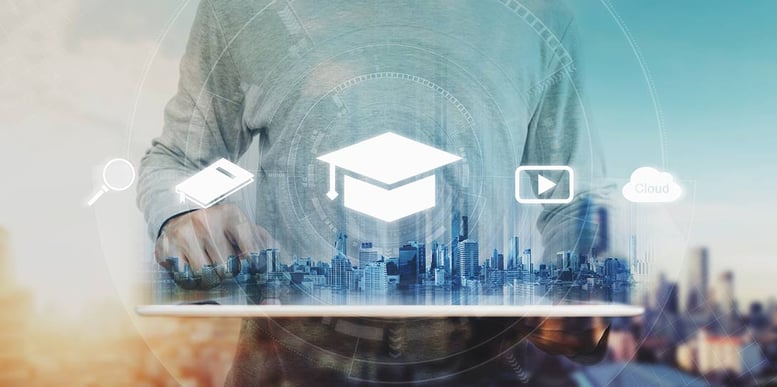 People remain at the core of any hospitality operation. Corporate narratives are undergoing a mind-shift, looking for people – "leaders with heart" – who prioritize the well-being of the people around them and their organizations rather than focusing solely on themselves or corporate results. It is inspiring that EMLYON Business School recognizes the ability to question the obvious as a critical skill to develop in today's world. As our landscape continues to evolve rapidly, challenging the status quo has become a necessity and complacency perhaps our most perilous pitfall.
—- INSPIRE —-
Read, explore and listen