Lionel Saul | February 13, 2023
By Lionel Saul, Tatyana Tsukanova
In our first monthly digest of 2023, we look at weather patterns and climate change – the most impactful trends in the travel and hospitality industry capable of causing unexpected shifts in our carefully crafted plans. And, yes, how the weather is impacting us was the hottest topic during this latest winter holiday season.

Industry insights
Summer in winter, disrupted vacations and skiing without snow
The tourism and hospitality industry is a weather-sensitive industry and, as a result, the weather has the potential to shape the attractiveness of destinations. We all agree that, ideally, we expect sun when we are in a summer destination and snow in a winter destination, and when the weather doesn't match travelers' expectations, it can create disappointment. Sometimes, travelers even shorten their stay when the weather does not meet their expectations. We think that a lot of European and international travelers looking for skiing conditions during this winter break can relate to this statement.
Indeed, Europe was hit by a severe winter heatwave until mid-January, leaving a lot of travelers frustrated. However, the effect of the lack of snow may not be such a catastrophe, at least for the current season. In Switzerland for example, the effect of the snow shortage has had a mixed effect on the winter tourism industry. As a matter of fact, the number of overnight stays in the mountain regions has not decreased compared to the same period last winter, but the number of mountain day trips has, by 8%.
Surprisingly, when analyzed at a macro-level, the snow shortage does not seem to have impacted the industry, as city hotels in Switzerland are seeing an increasing number of room nights compared to past years. This can be explained by the fact that some travelers may prefer to travel in cities than in the mountains under the current conditions.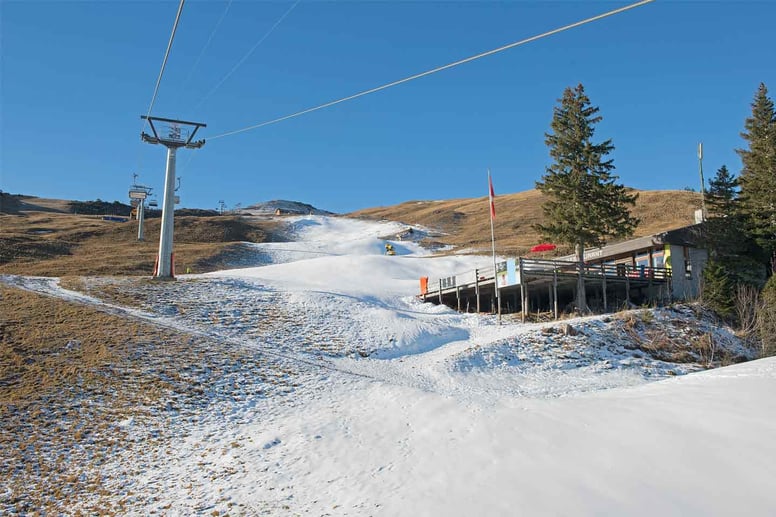 To face the lack of snow, destinations have had to innovate in order to entertain travelers. Some decided to provide them with activities that are usually offered in summer, such as mountain biking, while others decided, even against the most basic common sense, to helicopter snow directly onto the slopes in the hope of being able to open the ski resort, which turned out to be a failure. Even snowball canons, (energy- and resource-intensive machines), have proved to be inefficient lately due to the high temperatures. However, it seems like they will be necessary should ski holidays remain popular in the coming decades.
According to researchers from the University of Basel, ski resorts, even the ones not considered low altitude, such as the Swiss resort Andermatt-Sedrun-Disentis, may have to highly rely on the use of snowmakers to be open for 100 days during the winter season. This raises questions about the ecological impact of ski holidays and how ski resort destinations will eventually have to adapt to climate change by offering different alternatives to remain attractive, as well as sustainable.
Nevertheless, important snowfalls occurred in mid-January, giving back hope to the different actors that this year's ski season will not be a catastrophe. It seems that the industry today needs to be able to rapidly adapt to weather conditions and to offer a vast range of activities to entertain guests when there is and isn't snow, as the ski seasons will shorten in the coming years. However, not all ski resorts will be impacted in the same way as some are located high enough to not suffer much, at least in the coming years, from the lack of snow.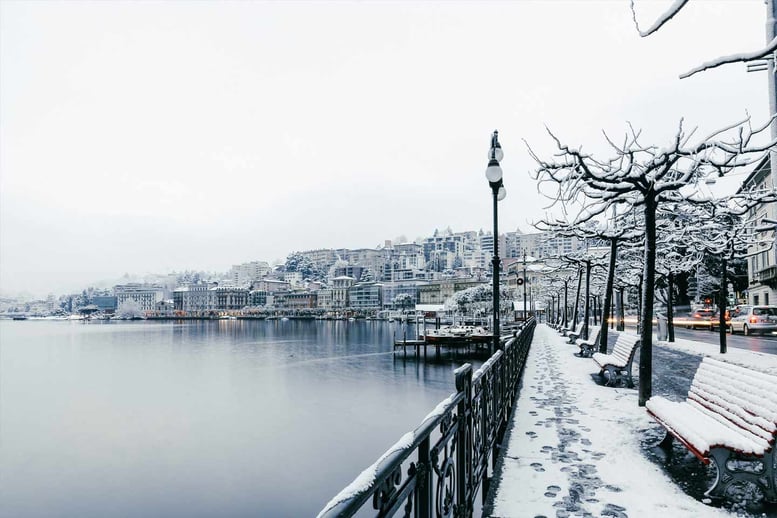 While the lack of snow has been pointed out as a major challenge for the industry, extremely disruptive events, as witnessed in 2022, can also heavily impact the tourism and travel industry. For example, the winter storm that occured in the U.S. at the end of last year had an important impact on disrupting travel plans, grounding planes and generating a loss of incomes for various actors of the industry. Thus, it seems like weather and climate will keep influencing the tourism and travel industry, as extreme events are likely to become more frequent. As a matter of fact, they will keep impacting more and more aspects of our life, as explained by a recently published study in Lancet, should the world fail to take the right decisions and implement efficient climate actions.
Innovation
Weather of things, booking journeys and climate emotions
Weather is the most famous form of small talk, and today weather is hitting the headlines more often than ever. Inaccurate weather forecasts are prompting many tech start-ups to come up with new solutions to combat this misinformation. They are getting billions of dollars in funding, aiming to use more accurate data for weather models. The ability to predict weather patterns and changes more precisely and much in advance can save lives and a lot of money. Tomorrow.io, a weather tech startup launched in 2016, is recognized as one of the leaders among climate risk analytics providers. They make weather predictions more accurate using special forecasting algorithms and multiple data points, calling their approach the "weather of things". Their intelligence platform advises customers on how they can adjust their business operations depending on the forecast. For aviation, transportation, sports, events and all hoteliers using digital marketing, this knowledge can play a crucial role in the decision-making process.
Salient Predictions is developing a weather forecasting platform to assist in the daily operations of the agriculture, energy and food industries. They use IoT, AI and remote sensing to develop weather monitoring and analytics solutions and convert the chaotic data on weather into a readable forecast, allowing companies to identify weather patterns in advance and launch planning activities in response. Swiss startup Jua has raised 2.5 million euro to accelerate the launch of its AI-powered platform aimed at developing customized weather models for industry by using largest weather and geospatial data.
In other words, worsening weather is a great incentive for start-ups to innovate in this area to help other businesses survive and thrive. Data-driven big data analytics and AI can be a game changer. According to Nature, AI inventions could help mitigate and adapt to climate change. Climate innovation continues to evolve in many industries (just look at the World Economic Forum's Strategic Intelligence map), and high-profile corporations are investing in climate tech businesses.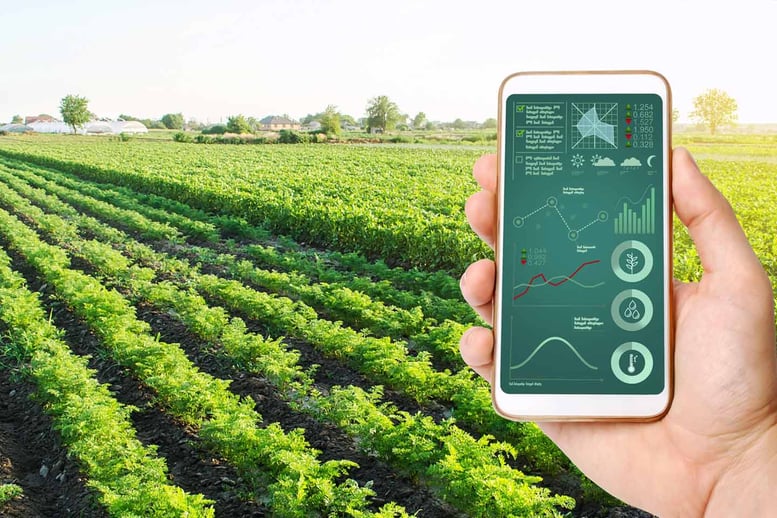 It is worth noting that food traffic also drastically changes depending on the weather. Planalytics, another business weather analytics provider, is developing a solution to detect weather triggers in a timely manner and help their clients anticipate customer needs. For example, weather data can provide a better understanding of demand for goods and services (e.g., a spike in food delivery at home on a rainy day) and influence inventory management and pricing.
Other SaaS-based platforms, such as CHOOOSE, also provide companies with services to integrate climate action into the customer experience. Many people are concerned about the carbon footprint, and this solution allows the travel and aviation industries to use robust and accurate emissions data and offer carbon mitigation solutions. This idea caught the attention of Ashton Kutcher, an actor and travel tech investor whose VC firm, Sound Ventures, has invested in this startup.
Even with the best planning skills and having back-up plans from B to Z, there can be chaos when severe or unexpected weather patterns suddenly become real. The hospitality industry is definitely affected by these dynamics. Sensible Weather, a climate tech insurance company, offers policies to reimburse people for travel or other outdoor activities in the event of worsening weather conditions. This changes a lot the way people typically interact with the weather. Indeed, we are seeing some progress in making things more predictable.
Undoubtedly, extreme weather and changing climate affects travel plans and keeps people from visiting the destinations they had thought of. Changing travel patterns require more flexibility on the part of companies – and they now have a unique opportunity to build their competitive advantage around this trend and tap into the smart solutions. Many platforms such as Aidaptive, based on an AI-powered engine, help the hospitality industry personalize booking journeys to every single guest. In addition, Euromonitor's Global Consumer Trends 2023 report named "Here and now" as one of the 10 key trends. People want flexible, low-cost solutions and joy (key motivator!) in their experience. Climate change impacts our mood and emotions. If you are feeling blue this winter, watch the sunrise and sunset – they have proved to induce a significant boost in feelings of awe. Perhaps mood management is another dimension that needs to be embedded in everyday business practices?
Inspiration
Six sources to be better informed about climate change and weather-ready
READ
Have you read our digest on the Future Ahead? Are you interested in learning more about the trends that will impact the hospitality industry in 2023? Follow Visioning 2023 from Hospitality Net to find out what industry experts and thought leaders are predicting.
The surprising facts behind the weather forecast and how this industry works can be found in the book "The Weather machine" by Andrew Blum.
Discover the "The Secret World of Weather" in Tristan Gooley's book to go beyond mere weather predictions and unlock the secrets of our environment.
LISTEN
Listen to The No Snow Zone episode from Going Green on why we need to act faster to tackle climate change.
Answers to all tough questions about the climate and how we can save our planet can be found in this BBC podcast called The Climate Question.
PLAY
Can you prevent snow shortages in the future and save the planet from the worst effects of climate change? Play the Financial Times Climate Game and see if you can bring the planet closer to net zero emissions.