Hilton | June 05, 2023
HAINAN, China – Hilton (NYSE: HLT) today announced the opening of The Mermoon Resort Hainan Tufu Bay, Tapestry Collection by Hilton, marking the entry of Hilton's lifestyle brand into the unique vacation destination of Hainan Island, China's southernmost point. Inspired by a romantic local fishing legend, the hotel combines the island's fishing village culture and the natural beauty of Tufu Bay to create a modern tranquil paradise that enables travelers to explore and immerse themselves in a tropical paradise. The resort is owned by China Energy Construction Group Co., Ltd. and managed by Hilton.
The resort's design is rooted in a touching legend about a young fisherman named Ah Fu and a mermaid trapped in a wooden box. Legend has it that Ah Fu rescued the mermaid while fishing, and in return, she granted his wish for the people of the bay to lead better, more prosperous lives. This act of kindness sparked a love story that moved the mermaid to teach the locals fishing techniques and gift Ah Fu a golden "Fu Bowl" that attracted fish when struck three times.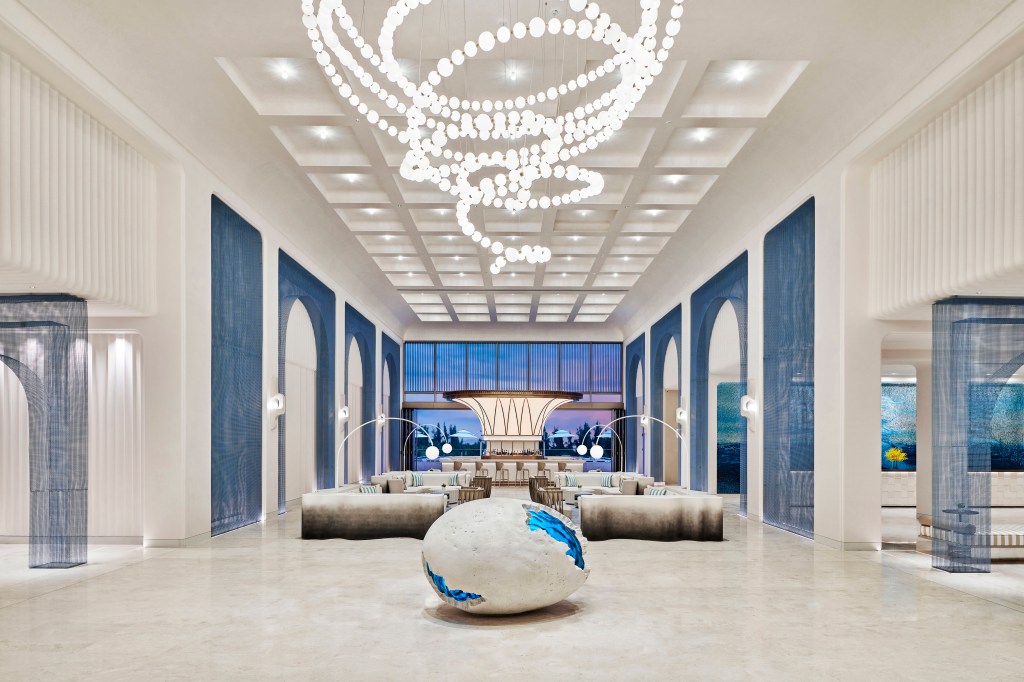 Upon entering the hotel lobby, guests are greeted by a blue-green sculpture crafted from coloured resin, with intricate patterns representing the mermaid's underwater home. Above the sculpture, pearl-shaped chandeliers and wall decorations featuring coral and seashells mimic an underwater wonderland.
In the reception area, a magnificent sculpture created from over 60,000 mother-of-pearl beads takes centre stage, resembling a mermaid swimming freely in the ocean. As guests arrive, the sea breeze gently rustles the beads, creating a melodic sound reminiscent of a mermaid's song.
John Burger, senior vice president, Operations, Greater China and Mongolia, Hilton, said, "Since the opening of the first Hilton hotel in Hainan over 17 years ago, Hilton's footprint in the region has grown to 16 hotels across six brands in eight city and resort destinations, contributing to the robust development of Lingshui's tourism industry within Hainan. We look forward to expanding Hilton's presence in culturally rich destinations, offering guests the opportunity to venture into unique and lesser-explored territories."
The hotel boasts 116 guest rooms and suites, all thoughtfully designed to immerse guests in the fishing village theme. Each room features a private balcony that offers stunning views of Tufu Bay or the magnificent South China Sea. The bathroom is designed to resemble a wooden boat filled with marine treasures, where the vanity mirror is supported by a pearl chandelier and the sliding door features fish scale motifs, completing the ocean-themed experience.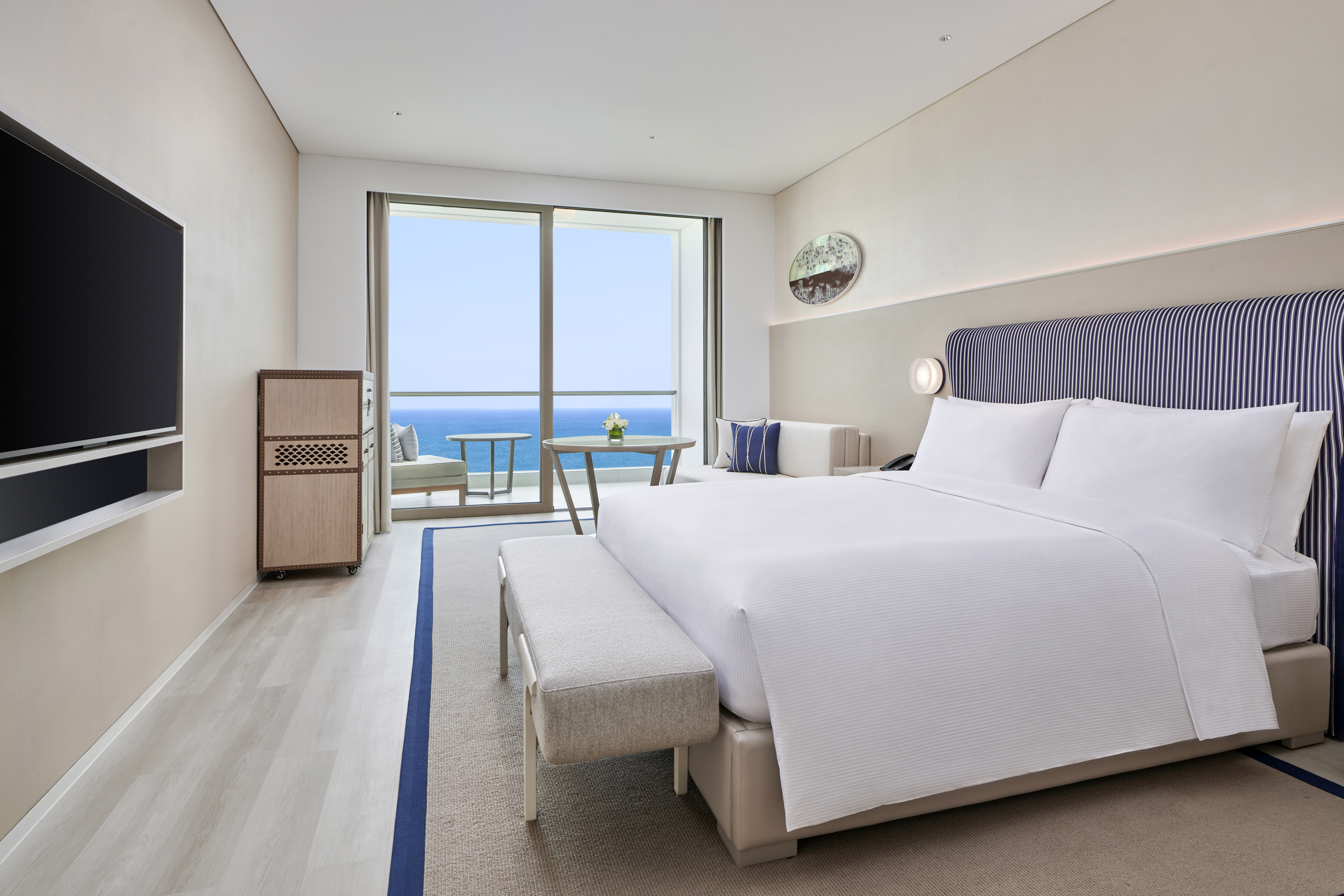 The hotel houses five uniquely designed restaurants and bars, featuring ingredients sourced from Hainan Island, offering guests an authentic culinary experience:
All-day dining restaurant Fu Bay is an ode to abundance and the mermaid's gift of the Fu Bowl. The lobby is a nautical haven, adorned with sails and sailor stripes, while the restaurant specialises in fresh, seasonal ingredients from Tufu Bay's fishing port, offering Western, Mediterranean and Southeast Asian dishes, as well as local Hainan favourites.
At Haitang Chinese Restaurant, guests set sail on a journey of authentic Hainan flavours. Hainan cuisine, as well as popular Sichuan and Hunan dishes, flank the restaurant's menu, highlighting the unique local culinary culture.
At the lobby bar, The Mermoon Bar, guests can enjoy a range of exquisite snacks, fresh coconut water, a Blue Ocean Dream Afternoon Tea and signature cocktails like Sunset at Tufu Bay and Mermaid Island Sea.
Located next to the outdoor swimming pool, Star Bar is a casual venue for evening drinks and cocktails. As night falls, guests can savour seafood fresh off barbeque grills and enjoy signature drinks while soaking in the starry skies and moonlit beauty of Tufu Bay.
The Bay Library is where guests can retreat to enjoy some leisurely time, with a book in one hand and a coffee, tea or specialty cocktail in the other. The library's undulating ceiling design mimics the lapping of beach waves against the shore and is complemented by brown-and-white striped umbrellas and pebble-styled sofa chairs for a relaxing beach-themed atmosphere.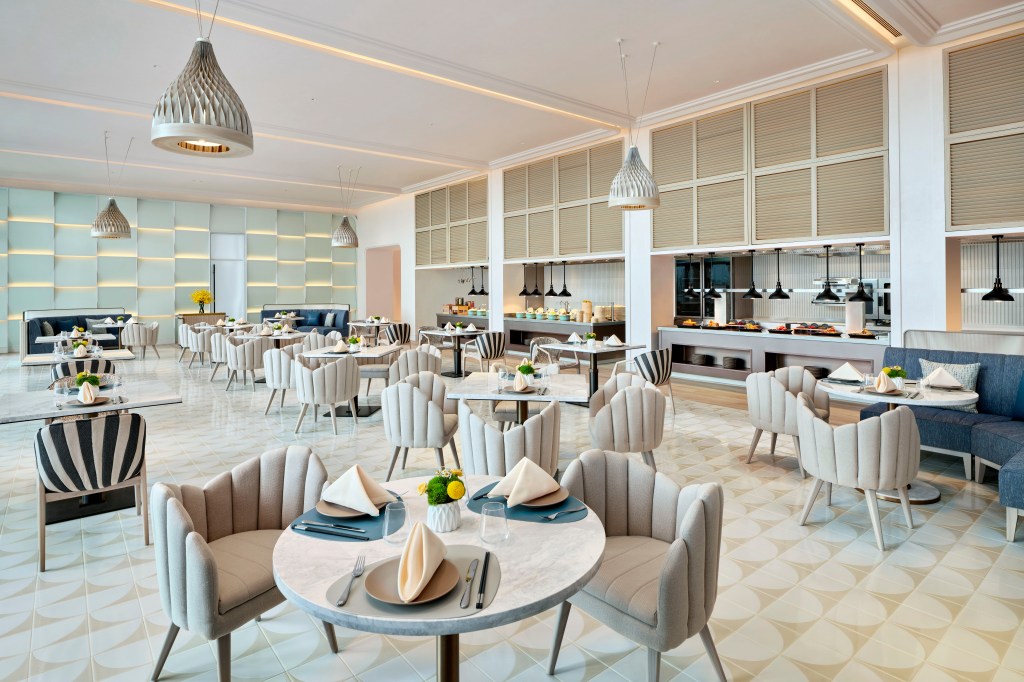 Apart from its extensive dining options, the hotel also offers over 614 square metres of flexible event space with four banquet and meeting venues that can be combined, and a 1,000-square-metre outdoor lawn. All meeting venues are equipped with advanced audio-visual, lighting equipment and high-speed internet.
Inspired by the legend, the outdoor pool is designed in the shape of a mermaid's tail, depicting a mermaid swimming through the azure sea. The hotel also offers mermaid costumes, allowing guests to transform into Tufu Bay "mermaids" and capture enchanting vacation moments. Younger guests can enjoy a children's club and dedicated outdoor swimming pool.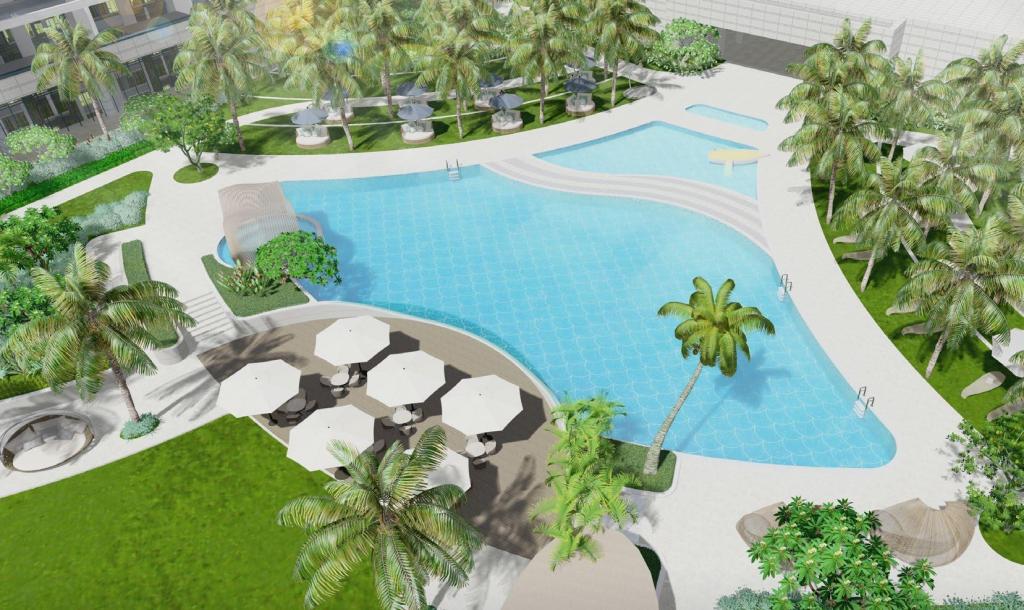 Andrew Ling, senior director, Lifestyle Brands Management and Strategic Planning & Innovation APAC, Hilton,said, "The opening of The Mermoon Resort Hainan Tufu Bay marks another significant milestone for Hilton as we expand our footprint across the region. Each handpicked Tapestry Collection property is uniquely inspired by a one-of-a-kind story. At every Tapestry hotel, design, food & beverage, and story-inspired hospitality weave together to create an immersive experience for our guests that can't be found anywhere else. This resort is no exception, and we are excited to have our guests experience the charm of the resort and the special story of Ah Fu and the mermaid as they uncover all it has to offer."
Nestled in the charming Tufu Bay of Hainan Island, the resort boasts a prime location, located approximately 50 kilometres from Sanya Phoenix International Airport. Guests have easy access to a myriad of popular tourist attractions, including Danjia Fishing Village, Nanwan Monkey Island, Boundary Island, Sanya Paddy Field National Park, and Sanya International Duty-Free Shopping Complex.
The Mermoon Resort Hainan Tufu Bay is part of Hilton's award-winning guest loyalty program, Hilton Honors. In celebration of the hotel's opening, Hilton Honors members who book and stay at The Mermoon Resort Hainan Tufu Bay through Hilton's website from June 15 to September 14, 2023, will earn an additional 1,000 Hilton Honors points per night.
For more information or to book a room, please visit The Mermoon Resort Hainan Tufu Bay, Tapestry Collection by Hilton, or call +86 898 8309 8666. Learn more about Tapestry Collection by Hilton at Stories From Hilton.