Myriam Younes | May 13, 2022
By Myriam Younes
Our most recent Travel Trend Report explains how travel is returning in a big way. We recently shared our key Q1 takeaways for the North American market. In this post, we look at the data for travelers based in Europe, the Middle East, and Africa (EMEA).  
1. 
As restrictions eased, traveler searches surged 
Just as we observed when looking at global trends for Q1, we saw a big appetite for travel by EMEA travelers at the start of the year. The lift in search volume globally was partially led by travel shoppers in EMEA region, which saw searches up 25% quarter-over-quarter, which was second only to North American traveler search volumes in Q1. Looking year-over-year, the rising travel intent was even more pronounced: EMEA search volume was up a staggering 165% compared to Q1 2021. Despite other uncertainties in the region during the middle of February, EMEA—like other regions—saw week-over-week growth following news of loosing restrictions and mandates.
2. Travelers grew more confident planning further out   
When it comes to search windows, the positive trends continued, as EMEA travelers searched further out compared to the previous quarter. In fact, the global share of searches for EMEA travelers looking in the 91- to 180–day period increased by 140%. Looking specifically at international searches for this search window, EMEA posted the strongest gains compared to other regions, with 110% quarter-over-quarter growth.
And looking at domestic travel, EMEA shoppers also searched further out, following the global trend. We saw domestic search share in EMEA for the 0- to 21–day window decrease, shifting share primarily to the 91- to 180–day window, which increased 225%. These are all strong indicators that summer travel demand in the Northern Hemisphere could continue to grow in 2022.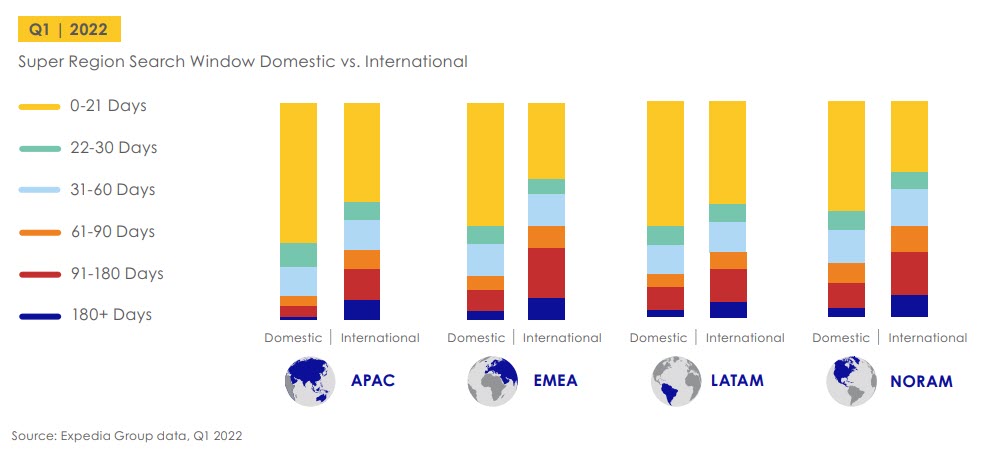 3.People plan to take more time off to travel  
In line with the other countries surveyed for the 2022 Expedia Vacation Deprivation Report, working adults in Europe plan to take more vacation days in 2022 than they did in 2021. Not only that but compared to the average number of days reported across surveyed countries, Europeans plan to take more time off than most (only Taiwan and Japan respondents said they plan to take more). Specifically, working adults in France plan to take 30 days of holiday time, those in the UK plan to take 24, those in Germany plan to take 28, and those in Italy plan to take 24. This is welcome news for the industry, and an opportunity for travel marketers to connect with EMEA travelers who are clearly optimistic and eager to get away.


4. Travelers booked more hotel and vacation rental stays 
As we saw at the global level and in North America, bookings for hotels and Vrbo vacation rentals combined are on the rise. All regions experienced at least double-digit growth, but EMEA had the strongest quarterly growth at 150%. EMEA also saw a large increase in stay duration across lodging types—more than APAC and LATAM. Looking at vacation rentals specifically, the average length of stay in the region increased from 7 days to nearly 7.5 days, while hotel stays also lengthened moderately.
As for where EMEA travelers booked vacation rental stays, U.S. city Kissimmee (near the theme park center of Orlando) was the top booked city for those in the region. In addition, we saw increased demand from EMEA travelers—specifically the UK and Germany—for vacation homes during the U.S. summer season. In fact, demand has returned to near pre-pandemic levels. But generally, domestic travel continued to dominate the vacation rental space, with France being the top booked country for the region.
5. People are looking for ways to travel more sustainably 
The Travel Trend Report also highlights some key findings from our recent Sustainability Study, which asked 11,000 consumers in 11 markets—including France, Germany, and the UK—how they feel about eco-conscious travel. Overall, 93% of European respondents said they would be willing to pay more for travel to ensure it was sustainable. Of that, nearly half would pay more for sustainable food options. And nearly 60% said they would buy from local stores and restaurants rather than chains during future trips.