Hala Matar Choufany | September 26, 2023
By Hala Matar Choufany, Filippo Sona
Welcome to the world of hospitality development, where unique developments and unforgettable moments come to life. We are thrilled to introduce you to our latest publication, "Navigating the Investment Terrain: Trends in GCC Hotel Development Costs" where we delve deep into the intricate world of hotel development costs, unveiling the secrets that impact project costs and hotel values. In this joint publication, we outline the main hotel development expenses and recent trends in hotel development and design. Whether you are a seasoned developer, an aspiring hotelier, or simply an enthusiast curious about the inner workings of the industry, we hope this publication equips you with the knowledge to navigate this dynamic industry successfully.
While data suggests that some 200,000 rooms are under development across the GCC, in the current economic environment, it is important to acknowledge the challenges posed by rising borrowing costs, development expenses, and operational expenditures. These factors are increasingly impacting hotel values and project returns, creating a complex landscape for investors and developers. In order to navigate these challenges and optimize project returns, industry professionals should employ various strategies by carefully analyzing market dynamics, implementing robust financial planning, and embracing innovative solutions. Overall, with strategic planning, comprehensive evaluation and a deep understanding of the investment costs, hotel investment and development in the region can offer attractive returns. Some of the noticeable emerging trends include but are not limited to:
The focus on sustainability and environmental awareness has grown, with rising demand for sustainable and eco-friendly hotels. Investors have an opportunity to develop and operate properties with cutting-edge designs, and significant investments in renewable energy, wildlife conservation, and eco-friendly practices.
The global pandemic forced many hotels to make significant changes to their layouts and interior design. The trend now is toward incorporating more environmentally conscious design elements and more sustainable operational and design practices. Guest-focused, smart digital contactless technology, co-working spaces, outdoor hospitality spaces, wellness amenities, signature F&Bvenues, smaller room count, and higher levels of efficiency are now common trends in today's hospitality investment and development outlook.
In the coming years, the industry is likely to witness growth in the following:
Luxury hotels' inventory dominated by residential components for both greenfield and repositioned developments
Design and Built & Modular construction to dominate the Mid-Market & Upscale segment
More Interior Design firms to incorporate design & supply for Loose FF&E packages
Indicative Total Development Cost in USD (Per Sqm Across Different Asset Positioning)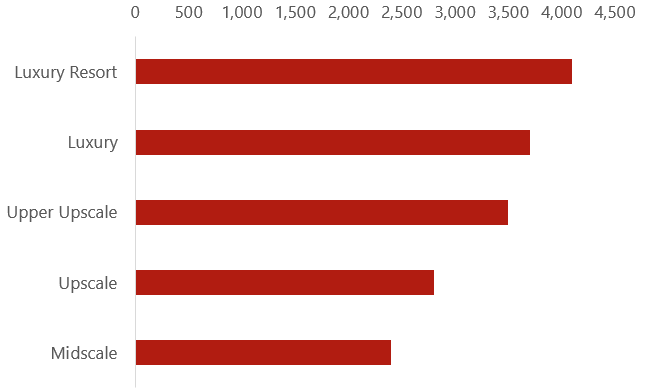 Source: HVS, 2023
Indicative Total Development Cost in USD (Per Key Across Different Asset Positioning)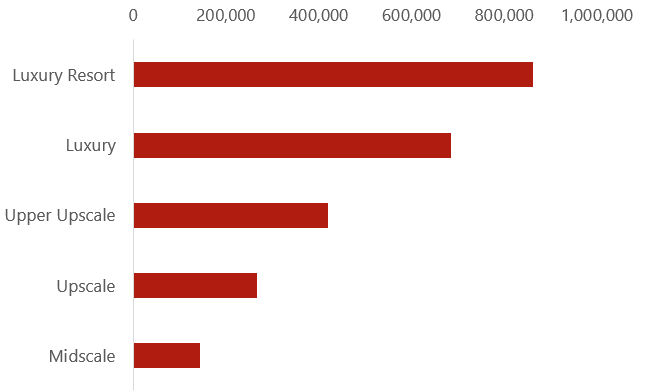 Source: HVS, 2023
Please download the PDF for the full article with detailed hotel development costs.