Tanya J. Pierson | April 12, 2017
By Tanya J. Pierson, Justin Westad, Justin Kaminski
Some 3.6 million residents, 16 Fortune 500 companies, and attractions like the Guthrie Theater and Mall of America drive the economy in the Minneapolis-St. Paul MSA, which includes the Minneapolis, St. Paul, and Bloomington hotel markets. The following HVS Market Pulse article presents a brief look at hotel supply, performance, and demand dynamics in Minneapolis, St. Paul, and Bloomington. Hotel Market Dynamics in the Minneapolis-St. Paul MSA
Hotels are a major economic force in the Twin Cities. More than 57% of the total accommodations tax collected in the state comes from the Minneapolis-St. Paul metro area, amounting to $86.1 billion in 2015, per data collected by the Minnesota Department of Revenue. This staggering figure, from 503 properties, equates to nearly three times the average amount per property statewide.
Twin Cities Hotels Account for More than Half of Statewide Taxable Sales

Source: Explore Minnesota & MN Department of Revenue
The Minneapolis CBD, the St. Paul CBD, and the Bloomington/Airport area have the three largest inventories of hotel rooms in the metro area. While population and office statistics vary greatly among them, all three areas boast strong hotel performance, which has attracted new hotel development in recent years.
Minneapolis Has the Largest Population, Lowest Office Vacancy in the MSA

Source: Woods & Poole, REIS, BLS, Census Bureau
The following highlights major projects in the three markets, including new hotel construction.
Minneapolis
Industry in Minneapolis, Minnesota's biggest city, spans finance, retail, education, and health care. According to the City of Minneapolis, more than $1 billion in construction permits were issued in 2016, the second-highest level since 2000; the highest level was in 2014, driven by the $1.1-billion US Bank Stadium. Downtown developments in 2016 included more than 1,200 hotel rooms, over 2,640 new residential units under construction, and the Target Center renovation.
Pro Sports
Professional sports have driven development in Downtown Minneapolis, including the opening of Target Field in 2014 and the new US Bank Stadium, home to the Minnesota Vikings, which opened last summer. The stadium will host Super Bowl LII in 2018 and the NCAA Men's Final Four Basketball Championship in 2019, major events that should draw massive demand. Additionally, a $129-million renovation of Target Center, which began in the spring of 2016, is expected to be complete this fall, in time for the beginning of the basketball season.
Finance
In July 2016, Wells Fargo consolidated approximately 5,000 employees from nine separate buildings, which were spread across Downtown, into one location. This $300-million, 17-story, twin-tower office complex is located near US Bank Stadium.
Originally proposed as a $90-million, 50-story, mixed-use tower in October 2015, smaller-scale renovations are now underway at the former TCF Bank building at 8th Street and 2nd Avenue. The approximately $20-million renovation will include two-story, loft-style offices with a redesigned atrium. The new owners expect to have up to 130,000 square feet of office space leased by the end of this year.
Retail
In January 2017, Macy's announced it would close its one-million-square-foot flagship store in Downtown Minneapolis in the spring, amid nationwide store closings. A New York developer recently purchased the property for approximately $59 million, with plans to have locally-based United Properties assist in its renovation and conversion into retail and office space.[1]
The $50-million Nicollet Mall Project began in 2016. The project will update the sidewalks, streetlights, trees, and artwork along the twelve-block pedestrian mall, in addition to a two-block LED-light display and an outdoor reading room. The makeover has disrupted foot traffic and slowed sales for several stores, but as the project progresses, foot traffic is expected to increase prior to completion in 2018.
Hotel Supply
Downtown Minneapolis experienced a six-year dry spell of new hotel construction, with no new developments between 2009 and the beginning of 2015. Since the opening of the Hampton Inn & Suites in April 2015, nearly 940 rooms have come online Downtown through year-end 2016, including the Embassy Suites by Hilton Minneapolis (August 2016), the Hampton Inn & Suites University Area (September 2016), the AC Hotel by Marriott Downtown (October 2016), the Radisson RED (November 2016), and the Hewing Hotel (November 2016). 
Upper-Upscale Hotels Make Up Nearly Half of All Hotel Asset Classes in Minneapolis
Source: STR
An additional 1,900 rooms are either under construction or proposed for development in Downtown Minneapolis, with historically high occupancies, new commercial developments, and upcoming citywide events, such as Super LII and the NCAA Men's Final Four, driving interest in new hotel development.
In partnership with hospitality management company DDK, the furniture retailer West Elm, a division of Williams-Sonoma, recently announced it would build one of its first hotels in Downtown Minneapolis. The 120-room hotel's location in the North Loop has yet to be finalized; the property is anticipated to include a rooftop bar and a "grab-and-go" café. West Elm Hotels has also announced plans to build in Detroit, Indianapolis, Charlotte, and Savannah, with most of the proposed hotels set to open in late 2018.
Recently Opened and Proposed Hotels Clustered in Downtown Minneapolis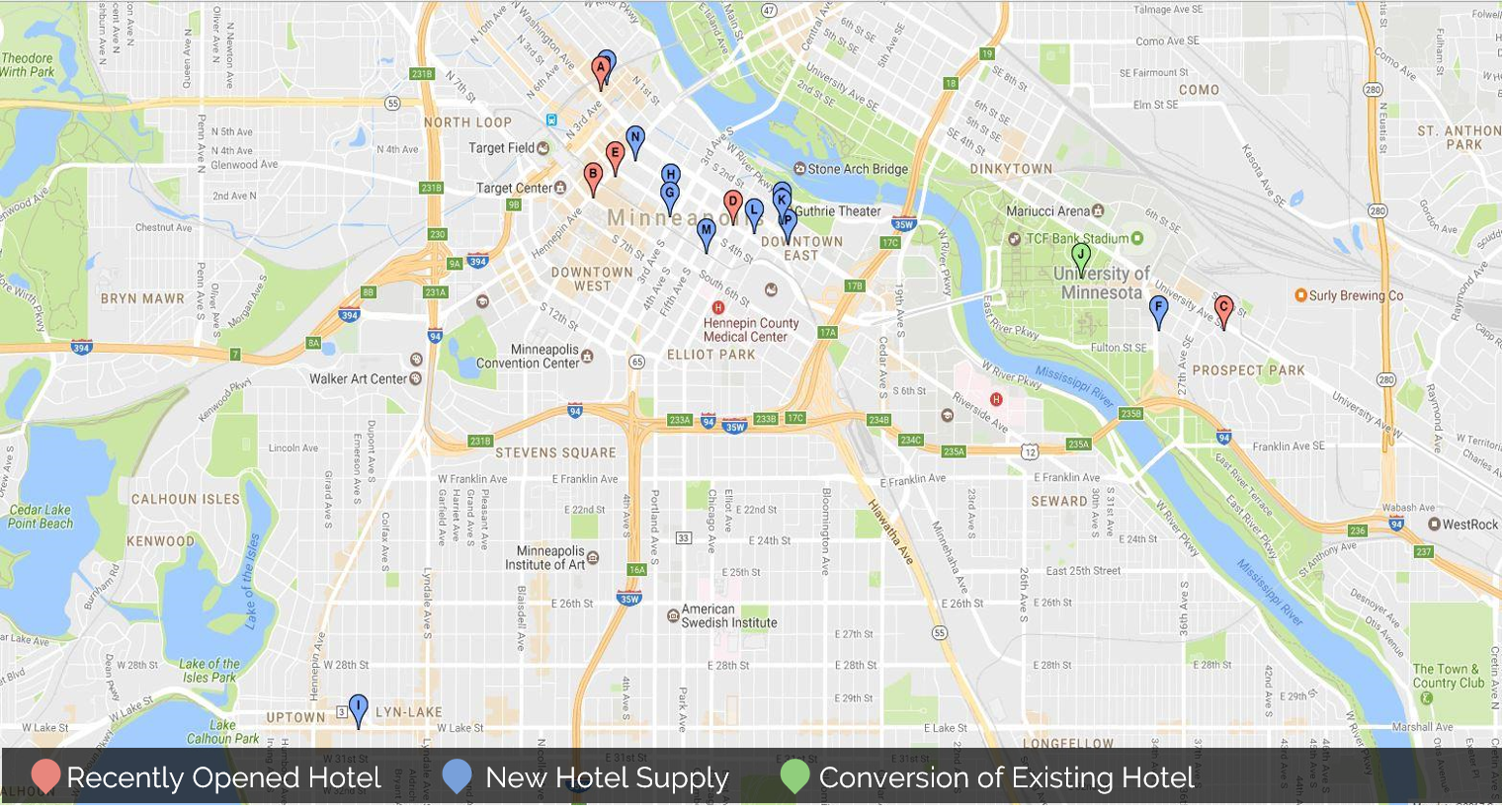 Source: HVS
Five New Hotels Recently Opened, Eleven More on the Way for Downtown Minneapolis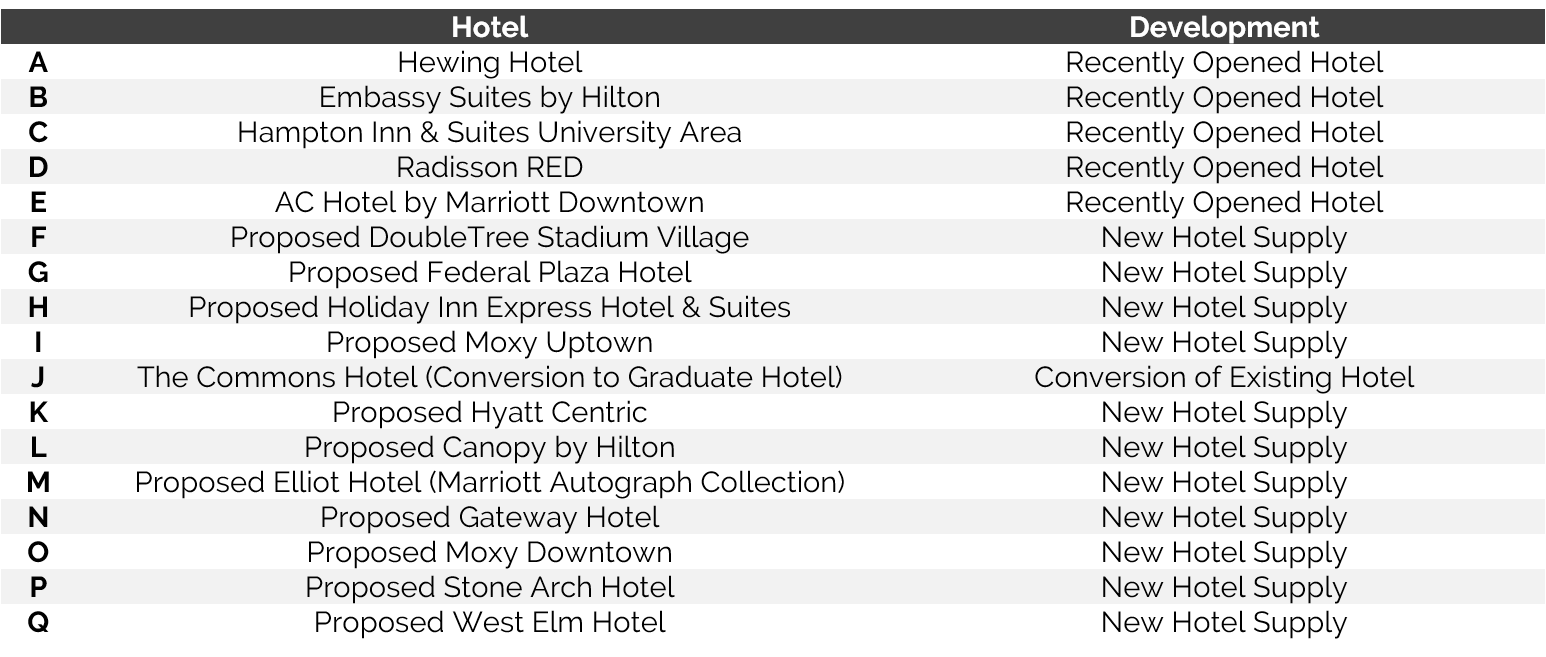 Source: HVS
St. Paul
St. Paul, the state capital, is known for its European flair and an abundance of cultural arts and entertainment venues. Here are some of the major developments in the city.
New Development in St. Paul
Several projects completed in the past two years have spurred economic growth in Downtown St. Paul. In June 2014, the addition of the METRO light-rail Green Line made transportation to the downtown area and surrounding demand generators accessible and affordable. According to the city, through the second quarter of 2016, more than $260 million in building permits had been issued, with a notable increase in large-scale projects. Furthermore, between 2009 and 2016, there was a 51% decrease in the number of vacant buildings in St. Paul.
Sports, Culture, and Business
The grand opening of CHS Field, the new home of the St. Paul Saints baseball team, has supported commercial and tourism growth in the area. The construction of a new MLS soccer stadium in the Midway neighborhood near the intersection of Snelling Avenue and Interstate 94 is anticipated to spur additional growth.
The Ordway Center for the Performing Arts recently constructed a new concert hall, which is now home to the St. Paul Chamber Orchestra. In addition, the city of St. Paul is nearing completion of a $15.6-million redevelopment of the Palace Theatre into a 2,800-seat concert venue. The theatre is expected to open in March 2017 for the first time in approximately 40 years.
Ecolab is in the process of an ongoing headquarters relocation into the Travelers north tower. Travelers sold the north building to Ecolab in the summer of 2015 and plans to move most of its employees into the south building by 2018. The existing Ecolab office building is currently up for sale.
Future development and growth continues for Downtown St. Paul as the Minnesota Wild recently signed a lease for a new practice facility on top of the former Macy's building. Macy's vacated the 529,000-square-foot structure in 2013, and the site was purchased by the Port Authority in early 2014. Preliminary plans suggest that the Minnesota Wild will occupy approximately 65,000 square feet, leaving the remaining space open for 550 parking stalls and 120,000 square feet of retail and office tenants.[2]
Recent Conversions, Renovations, and New Hotel Supply
Between 1986 and 2015, only two hotels opened in St. Paul. The InterContinental (former Crowne Plaza) underwent a significant renovation and conversion in 2015. The completion of this conversion and other hotel renovations has contributed to a moderate increase in average rate and RevPAR in Downtown St. Paul.
Existing Hotel Supply in St. Paul is Fairly Diverse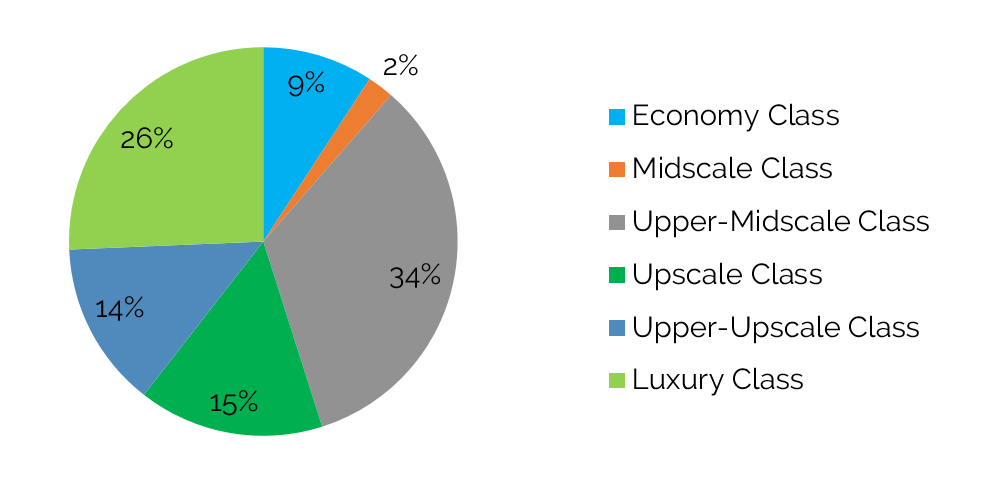 Source: STR
In the fall of 2016, a $125-million project converted the former Eugene McCarthy Post Office Building into a 149-room Hyatt Place hotel, apartment complex, and retail space. In addition, the mixed-use redevelopment of the former Seven Corners Hardware store is nearing completion.
The 159-room Hampton Inn & Suites opened in November 2016, and the project's market-rate apartments and all retail bays are scheduled for completion by March 2017. Furthermore, reports from January 2017 describe plans for a proposed upscale hotel along the riverfront on the former site of West Publishing and the Ramsey County jail, in addition to a Residence Inn by Marriott near the hospital, and a boutique hotel in the former Empire Building.[3]
The Opus Group and Greco were selected to develop the Seven Corners Gateway site, with plans for a Radisson RED hotel, multi-family housing, and retail; however, a timeline has not yet been established for this project.[4]
The following map overlays the new hotel supply in the market with a sample of new demand generators.
New Developments Could Stimulate Demand for Downtown St. Paul Hotels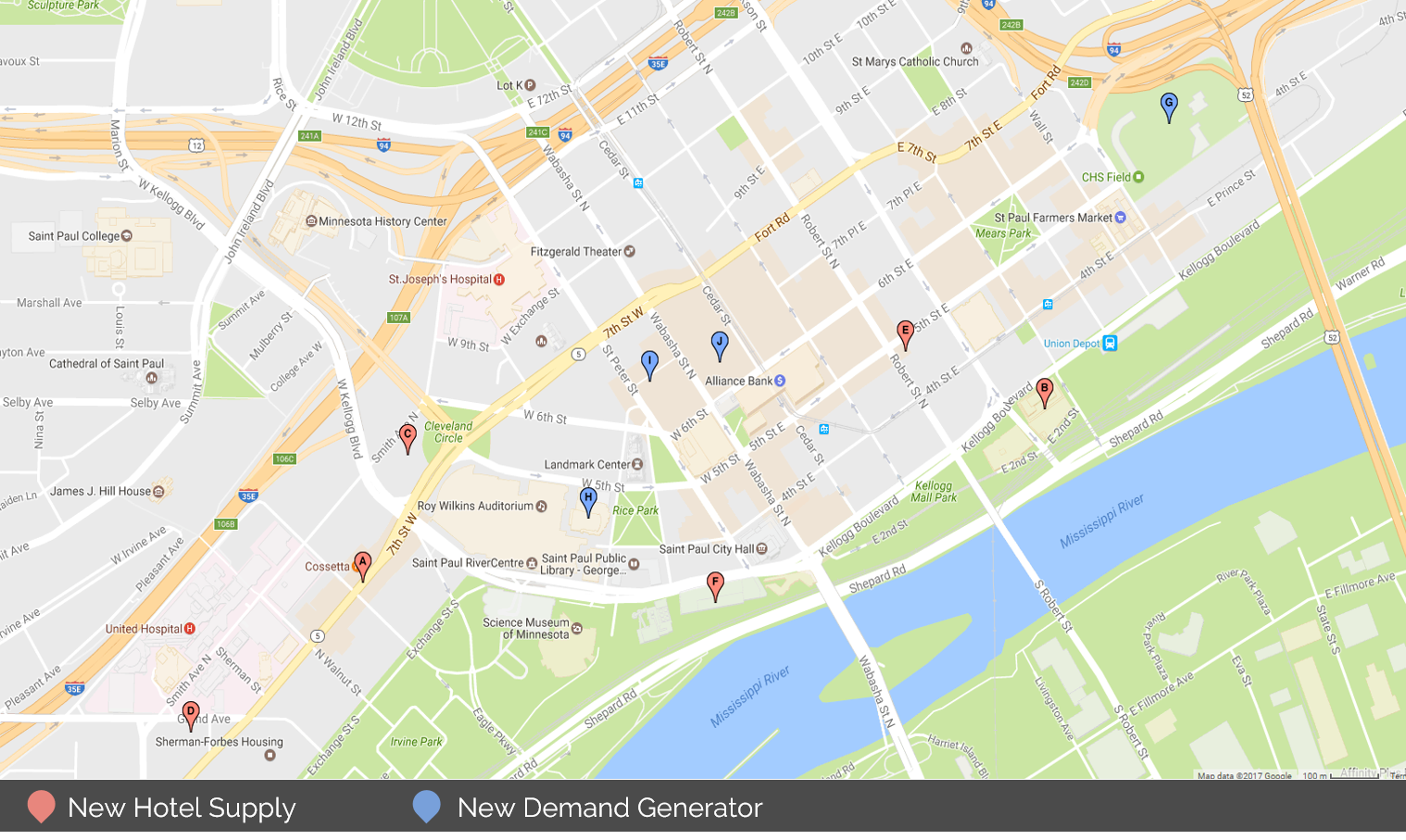 Source: HVS
Sample of Completed/Approved Commercial Developments in St. Paul over the Past Two Years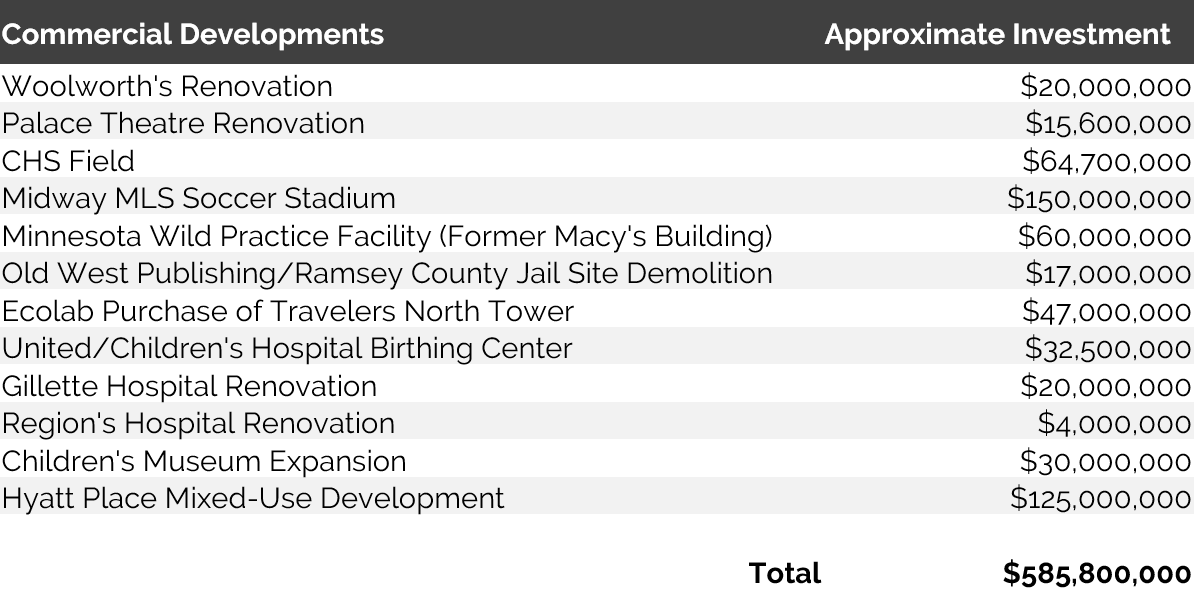 Source: www.twincities.com/2016/05/12/st-pauls-largest-development-projects-of-2016
Bloomington Bloomington's diverse collection of leisure, commercial, and meeting and group demand generators includes entities such as the Mall of America and Minneapolis-St. Paul International Airport; corporate operations for Best Buy, Health Partners, Toro, Seagate, and Wells Fargo; and association, sports, and SMERFE-related events year-round. Retail and Office Developments
The 5.6-million-square-foot Mall of America complex attracts more than 40 million visitors a year, with up to 40% residing more than 150 miles away. Construction of Phase 1C was completed in late 2015; this phase included the 342-room JW Marriott hotel, 170,000 square feet of office space, and 135,000 square feet of retail space. Plans include a more than $500-million expansion of up to 10 million square feet, incorporating an entertainment/arts venue, luxury retail, and high-end hotels.
Other recent changes in the market include the January 2016 opening of the Hyatt Regency Bloomington Central Station and the 2016 opening of the Indigo multi-family apartments. The most recent addition of office space to the Bloomington area was the 170,000-square-foot, Class-A office building known as the Offices @ MOA, attached to the north end of the Mall of America. As of January 2017, approximately 75,000 square feet of space remained vacant, with Cray Industries as tenant for most of the occupied space.
New Hotel Supply
The most recent additions to Bloomington's hotel supply primarily comprise upscale, upper-upscale, and luxury properties. The following chart illustrates the current inventory of hotel rooms in Bloomington by property type.
Upscale Hotels Account for Largest Percentage by Asset Class in Bloomington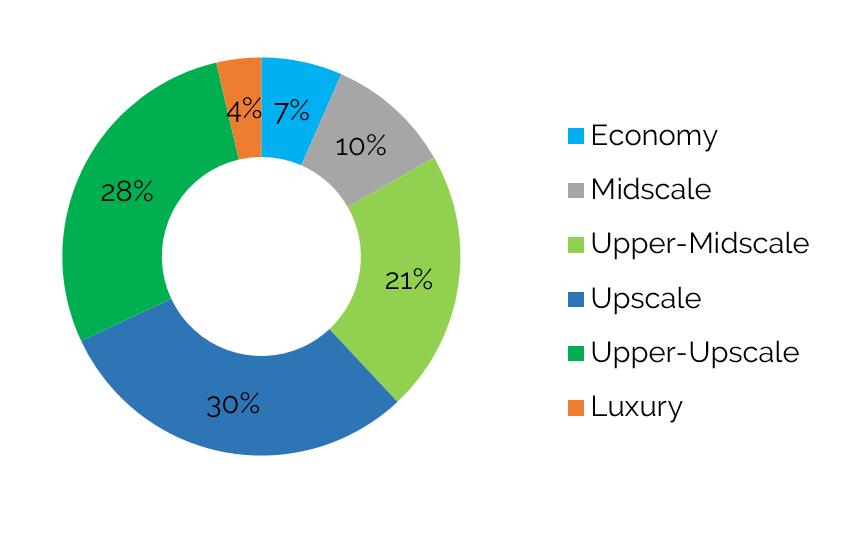 Source: STR
Its diverse mix of businesses and demand generators has led to significant growth in new supply in Bloomington over the past decade, a stark contrast to supply trends in Minneapolis and St. Paul.
More Than 15% of the Bloomington Hotel Supply Opened 2012–2016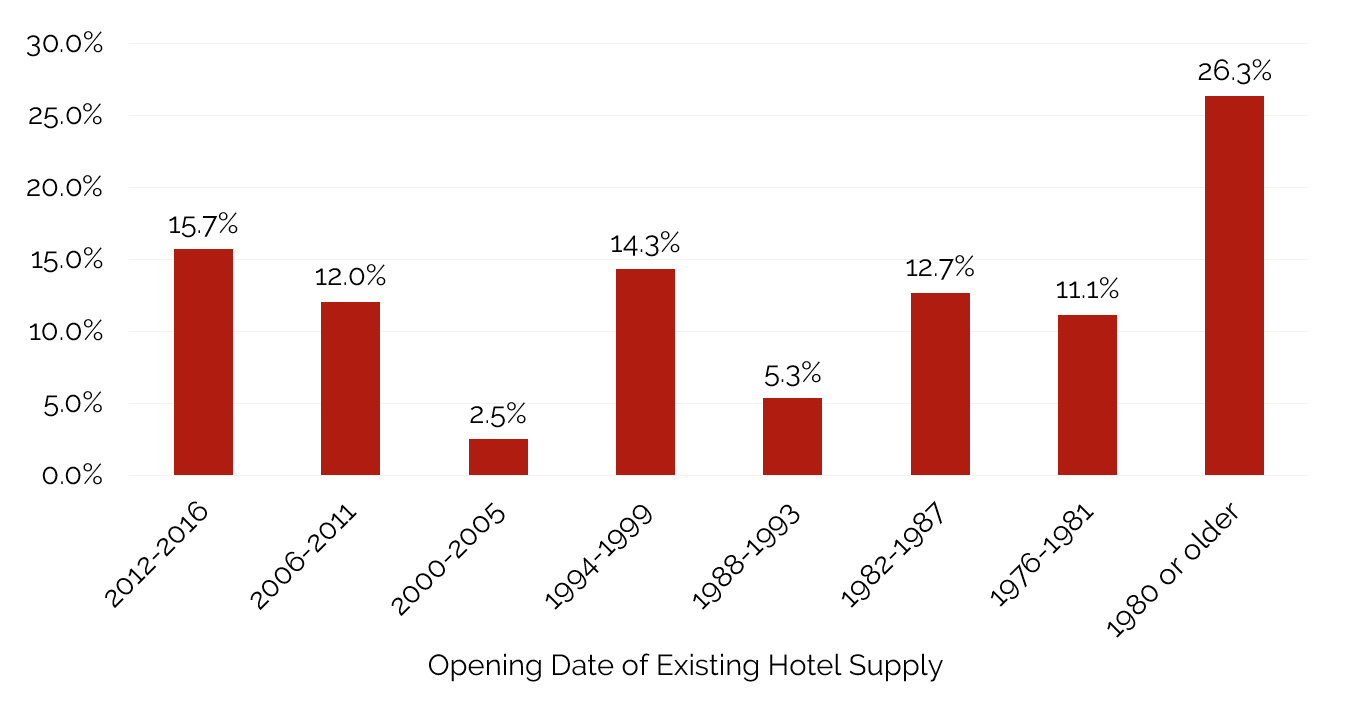 Source: STR
An AC Hotel by Marriott just opened in late February 2017; it was developed in conjunction with a restaurant, coffee shop, and grocery/pharmacy on a parcel directly northeast of the Mall of America. A 300-room InterContinental Hotel, to be connected to Terminal 1 of Minneapolis-St. Paul International Airport, is currently under construction, with a 2018 opening planned. According to the City and brand representatives, additional smaller, limited-service hotel projects may come to fruition in late 2018/early 2019 on the east and southeast sides of the Mall of America; however, branding and timing for these proposed projects have not been formally announced.
Notably, the former Ramada Mall of America hotel was closed and demolished in 2016, and no immediate plans for redevelopment of this site are in place. The Radisson Hotel Mall of America was closed on February 1, 2017; it will be converted to a Great Wolf Lodge. Combined with the closure of the Ramada, this takes more than 650 rooms out of inventory in Bloomington for much of 2017.
Looking Forward
Minneapolis, St. Paul, and Bloomington boast strong sources of demand, which has led to moderate growth in RevPAR over the last several years and attracted new hotel development. Low unemployment (3.6% for the Minneapolis-St. Paul MSA), a relatively affordable cost of living, and a plethora of cultural and recreational activities continue to attract employers to the area, fueling the strong economic engine that has further propelled new hotel development.
While economic indices are favorable, the recent and upcoming influx of hotel supply is anticipated to result in more normalized levels of occupancy, coupled with modest growth in average rate in the coming years. These new hotel arrivals, however, come after a years-long drought in new builds, and strong hotel performance and upcoming events like the Super Bowl support an optimistic outlook for these markets in the near term.
[1] http://www.bizjournals.com/twincities/news/2017/03/02/macy-s-buyer-hires-pohlads-united-properties-to.html/ [2] http://www.twincities.com/2016/12/22/minnesotawildstpaulmacysleaserooftoppracticerink/ [3] http://www.startribune.com/realestatenotebooksiteofformerjailinstpauleyedforupscalehotel/411761916/ [4] http://www.startribune.com/st-paul-grants-developer-status-to-opus-greco-for-seven-corners-gateway/280108612/