HotStats | October 28, 2021
The cold hard truth is arriving with the chillier weather: global hotel performance has a ways to go before it's back to its former self.
In the U.S., there is, however, cause for optimism. First, COVID case count: According to The Washington Post, new coronavirus infections in the country have dropped nearly 60 percent since a September spike due to the Delta variant. The seven-day average is also down some 58% since a mid-September infection peak.
Coupled with a decreasing case count is the recent Biden administration decision to lift COVID-19 travel restrictions for fully vaccinated international visitors beginning November 8, a move that should boost travel. Restrictions on non-U.S. citizens were first imposed on travelers from China in January 2020 and then extended to other countries subsequently.
Glitzy marketing campaigns, billboards across London, and travel deals – here's a look at what NYC is doing to attract international travelers once US restrictions lift on Nov 8th. w/ @katiecnbc https://t.co/We2wQKMWMj @thenewsoncnbc

— Seema Mody (@seemacnbc) October 27, 2021
The tandem of good news could not come at a better time for the U.S. hotel industry, which continues its slog back to pre-pandemic performance. In September, U.S. hotels achieved gross operating profit per available room (GOPPAR) of $51, which was 44% lower than in the same month in 2019, according to HotStats data. September was also a second consecutive month of flat profit growth, actually down over August, after a steady escalation throughout summer.
Part of the reason was the strong leisure travel demand that characterized the first three quarters of the year, something reiterated in Hilton's Q3 earnings report. And while much of travel demand has been associated with the leisure segment, Hilton CEO Chris Nassetta noted that "business travel continued to pick up during the quarter," propitious news for the hotel industry, which can not sustain profits through leisure demand alone. "Business transient will continue to move up," he said. "You'll continue to see great strength in small and medium enterprises, which aren't fully back to pre-covid levels but are pretty close."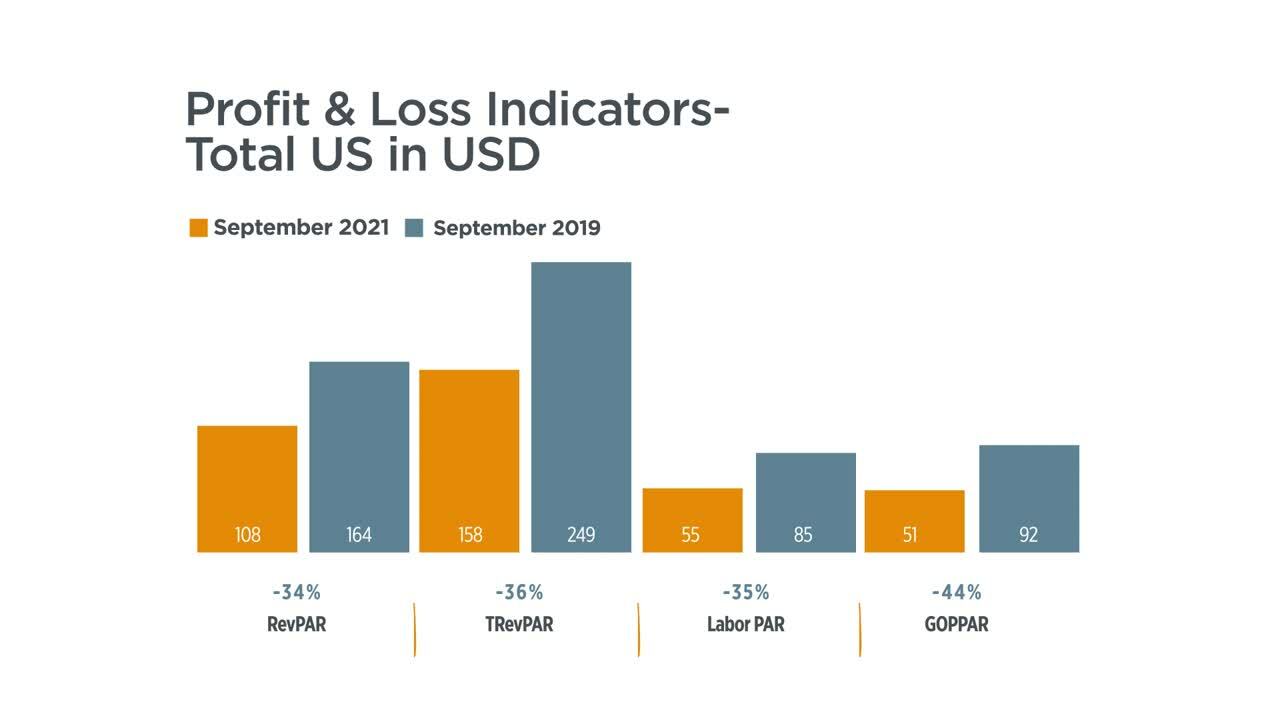 Meanwhile, expense creep is beginning to erode already fragile profit margins. Total labor on a per-available-room basis hit its highest level since the pandemic's outset and, at $55, it was $34 higher than April 2020, a month that marked the U.S. hospitality industry's lowest performance point.
Europe's fortunes also remained tied to curtailing the spread of COVID, which is now seeing an uptick in case load.
WHO: Europe had most COVID-19 cases, deaths over last week https://t.co/zLbBHxxb85

— Winnipeg Free Press (@WinnipegNews) October 27, 2021
GOPPAR in Europe remains 45% down compared to September 2019, but within the same time frame, labor costs are now only down 27% to €38, which is €14 off the September 2019 level. At the same time, total other expenses, which are all hotel expenses minus labor and cost of sales, continue to rise and are now just 22% off the pre-pandemic number.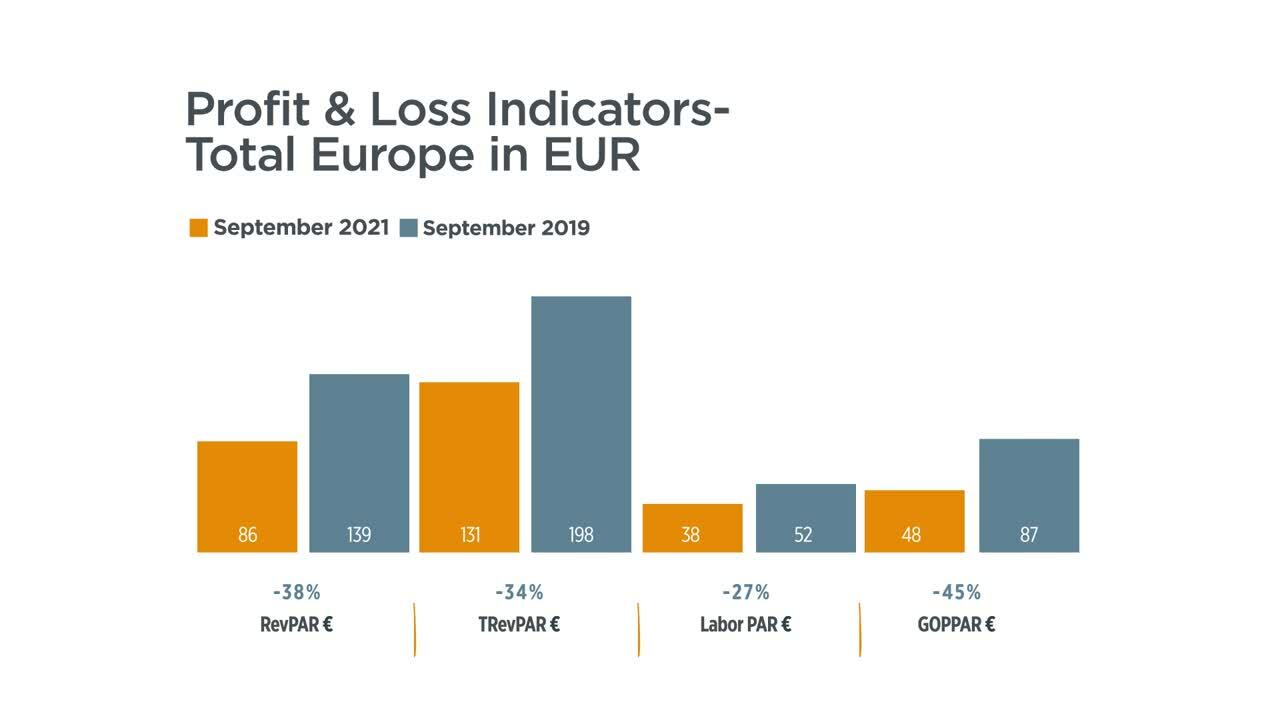 The Middle East is seeing both its revenue and profit deltas shrink, despite consecutive months of rate erosion. Both RevPAR and TRevPAR in the region are only a little more than 20% off pre-pandemic levels. On Hilton's Q3 earnings call, CFO Kevin Jacobs noted that the Middle East and Africa region saw RevPAR increase 110% year-over-year and was down 29% versus 2019, with performance benefitting from strong domestic leisure demand and international inbound travel from Europe.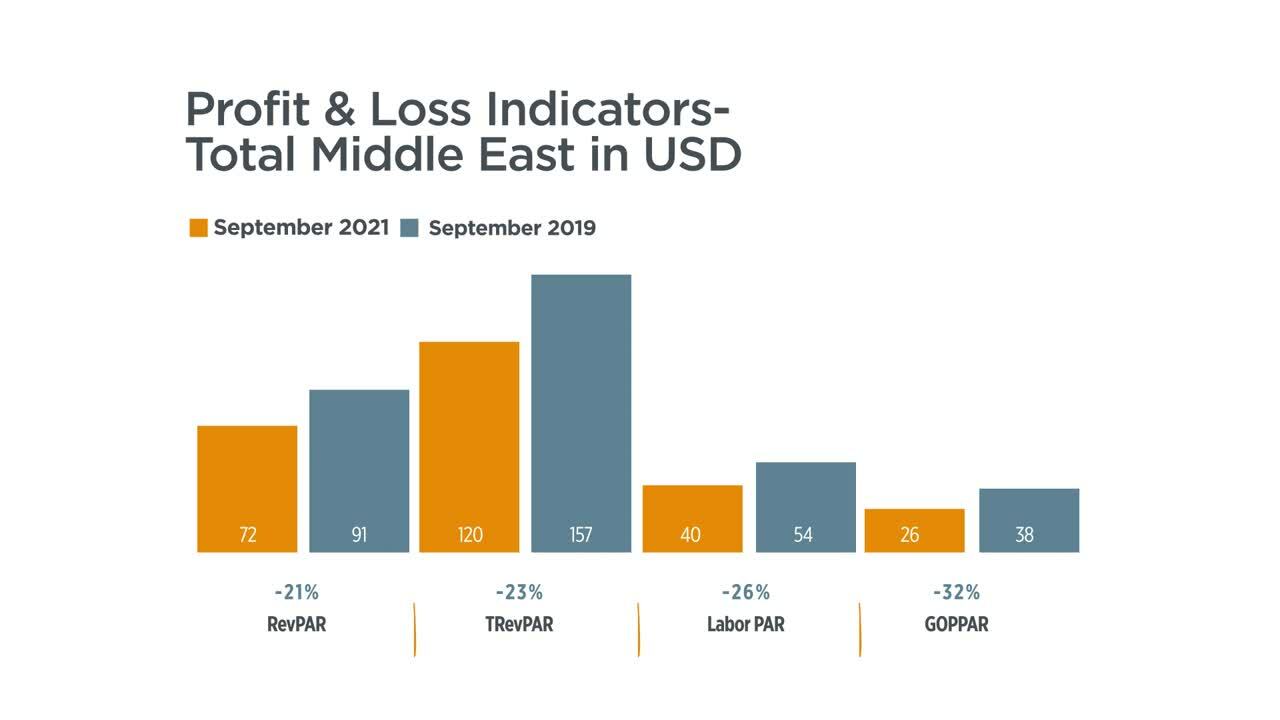 Meanwhile, fresh lockdowns have hindered China's domestic hotel market. Still, the country is experiencing a sharp rise in labor costs, which are now just USD$5 off their pre-pandemic level at $32.
China has been militant in its attempts to curb the spread of COVID-19 and has gone through great lengths to keep it contained. One of its latest measures is a $260-million, 5,000-room quarantine facility for incoming travelers in the southern city of Guangzhou.
After a large drop in GOPPAR in August, due in part to country-wide lockdowns, profit shot back up in September and is now 32% percent down versus the same time in 2019.