Hilton | August 25, 2022
KUWAIT CITY – Waldorf Astoria Hotels & Resorts today announced the opening of the highly anticipated Waldorf Astoria Kuwait, a refined haven blending timeless elegance with modern sensibility and sincere service, situated in the heart of Kuwait City.
Connected to The Avenues, the country's largest retail, entertainment, and luxury lifestyle destination, and just 11 kilometres and a 15-minute drive from Kuwait International Airport, the property's prime location offers guests convenient access to beloved local attractions such as the Kuwait Opera House, Sheikh Jaber Al-Ahmad Cultural Centre and the Grand Mosque.
Waldorf Astoria Kuwait features 200 magnificently adorned contemporary deluxe rooms and suites with panoramic views of the vibrant city skyline. Guests will enjoy a transformative journey of the senses, from exquisite dining venues and beautiful event spaces to the awe-inspiring Waldorf Astoria Spa.
"We are very excited to be expanding our portfolio in Kuwait to include the iconic Waldorf Astoria, which brings an elevated luxury guest experience to the country," said Jochem-Jan Sleiffer, president, Middle East, Africa and Türkiye, Hilton. "Waldorf Astoria Kuwait is Hilton's third property in the country and brings a trusted brand to a community of discerning travellers who expect the highest levels of service. We look forward to welcoming guests to this outstanding property, which will no doubt be one of Kuwait's most prestigious landmarks."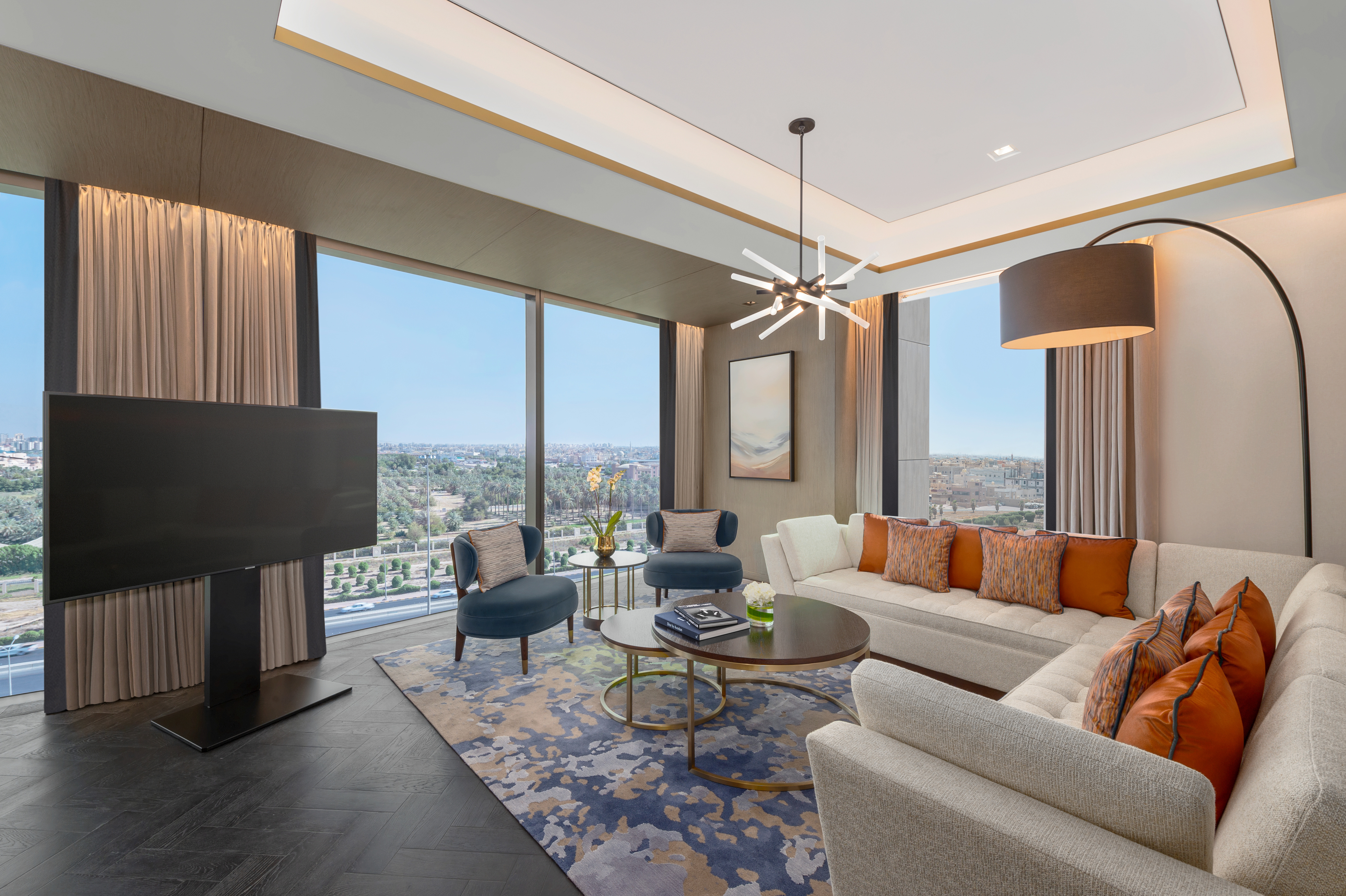 Timeless Luxury
Upon arriving at Waldorf Astoria Kuwait, guests step into a place where stories begin, and unforgettable memories are made. Interiors reflect a grand yet intimate sense of place, including traditional brand elements such as the iconic Waldorf Astoria Clock, which was adapted to reflect Kuwait's cultural heritage, as well as The Library and Peacock Alley.
"We see the hotel stay as an opportunity to connect deeply with a destination and its people.  And the team that brings the Waldorf Astoria Kuwait experience to life exemplifies this sentiment beautifully, poised to be the centerpiece of luxury hospitality in the market and welcoming travelers into a diverse, culturally significant location."
"We see the hotel stay as an opportunity to connect deeply with a destination and its people.  And the team that brings the Waldorf Astoria Kuwait experience to life exemplifies this sentiment beautifully, poised to be the centerpiece of luxury hospitality in the market and welcoming travelers into a diverse, culturally significant location," said Dino Michael, senior vice president and global head, Luxury Brands, Hilton. "As Waldorf Astoria continues to grow in dynamic markets around the world, we welcome new and loyal travelers to experience the legendary appeal of our iconic brand."
From artistic masterpieces inspired by the legacy of Kuwait, plush fabrics, marble accents and an opulent colour selection of champagne, gold and silver, to the stunning sculptural staircase that serves as the lobby centrepiece, each design element is meticulously curated to convey a strong sense of arrival while also providing the comfort of a private home.
Guests staying in the Ikaros Club rooms, Ikaros Club Suites, Presidential Suites or the Royal Suite get exclusive access to The Ikaros Club, where they can unwind and relax in an unparalleled setting. The Ikaros Club offers special dining options, access to The Library and Business Centre, as well as a private meeting room with personalised service to suit each guest's needs. Meanwhile, Waldorf Astoria's signature Personal Concierge service, available to all guests, ensures a truly bespoke experience from pre-arrival to departure. And for the youngest guests, the dedicated Waldorf Astoria Kids' Club ensures a family-friendly getaway.
Culinary Delights
In tune with the Waldorf Astoria legacy of food and beverage excellence, Waldorf Astoria Kuwait offers a diverse range of dining options, from fine dining and romantic cabana dinners to poolside refreshments.
Opening this autumn, ROKA, the award-winning Japanese robatayaki restaurant, brings the finest dining experience to Waldorf Astoria Kuwait. ROKA is a meeting place where food and drinks are shared with friends and loved ones around the Robata ('ro') grill, and where heat, warmth, and an all-embracing energy surround ('ka'). This modern Japanese cuisine concept originates from Japan's northern coastal waters where the fishermen would cook fish on boats with different charcoals and share the food with one another using their oars.
The property's signature restaurant, AVA, delivers a tasteful and ambient experience with authentic Mediterranean flair, featuring the freshest seasonal ingredients. Inspired by a relaxed coastal lifestyle, the dishes at AVA are light and fresh, showcasing the best cuisine from across the French Riviera, the south of Italy, and the Greek islands. Guests can choose from sharing items like wood-fire pizzas, appetisers and salads, succulent grills, and decadent desserts. Touting extraordinary views of the luxury wing of The Avenues, and a menu that is sure to entice the taste buds, AVA sets the tone for an unforgettable culinary journey.
The iconic Parisian-influenced Peacock Alley is an ideal venue for both sophisticated and informal gatherings where guests can enjoy specialty coffees and fresh meals, indulge in chocolates and macaroons, or delight in Waldorf Astoria's signature Afternoon Tea. Paying homage to the original Waldorf Astoria in New York, the elaborately adorned Peacock Alley continues to be a place to see and be seen.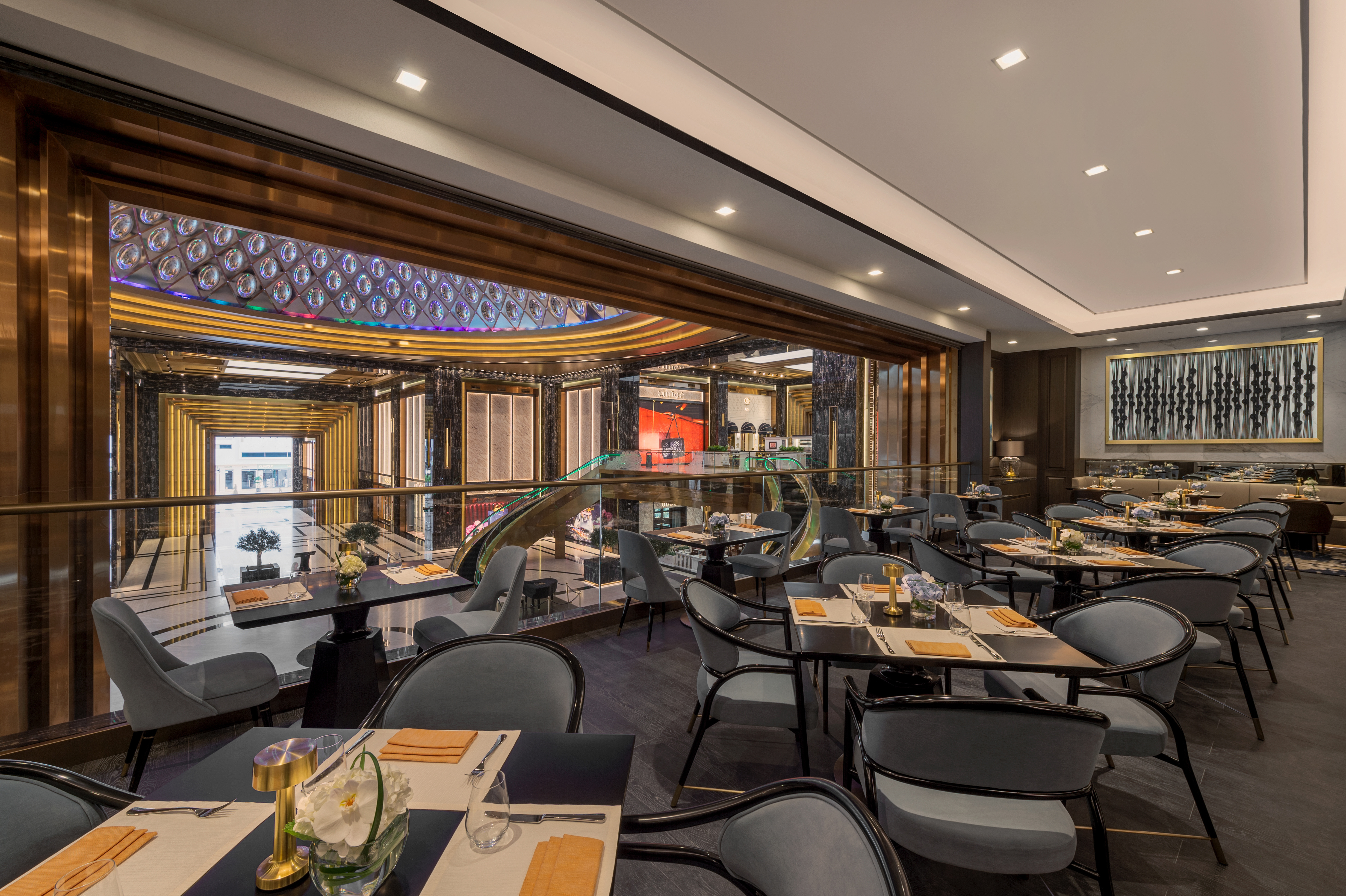 Those looking to soak up the sun or take a dip in the glittering pool will find their calling at OXIO Pool and Lounge, where guests can enjoy lighter fare and refreshing treats – including signature salads, flavourful sandwiches and homemade gelatos – during the daytime hours. At night, the venue transforms into Kubbar Poolside Restaurant, named after Kuwait's Kober Island and offering pristine levant cuisine against a vibrant backdrop of lush greenery. Whether it's a romantic cabana dinner or a gathering with friends and loved ones, Kubbar promises to offer a gastronomic experience infused with mouth-watering Middle Eastern flavours.
A Wellness Haven
Launching later this fall, the expansive 13,560 square foot Waldorf Astoria Spa offers as its jewel the Private Suite, complete with an arrival lounge, well-appointed bathroom, steam room hammam, jacuzzi and double treatment zone, providing the ultimate escape for the discerning wellness guest. Those looking to enhance their fitness routine can do so at the 24-hour Technogym-equipped Fitness Centre, including a Fitness Studio offering a range of adrenaline-boosting workout sessions.
Meetings & Events to Remember
Waldorf Astoria Kuwait is the premier address for those looking to celebrate a special occasion or host a memorable event. The property offers state-of-the-art meeting and event spaces, including a spectacular Grand Ballroom that can accommodate up to 720 guests and five fully equipped meeting rooms, all with natural light. A dedicated onsite team is available to customise events to each guest's needs.
Waldorf Astoria Kuwait is owned by Mabanee, a leading real estate developer known for its modern vision and excellence in innovation projects. The property joins two Hilton properties currently operating in Kuwait, Hilton Kuwait Resort and Hilton Garden Inn Kuwait.
As one of Hilton's iconic luxury hotel brands, Waldorf Astoria is part of Hilton Honors, the award-winning guest loyalty program for Hilton's 18 distinct hotel brands. Members who book directly have access to instant benefits and the Hilton Honors mobile app. Book direct at Hilton.com, through the Hilton Honors app or through other official Hilton channels for more perks and a price match guarantee. Hilton Honors members can redeem Points using the Points Explorer tool.
For more information about Waldorf Astoria, please visit stories.hilton.com.