Kimberly Yoong | January 11, 2022
By Kimberly Yoong
Since the turn of the twenty-first century, "technology" has been the buzzword that's been said to death – and it's not going anywhere anytime soon, if ever at all. In the hospitality industry, technology had once been vilified by some as the harbinger of doom to the sacred 'human touch'. Hence, the big question, how can machines create personable experiences?
Hotels should hit the reset button
The ongoing pandemic, however, has challenged traditional mentalities and catalysed change for the hospitality sector in many more ways than one. Before we had realized, QR codes began overtaking restaurants, hybrid meetings became the new catchword for (conference) hotels, and contactless hospitality emerged as 'the future'. Above all, this crisis has demonstrated that the industry can and must be quick to innovate and adapt to the needs of the times.
Although much of the changes that hotels have undergone in the past 18 months have largely been born out of necessity, a post-pandemic 'return to normal' should not necessarily mean a return to a '2019 normal'. Rather, hotels should seize the opportunity to hit the reset button in how they think and operate, such as latching on to our heightened ease with using technology and turning to increased virtualization to enhance the guest experience. At the same time, hotels should also consider diversifying their revenue streams, not only to increase revenues, but also to reduce their risk exposure.
Keeping the magic alive: Hotel technology trends for a post-pandemic world
Following blanket layoffs and extended furloughs amid the pandemic, as many as one-third of former hospitality workers have reported that they do not intend to return to the industry, likely worsening the ever-existent labour crunch for good talent in hospitality. Naturally, the conversation around the use of technology in the sector has largely centred on its potential to increase operational efficiencies and reduce staffing needs. In this article however, we flip the switch by exploring some possibilities of virtualization from the guest perspective.
Enthral – Virtual hotel tours for the undecided
360-degree views aren't only for fancy rooftop bars – the concept of virtual hotel tours had been taking off even before COVID-19, with operators like Accor rolling out their TrueTour app offering virtual tours in 2019. Tech-conscious hotels and brands are increasingly introducing such immersive experiences to grab the attention of potential guests, showcasing their unique selling points from captivating palatial gathering rooms in Dubai to spectacular overwater bungalows in Bora Bora.
According to Pew Internet and Life Study, a site with a 360-degree virtual tour may receive up to 40% more views than competitor sites that do not have such features. Virtual tools can help create great first impressions, keep customers lingering on your site for longer, and reduce buyer uncertainty. These advantages can stimulate more purchases, making not only for good PR, but also for increasing revenues whilst encouraging direct bookings, which could prove to be a sound investment to funnel customers through your own channels and help maintain customer loyalty in the long-run.
Engage – Virtual experiences for the digitally adventurous
Speaking of customer loyalty, unless you're a business executive travelling 300 days a year, chances are, booking a hotel stay is only a twice or thrice-a-year affair. In this regard, loyalty in the hotel industry can be difficult to cultivate, especially for hotels without the network of a global hotel company that has properties at every corner of the Earth. Hotels and brands thus need to find means and ways to stay top of mind, so that when booking season does come, they remain the top choice for travellers.
As hotels shuttered during the onset of the pandemic, some decided to get creative in keeping their guests engaged. For example, InterContinental LA introduced their Stuck at Home workout routine with Attitude Fitness for fitness enthusiasts, while Belmond started its Belmond Invitations, a series of livestream Instagram videos bringing carefully-curated entertainment experiences to the comfort of viewers' homes. Such initiatives help to strengthen the brand's image even when the guests are not at your hotel – clearly, if there's no room to bring the room service to, then create a home service beyond their expectations.
Home-sharing giant Airbnb also successfully launched its Online Experiences amid the pandemic, capitalizing on travel-starved consumers through virtual tours and classes, with some hosts even raking in revenues in the tens (to hundreds) of thousands. Similarly, for hotels that pride themselves on having 'local gurus' offering bespoke tour experiences, pivoting to online channels could be a viable avenue not only to increase and diversify revenue streams, but also to continue interacting with their guests – whenever and wherever.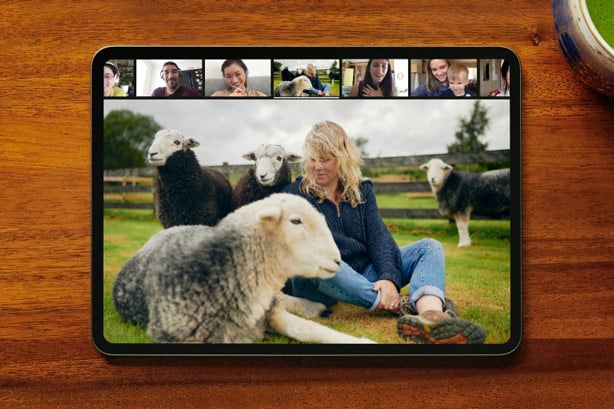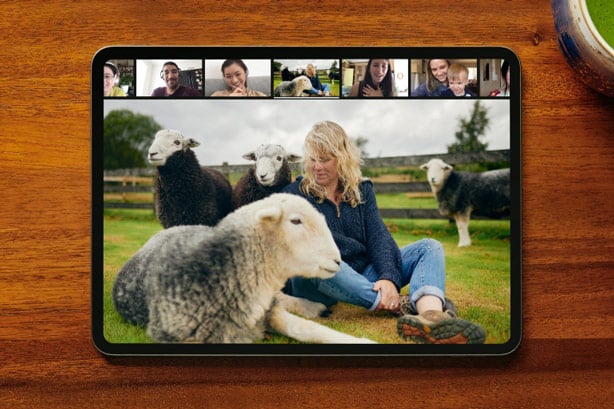 Encapsulate – Augmented reality for a holistic travel experience
A close cousin of virtual reality, augmented reality (AR) leaped into fame when Pokémon GO took the world by storm in 2016. From informative city tours to interactive restaurant experiences, AR is a powerful tool that can craft unique experiences by bringing inanimate objects or empty spaces to life.
Particularly for city hotels, where most of your guests' waking hours are spent outside of the hotel, a sleek and seamless AR app can keep you connected with them through every step of their journey. Additionally, it can even help cross-sell your products to generate higher ancillary revenues – spent the entire day roaming the city's streets and now the sky's getting dark? Use push notifications to remind guests about your heavenly spa treatment options back at the hotel, open until 10:00pm for the most gallant of tour warriors.


Entice – Subscription packages for the new type of traveller
Another technology-related trend that's hit the shores of hotels is the latest talk of the century: remote working, which has brought the advent of hotel subscription services. Starting out as a means for empty hotels to make some extra cash and as a respite for those seeking an 'office away from home', the hotel subscription model has quickly evolved into an endearing 'work-play' hybrid offer for digital nomads or a practical solution for part-time super-commuters, and may well be gaining traction as an interesting business model for hotels long beyond the pandemic. In fact, hostel/co-living brand Selina recently announced its bold plans to allocate 50% of their stock at each location to their subscription platform, and acquired travel start-up Remote Year to quickly scale up its network and program.
On the other hand, the less frequently discussed type of subscription package is one for leisure travellers – why not further combat seasonality with steal deals that offer subscription-style stays (i.e. unlimited or a set number of nights) per off-peak month?
With that said, however, implementing this new revenue model will require the expertise of savvy hotel and revenue managers, to ensure that profits are maximized even in a post-COVID world. Equally important is to consider how this should play into the digital strategy of hotels. For example, imagine having an all-inclusive app that has every detail down to a T – an intuitive booking platform for subscription (and non-subscription) stays, redeemable loyalty perks, captivating AR experiences, virtual key cards, and the list goes on; well-designed technology can keep your guests infinitely hooked for more, and could just be your ticket to securing an army of lifelong customers-turned-brand ambassadors.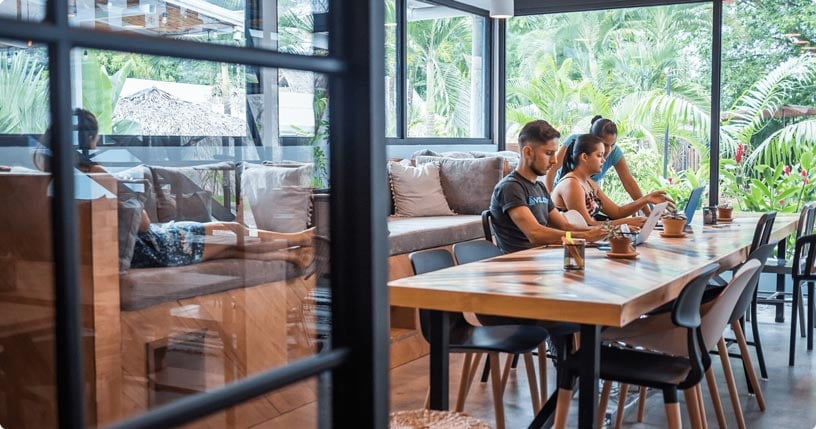 Selina CoLive. Source: CitizenRemote
Change in an unchanging world: Navigating the many unknowns
Despite the ever-changing consumer landscape, the core of the hotel product has and will always remain: a bed, maybe breakfast, and service with a smile. But the way in which the guest journey is packaged can make all the difference between a good experience and an extraordinary one, and effectively leveraging virtual touchpoints is just one of many facets to making the guest experience ever-more seamless and alluring.
And at a time when the word 'pandemic' hangs on our every sentence, it is important to note that irrespective of what some may call the impending 'post-COVID digital wave', the reality is that there is no virtual alternative for travel. After all, what fun would it be to take off your VR headset, only to realize that you are in fact still stuck in your shoebox apartment, without your imaginary beachfront view and on-demand butler service?
Many soothsayers have been taking guesses at what a 'post-COVID world' may look like, and the conversation continues endlessly on how long recovery may take. In the hotel realm, attracting domestic or short-haul demand have taken precedence, the prospect of business travel continues to be questioned, and ESG considerations are increasingly coming to the fore – all of which make short to medium-term decision-making a difficult scale to balance. Nonetheless, it is hardly debatable that technology has had and will continue to have a profound role in shaping our industry, and its prowess and implications cannot be ignored on this path to recovery.
The hotel sector may not be a digitally-native one, but there's no excuse to be digitally-indifferent.