Ryan Solutions | January 12, 2016
One of the metrics we've researched semi-regularly over the years is YOY social posting frequency. At the intersection of adoption, content quality, and social ROI, it's been a telling stat to see spike in the early days and then plateau in 2013. But what about now? As we head into 2016, how often are resorts and hotels posting to social media?
The Goods To find our answer we looked at 1,100 resort and hotel Facebook accounts. We found the average monthly posting frequency for every year since 2008. Here's how it looks.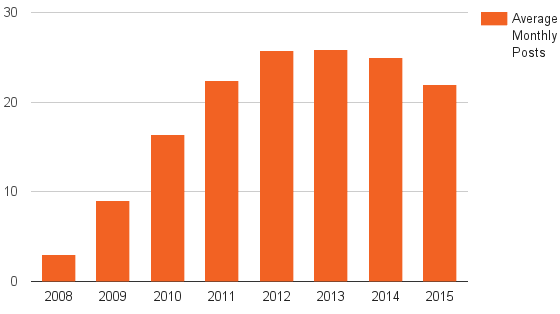 Resort and hotel Facebook posting frequency dropped from 25.0 posts per month in 2014 to 22.0 posts per month in 2015, a decrease of 12%. This was the second consecutive year that saw a decrease in volume – 2014 dropped 3.3% – and the lowest volume of monthly Facebook posts since 2010.
What This Means What's interesting to note, and supportive of the trend, is that Facebook wasn't alone. Twitter saw a 19.8% drop in hotel and resort tweeting frequency, going from 48.1 tweets per month in 2014 to 38.6 in 2015. YouTube saw the same as uploads declined 14.1% over the same period.
In other words, resorts as a whole are slowly cutting the amount of content they push through their social channels. Whether it's a result of the cost of content, a focus on quality over quantity, lack of organic reach versus cost of paid reach, or something else entirely is tough to say. Regardless of the cause, this will be an interesting trend to watch in 2016.