Katy Black | January 13, 2017
By Katy Black , Ryan Mark
Salt Lake City, Utah's capital and most populous city, dates its founding back to 1847. Since then, the city has realized a course of evolutions, some of which are currently underway. These include infrastructural developments such as pivotal transcontinental highways (earning Salt Lake City its designation as the Crossroads of the American West), ascension to the international stage through events such as the 2002 Winter Olympics, and hundreds of millions of dollars in business and commercial expansions, including the current planning for the city's northwest quadrant.
The following HVS Market Pulse article looks at Salt Lake City's strong business climate, ski visitation in Utah over the past several years, the current hotel pipeline, and projections for hotel performance.
Business and Industry
Salt Lake City, perhaps best known as the foundation and headquarters of the Mormon Church, boasts a growing and diverse economic base. Salt Lake City serves as a gateway to several world-class ski destinations, including the Park City Ski Resort, Deer Valley Ski Resort, and Snowbird Ski Resort. Other economic drivers in the market include the University of Utah and Intermountain Healthcare.
Also known as the nation's capital for industrial finance, Salt Lake City houses the headquarters of Zions Bancorporation, whose subsidiaries include banks in Colorado, Texas, California, Nevada, and Arizona. Additionally, the city is home to Wells Fargo's regional headquarters and Goldman Sach's second-largest North American office.
The Salt Palace in Downtown Salt Lake City is one of the largest convention centers in the western United States and holds numerous citywide events, including the Annual Outdoor Retailers Conference.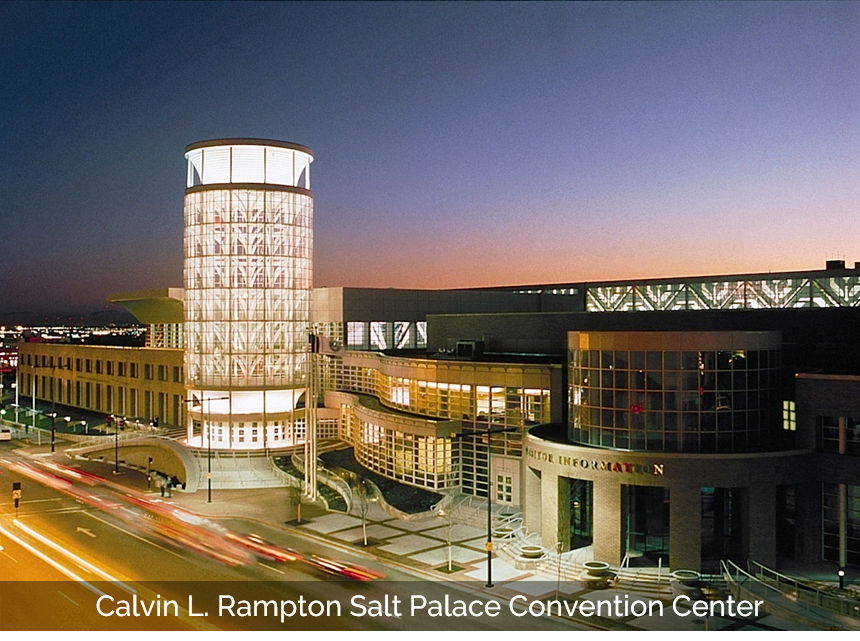 As the state capital, Salt Lake City serves as a major center for county, state, and federal government operations. Many of the area's private businesses rely on the government and its employees as customers. Utah's fiscally conservative legislature has established a well-managed and progressive governmental platform that provides stability and predictability in spending and tax policy. This has attracted many small and big businesses to the state, and Salt Lake City in particular. In 2015, the ALEC-Laffer State Economic Competitiveness Index ranked Utah first in the nation—for the eighth year in a row. This index is based on state economic policies and forecasts of economic leadership.
Several mid-sized to large-scale corporations anchor the city's private industry. Transportation, technology, and finance firms make up a significant portion of employment, with one of the largest employers being the Delta Air Lines western North America hub at the Salt Lake City International Airport.
The airport is one cornerstone of Salt Lake City's Salt Lake City expansive transportation infrastructure, which also includes extensive freeway and railway system; as such, the city serves as a hub for the nation's distribution industry. C.R. England, Savage Services, UPS, Utah Transit Authority, and the Union Pacific Railroad Company all have a major presence in Salt Lake City.
Goldman Sachs is the anchor tenant for the new, 439,600-square-foot, 24-story office tower, known as 111 Main, which is under construction in the southeast quadrant of the intersection formed by East 100 South and Main Street. The tower will be the third-tallest building in Salt Lake City upon its completion in late 2016. Several technology firms have also expanded into Utah, attracted by relatively low housing prices, a flexible regulatory environment, and a well-educated workforce. The technology sector in the region is anchored by Adobe, eBay, Microsoft, IM Flash, L-3 Communications, and 3M.
Salt Lake Region Ski Market
Notably, passenger traffic at Salt Lake City International Airport has increased year-over-year since 2013, an indication that travel and tourism to Utah is expanding.
This is especially clear in the form of leisure demand related to the area's ski industry. Most of the luxury hotels in Utah are located in the state's mountainous areas, adjacent to popular ski resorts. The majority of ski resorts throughout the region are located within a one-hour drive of Downtown Salt Lake City. Hence, hotels throughout Salt Lake City also benefit from ski-related demand.
Map of Utah Ski Resorts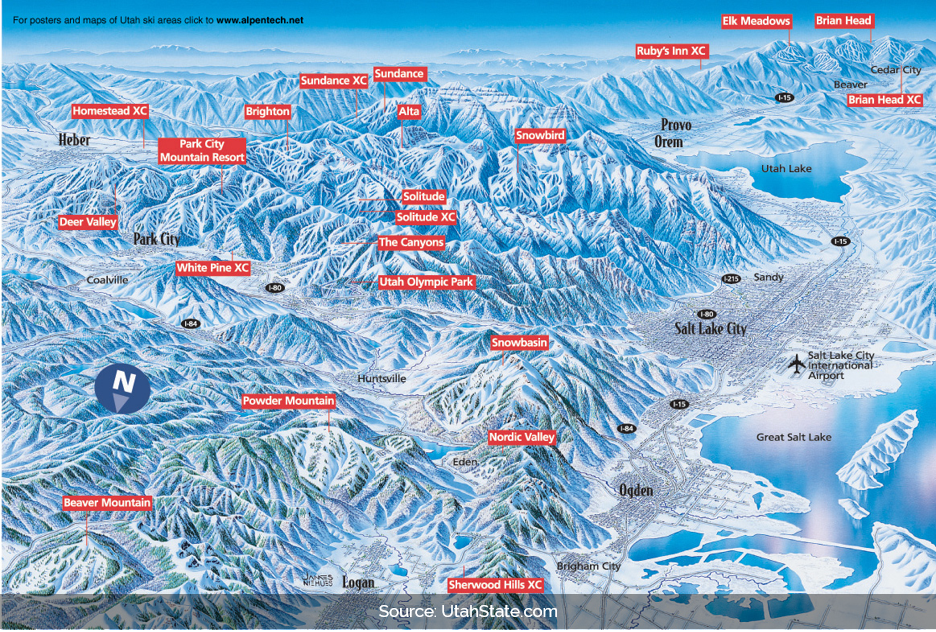 As a result of improving economic conditions and a significant increase in international travel, U.S. ski visitation has climbed over the past several years. According to the National Ski Areas Association (NSAA), total skier visits in the U.S. peaked at 60.5 million in 2010/11. Visits in 2015/16 fell just shy of 54 million. In the Rocky Mountain region, in which Utah's ski resorts fall, visitation rose 8% during this period, representing record growth for the region.
With 22.287 million visits in 2015/16, the Rockies benefited from weather conditions in the Northeast. The lack of snowfall in other regions contributed to the increase in travelers to Rocky Mountain ski resorts. Representing 42.2% of the total U.S. ski market, the Rocky Mountain region maintained its position as the market-share leader, increasing from 38.8% the year before.
Growth in Rocky Mountain Ski Visitation (Millions) Outpaces Average for U.S.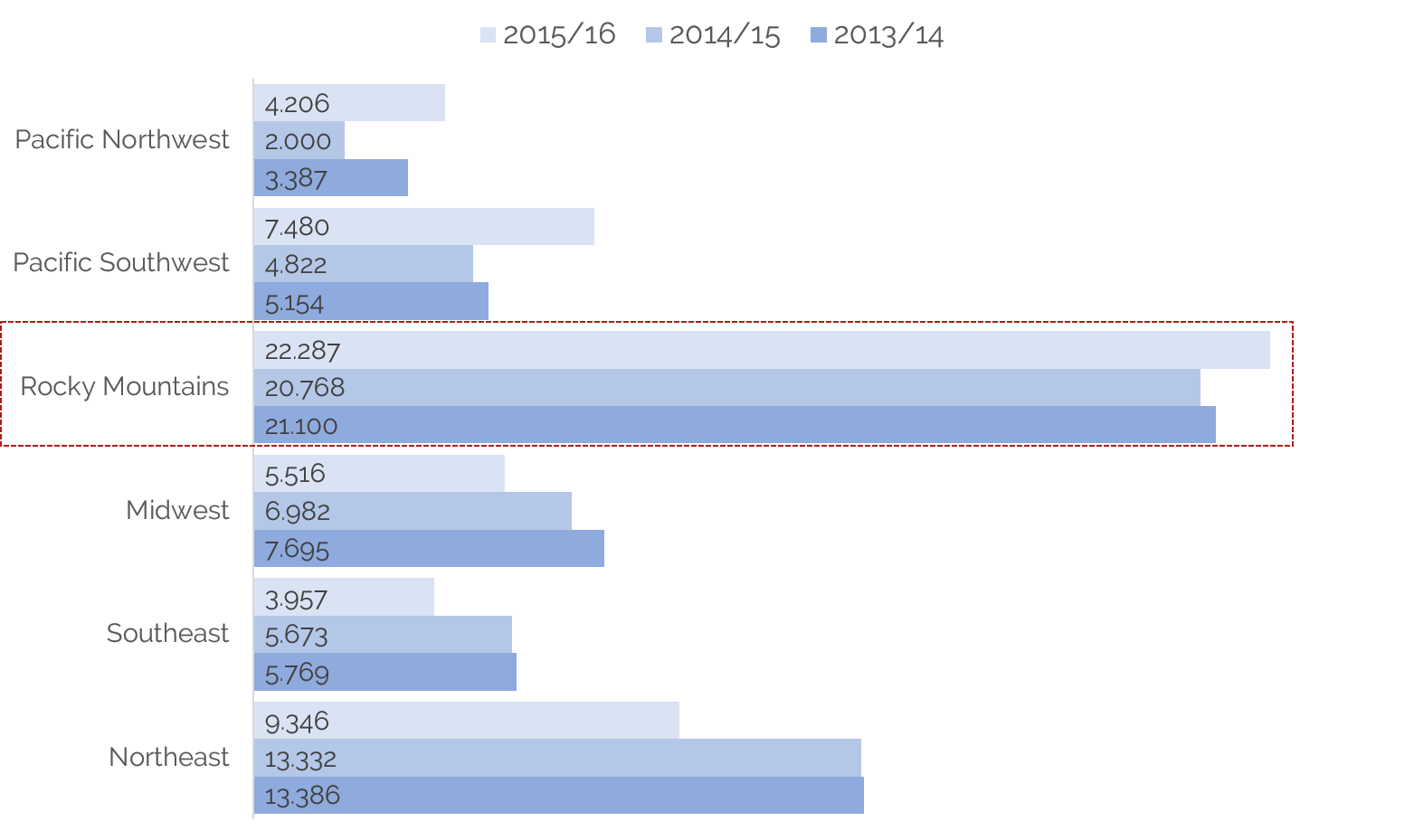 Source: NSAA, Kottke National End of Season Survey
Utah ties with Montana for offering the third-most ski areas among Rocky Mountain states. Notably, however, Utah is second only to Colorado—which has twice the number of ski areas—for total skier visits.
Rocky Mountains Operating Ski Areas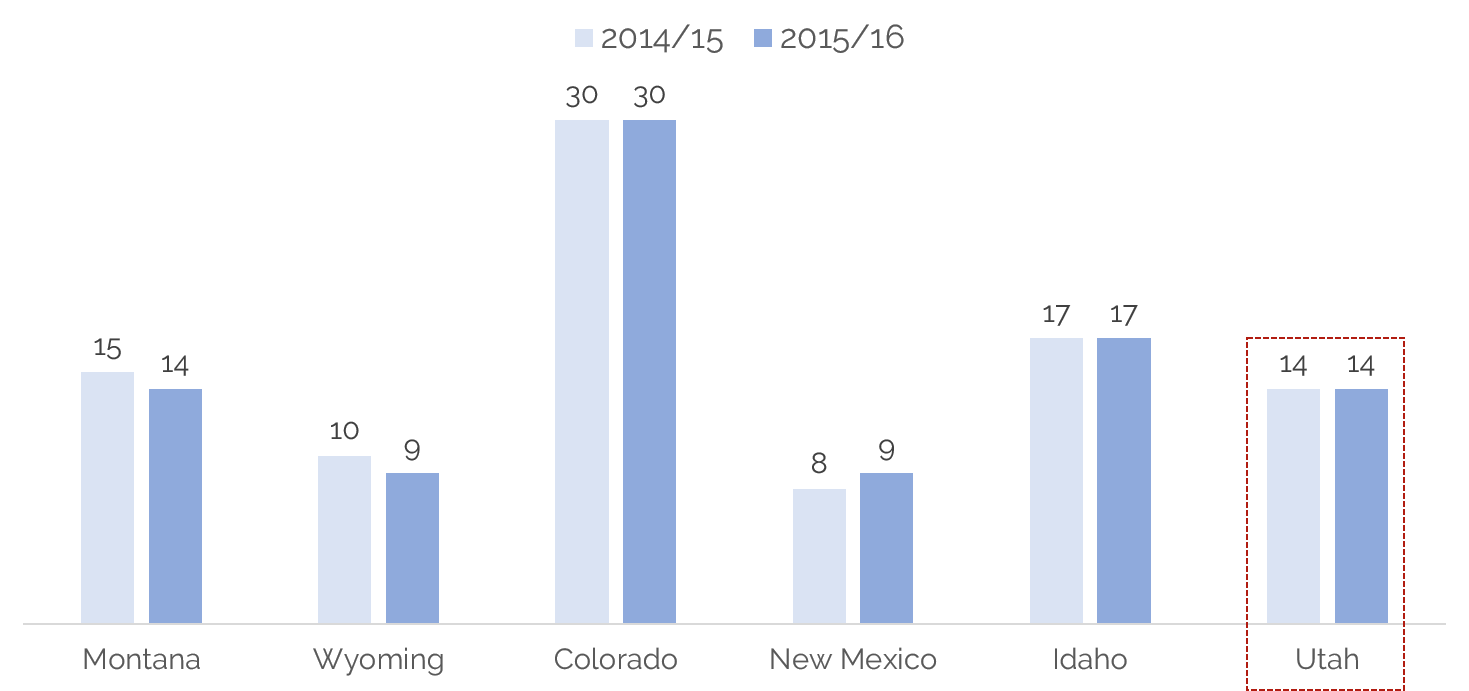 Source: NSAA, Kottke National End of Season Survey
Skier visits to Utah rose 12.6% in 2015/16, an increase largely attributed to improving economic conditions and heavy late-season snowfall, which allowed resorts to extend their seasons. Furthermore, adverse weather conditions in the Northeast region of the U.S., which experienced a nearly 30% decrease in skier visits, resulted in increased demand from travelers that had historically traveled to ski areas in the Northeast.
Annual Skier Visits to Utah Nears 3.9 Million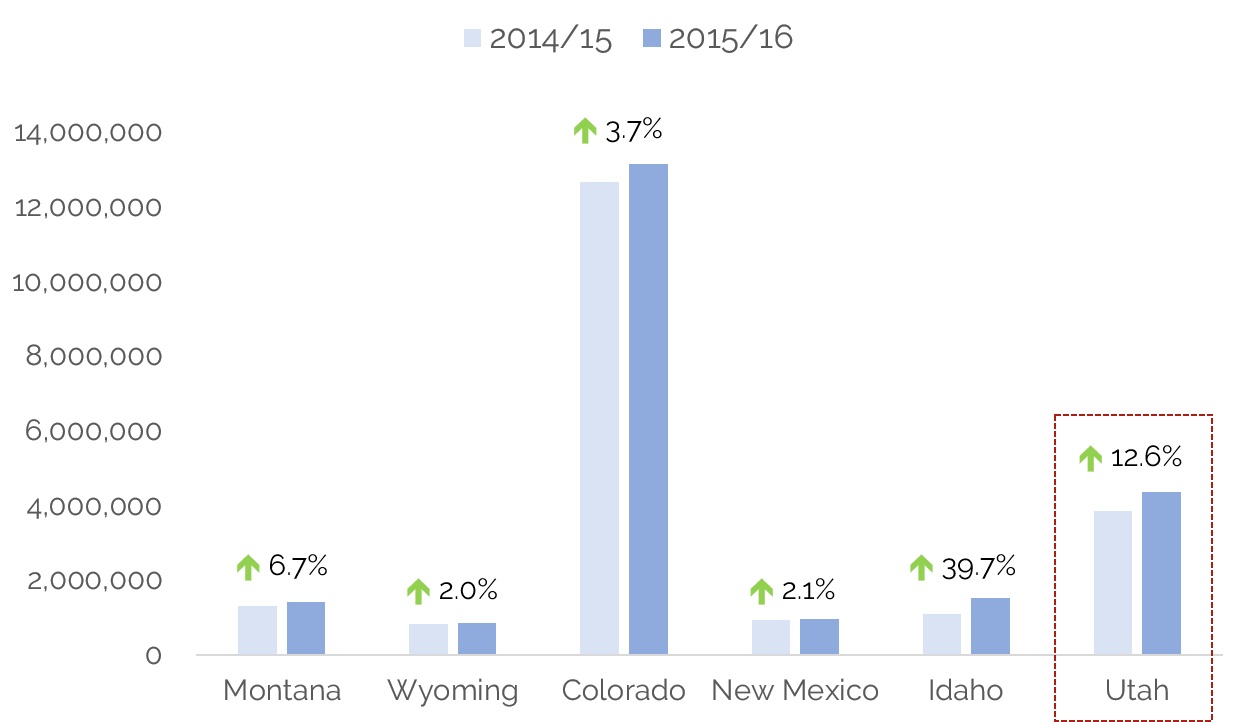 Source: NSAA, Kottke National End of Season Survey
Despite the overall maturity of the U.S. ski industry, large resorts located in popular skiing areas such as Utah continue to realize an increase ski visits. A widely diverse series of variables affects the industry, ranging from snowfall, disposable personal income, inflation, and the overall condition of local, regional, national, and international economies. Based upon historical skier-visit data, it is reasonable to conclude that a moderate to strong economy will positively influence skier visitation to Utah in the future.
Existing and Proposed Supply of Hotel Rooms
There are approximately 190 hotels and more than 22,750 rooms in the greater Salt Lake City/Ogden market. Salt Lake City itself offers approximately 85 hotels totaling more than 12,500 rooms. The city's breakout by chain scales is in line with national trends for economy, midscale, upper-midscale, upscale, and upper-upscale hotels; however, Salt Lake City has a larger market share of upper-upscale properties and only one luxury hotel (a 36-room bed & breakfast).
Nearly every major hotel brand is represented in Salt Lake City, though Marriott and Starwood brands are predominant, representing 15 hotels totaling approximately 2,840 rooms. Twelve hotels totaling approximately 1,750 rooms are affiliated with Hilton. The two largest hotels in Salt Lake City (the Grand America and the Little America) operate independently of a major national brand.
Upper-Upscale Hotels Predominate in Salt Lake City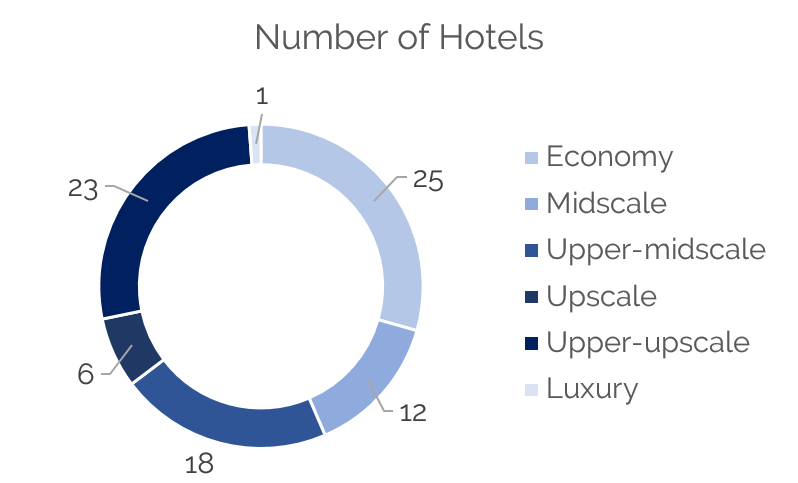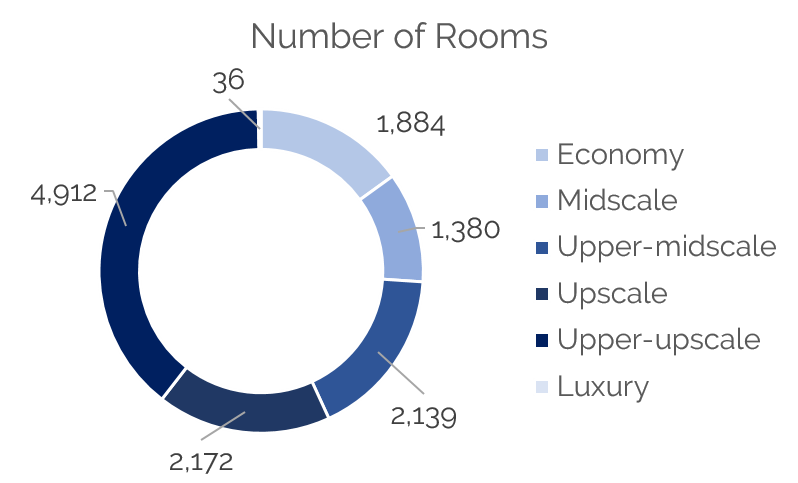 Source: STR
Demand for Salt Lake City's hotels has reached new heights in recent years, spurring an influx of new hotel development. Since January 2015, 439 new hotel rooms have come online within the city, and another 240 rooms have opened just outside of the city limits.
Several more hotels are in the pipeline for Salt Lake City, most notably a large convention-center hotel, which has been in the conceptual development phase since 2012. A developer was selected in early 2016; however, the proposed hotel's site, room count, and brand have yet to be determined. Additionally, a full-service boutique hotel has been proposed for a site along Regent Street in Downtown Salt Lake City. This project is also in the early development stage.
Limited- and select-service projects under development include an AC by Marriott Downtown and multiple properties in the airport submarket. New properties in Salt Lake City should be quickly absorbed given the strong market dynamics and continued growth throughout the area.
Hotel Market Performance and Outlook
Market-wide demand in Salt Lake City declined in 2008 and 2009 with the onset of the national recession, but rebounded quickly and consistently from 2010 through 2015. Average rates have increased steadily since 2011, surpassing the $100 mark in 2015 and continuing to climb year-to-date.
The Salt Lake City hotel market has realized a modest increase in supply over the past two years, and significant projects in the pipeline include a convention center hotel and a luxury downtown hotel, among several other limited- and select-service projects. Nonetheless, demand growth is expected to outpace supply growth over the next several years.
Salt Lake City's strong economic conditions are primarily influenced by the technology and finance industries, as well as the healthcare sector. The city also benefits from a relatively large convention center and a highly popular mix of tourism attractions, which continue to drive strong visitation throughout the year. Taken together, these dynamics support an overall positive outlook for the Salt Lake City hotel market over the next several years.