| March 09, 2021
By Aurore Beaussaut, Dr. Carlos Martin-Rios
Why are some hoteliers still lagging behind?
All business must embrace sustainability, especially at a time when customers  are more enlightened and informed about their purchase choices. Media suggests that ethical and sustainable issues have become a key consideration for consumers. Unsurprisingly, concerns for the environment are becoming increasingly important for the tourism industry. More hoteliers recognize environmental, social and financial factors.
A growing number of pro-environmental hotels are at the cutting-edge of sustainable accommodation. However, the large majority of establishments have yet to embrace the new organizational paradigm. In our interviews with professionals from more reluctant companies, uncertainty and unclear customer demand is the most frequently cited reason for still lagging behind.
These ambiguities prompted us to explore the issue in detail. Applied research seeks to solve practical problems. It can significantly impact the business strategies and practices, and overall, the leader's mindset toward a new sustainable management paradigm.
Our research questions were:
To what extent do sustainability considerations drive consumer demand?
What are the most salient consumer needs and wants with initiatives around sustainability?
In other words, how concerned are hotel guests in standard accommodation with sustainability considerations?
These questions aimed to shed light on the presence of sustainability matters in online customer reviews. Specifically, we focused on hotels and places that apparently are not included among the top responsible tourism, sustainable destinations.
Sustainability-oriented innovation
Sustainability-oriented practices have blossomed in recent years. Hotels attempt a wide range of solutions, including some eco-friendly practices like waste reduction by cutting down all plastic use or minimizing food waste, increasing energy efficiency and water conservation. Hoteliers and F&B managers are moving toward alternatives with the ultimate objective of reducing their carbon footprint.
Although the trend toward sustainable management is still far from universal, such innovative management practices can provide many social, financial and environmental benefits. On the one hand, booking intentions are influenced by many factors, including whether the hotel presents itself as sustainability oriented. On the other hand, online reviews, just as awards, are decisive in the decision-making process.
The lack of conclusive evidence about the interlink between sustainability practices and organizational results may potentially pull away some hotels from taking a leading role. In their view, it is not evident how consumer choices are permeated by sustainability perceptions. This is where social media data, including online reviews becomes cornerstone of corporate transformation toward sustainability models.
Big data: a powerful management tool
Big data is a megatrend shaping the tourism industry. Social media plays a significant role in tourism and consumer behavior. Indeed, social media allows people to search for information and decision-making behaviors, tourism promotions, and in focusing on best practices for interacting with consumers. For example, electronic word-of-mouth (eWOM) communication in any positive or negative statement made by potential, actual or former customers about a hotel or its services which is made publicly available to people and is spread over the internet (Cheung et al., 2010).
Tourism and hospitality generate a considerable amount of easily accessible social media, including user-generated content like online reviews on popular platforms such as Tripadvisor. A common methodology to deal with big data analytics and machine learning is web scraping. Public data or web scraping allows to extract and aggregate website data to analyze otherwise unstructured social media data and user-generated content.
A recent article by McKinsey underscores the importance of data analytics:
Companies without advanced analytics are leaving significant customer-service improvements on the table. But to fully reap the advantages of advanced analytics, organizations must have the right foundations in place to make the most of their data."
No wonder why a few years ago a Harvard Business Review article listed data scientist as the "sexiest job of the 21stCentury"!
Using eWOM for analyzing big data
Over a period of 4 months, we conducted a research project to examine the ins and outs of this strategic matter within the hospitality industry. The research investigated a longitudinal sample of more than 40,000 French hotel reviews in three languages over ten years. This study's objective was to explore how sustainability perception has evolved throughout eWOM in the last decade and how potential changes over time may relate to various guest and hotel characteristics. The scope of the research was deliberately selected to differ from previous studies as it focused on non-sustainable destinations and non-sustainable hotels.
The ambition of this study was to test the relative growth of sustainability matters among customers of hotels not listed in sustainability platforms, without any formal certification in sustainability, green or akin, and with no explicit references to sustainability matters in their corporate websites.
The research and analysis process is described in the figure below.
Step 1: Data Selection
40 hotels in 5 French clusters are selected (TripAdvisor)
Step 2: Data Collection
Data is scrapped from TripAdvisor website (WebHarvy)
Step 3: Data Cleaning 
Removed review duplicates, code to homogenize formats (Excel)
Step 4: Qualitative Data Analysis 
1. Textual & Node Analysis (Nvivo Pro)
2. Data Validation (Excel)
3. Cluster Analysis (Nvivo Pro)
Step 5: Quantitative Data Analysis
Equality of variances with Levene's test & Equality of Means with t-test (SPSS)
Results showed that consumer perception and reviews of sustainability on social media have increased over the last decade. Over the 2010-2019 period, not only more reviews tackled sustainability matters, but these mentions became more specific about details of hotel sustainable practices; implying that hotel guests are becoming more aware and concerned about sustainability.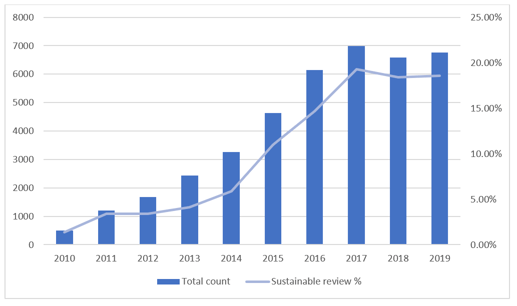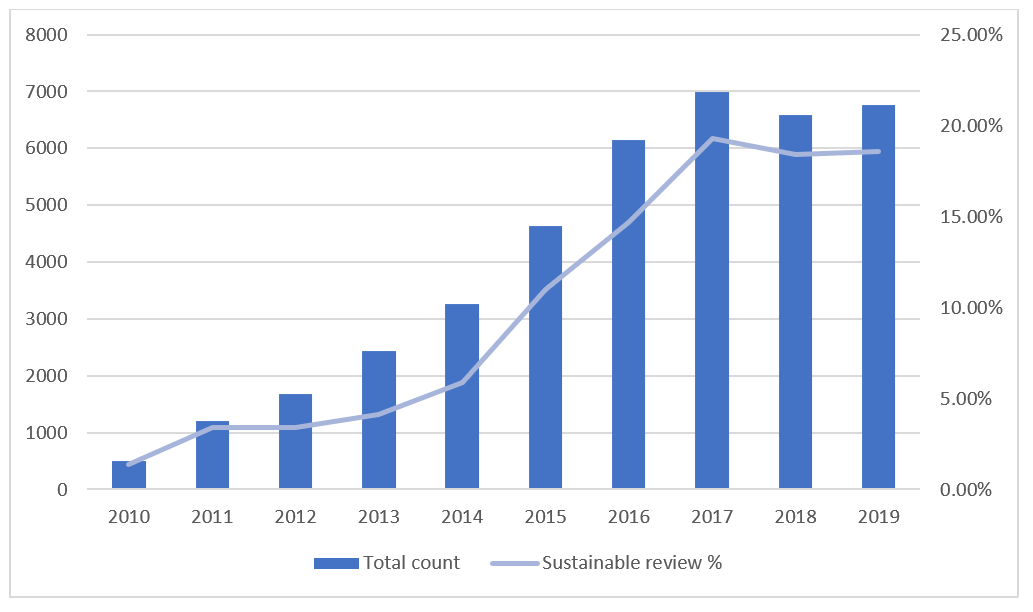 Distribution over the decade of reviews mentioning sustainability concerns
Interestingly, the length and depth of customer reviews including sustainable practices is largely driven by demographic characteristics. First, some nationalities are more inclined to notice hotel sustainable practices, particularly travelers from the US and UK mentioned them more frequently than any other nationality. Second, English-written reviews included more sustainability matters than French and Spanish reviews. Finally, there is positive correlation between top contributors (customers with more than 50 reviews) and sustainability concerns in their reviews. This result implies that the more customers travel and write online reviews (the higher reviewer status), the more attention they pay to sustainable practices. Top reviewers have higher impact and coverage ratio, which can ensure impact of sustainability matters on a wider scale.
Findings also indicate that guests mentioning sustainable practices were mostly dissatisfied with their hotel experience. This leads us inevitably to assume that average hoteliers are still not making the best out of this challenge. Hotel managers need to enhance their sustainable initiatives in line with their official commitment toward environmental management, as this factor influences guest satisfaction whether travelling on conventional or sustainable hotels.
A brighter and more sustainable tomorrow for the hospitality industry?
Next step is to make big data analysis' tool, and most of all, insights, available to all hoteliers. There are only a few experts on this matter, although a very high demand for knowledge is required to find innovative solutions. This major future trend within the industry represents significant opportunities for future hospitality leaders.
On another note, if there is any silver lining in the current worldwide Covid-19 pandemic, it is that this period has given us new perspectives on how mass tourism and tourism in general can be reconducted. Hopefully, this will turn out to be the opportunity to refocus on better ways to travel, more respectful of local populations and the environment. The future of a greater sustainable hospitality lies in the hands of every one of us.