Hilton | October 17, 2022
COLUMBUS, Ohio – Hilton (NYSE: HLT) announced today that Hilton Columbus Downtown has officially opened the doors to its second tower, making the hotel now the largest in Ohio. The hotel signifies the continued growth of Columbus and the ability to welcome major events and conventions in the city. Hilton Columbus Downtown, part of Hilton Hotels & Resorts, Hilton's flagship brand, boasts 1,000 guest rooms, over 75,000 square feet of meeting and ballroom space, and four new food & beverage concepts across both towers.
Construction of the LEED Gold Certified tower was made possible by a joint venture of Smoot Construction and Turner Construction Company, a 50-year partnership that has built much of the Greater Columbus Convention Center complex over the past 30 years. Cooper Carry, the property's prime architect in collaboration with Columbus-based Meyers + Associates Architecture, was charged with designing the floorplan for the new tower that seamlessly connected with the existing tower, while Jeffrey Beers International led the design, drawing inspiration from the exciting, urban culture of Downtown Columbus.
Hilton Columbus Downtown is situated in the heart of the Short North Arts and Arena Districts which offer more than 150 dining and entertainment opportunities to those staying on the property, with many of those experiences accessible on foot. A skybridge connects the hotel's two towers, as well as the Greater Columbus Convention Center, which offers an additional 1.8 million square feet of meeting space available to visiting groups.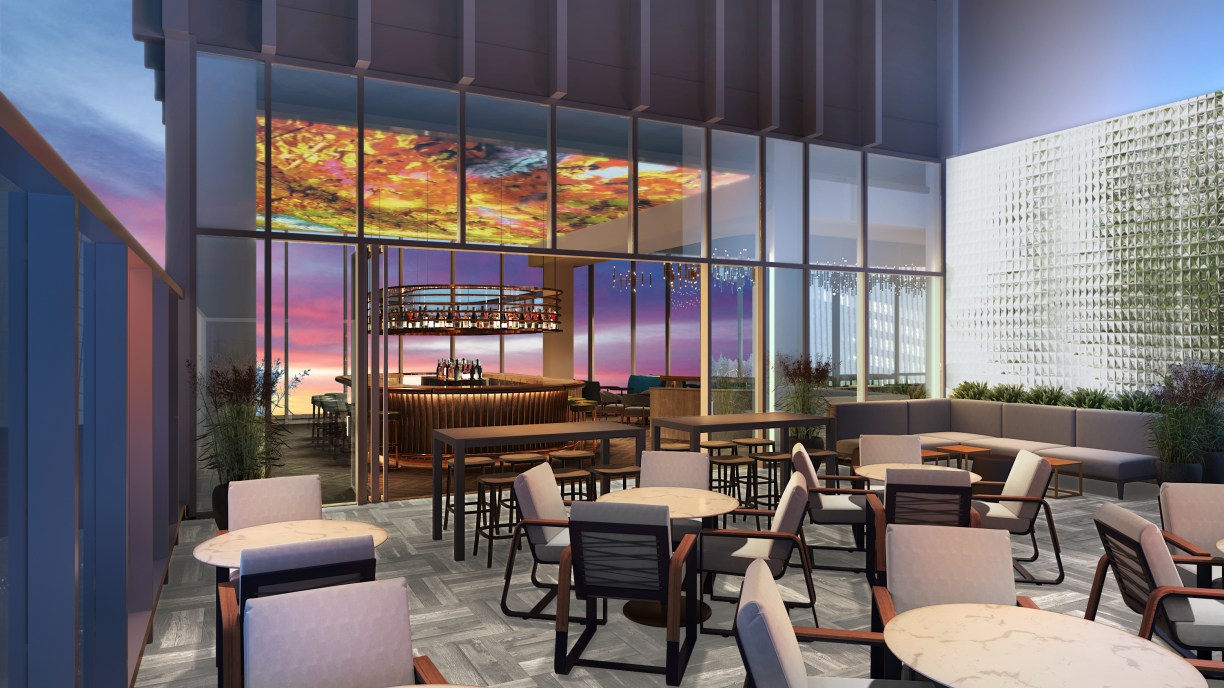 "The new tower not only offers breathtaking views, a centrally located space to stay, and unique dining experiences, but a true foundation upon which visitors and locals alike can enjoy in our capital city." -Christian Coffin, General Manager, Hilton Columbus Downtown
"Our increased capacity and connection to the Greater Columbus Convention Center will perfectly situate our property, and city, to become a destination for major events and conferences," said Christian Coffin, general manager, Hilton Columbus Downtown. "The new tower not only offers breathtaking views, a centrally located space to stay, and unique dining experiences, but a true foundation upon which visitors and locals alike can enjoy in our capital city."
Welcome Experience
Hilton Columbus Downtown's main lobby is now located in the new tower, with a large porte-cochère serving as the "front door" of the property. Circular in shape, the lobby symbolizes the connecting heart of the property, providing pathways to the public spaces, restaurants and meeting rooms. The lobby is where guests are first introduced to the property's signature color palette of timeless grey, elegant beige, golden-bronze and bold persimmon, along with its key materials such as white oak, satin-aged bronze and marble. These colors and textures are carried on throughout the property with a presence in guest rooms, meeting spaces, and food & beverage spaces.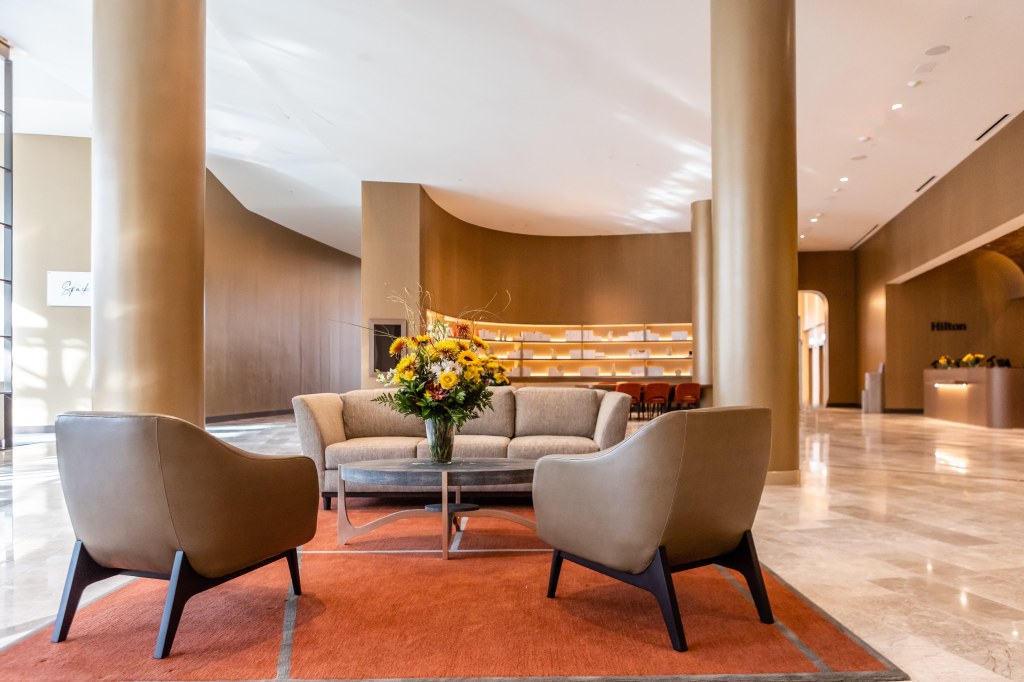 Both towers of the hotel feature a stunning art collection of nearly $2.5 million. The new tower incorporates 199 pieces of original art by Central Ohio artists, with nearly half of the artists being new additions to the hotel's collection. Welcoming guests at reception is a custom oxidized-metal canvas piece created by local artists Sharone Putter and Ran Berdichesky that incorporates the three major river systems in Columbus along with main thoroughfares, notable destinations and some hidden attributes for the viewer to discover.
Enhanced Accommodations
The new tower at Hilton Columbus Downtown features 463 guest rooms, with the design inspired by Columbus' local art, literary, and design heritage, while also paying homage to the Midwest's genuine and warm hospitality. With striking pops of persimmon and neutral greys layered throughout, the newly expanded Hilton Columbus Downtown feels part of the city's culture while also providing an elevated repose for travelers near and far. A nod to the hotel's local art collection, James Thurber's famous "Thurber Dog with Flower" is also featured in each guest room, showcasing how dogs are "sound creatures in a crazy world".
The guest room expansion includes 40 suites ranging from junior to corner one-bedroom units, some with sweeping floor-to-ceiling windows overlooking High Street's bustling Short North neighborhood. Coming later this fall, the hotel will offer two Skyline suites, designed to feel like a private residential penthouse in the sky, complete with a butler's pantry and wraparound windows throughout. An additional feature in the new tower is the option for up to three guest rooms to connect and combine into one "apartment-style" unit totaling up to 1,000 square feet, complete with a common foyer door for added privacy, ideal for families and friends.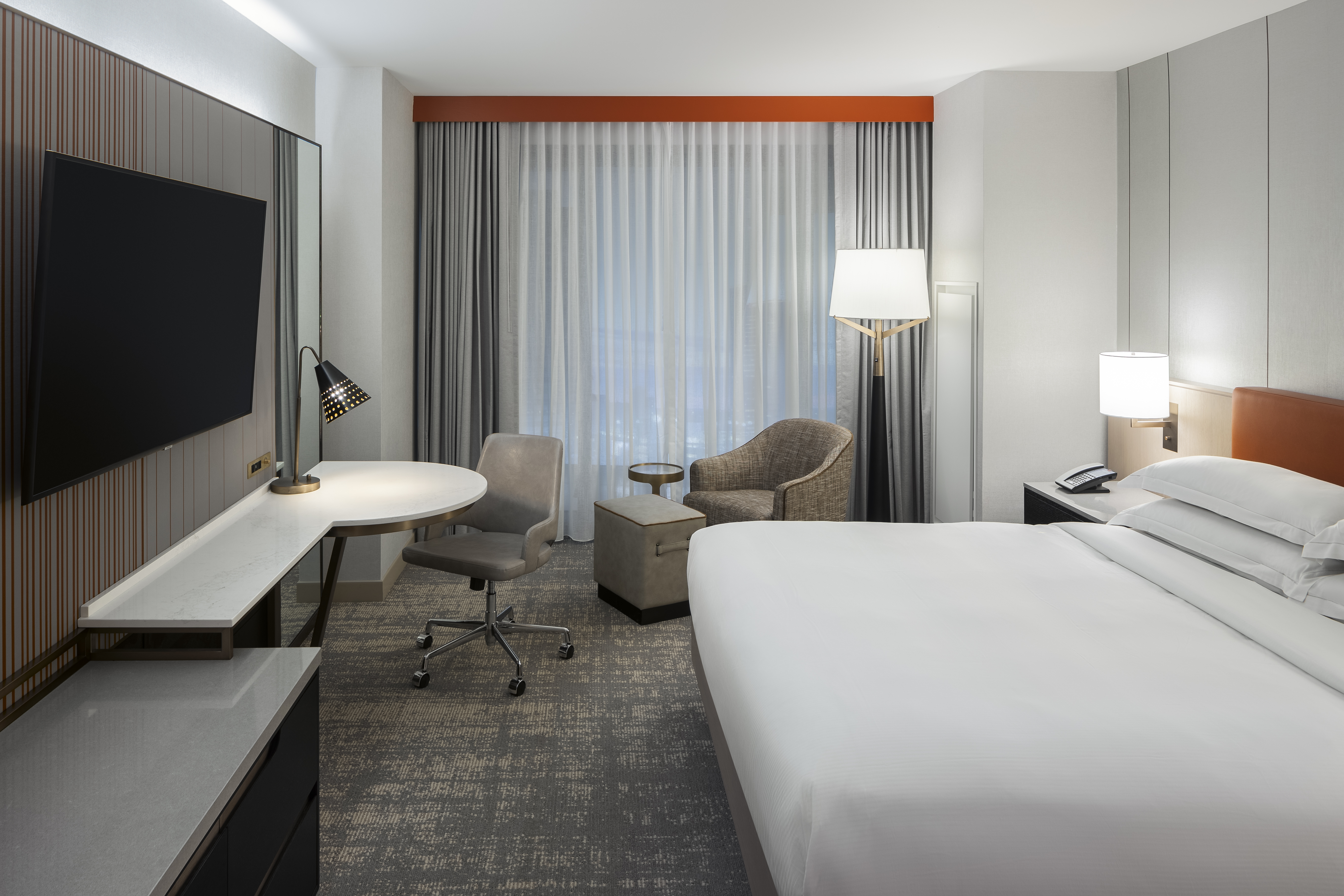 The Destination for Meetings & Events
From weddings to meetings, Hilton Columbus Downtown is an ideal venue for social and business events. The hotel now boasts over 75,000 square feet of meeting space, including three ballrooms ranging from 10,000 to 15,000 square feet and 40 meeting and breakout rooms, with the design including ample natural light and lounge areas for attendees to gather pre- or post-event. Banquets at the hotel are overseen by Executive Chef Todd Goodwin, who provides guests with bespoke dining experiences and menus curated to a group's personal preference and event experience. With its proximity to the Greater Columbus Convention Center, the hotel can now serve as a host for large-scale meetings or conventions that were not previously possible with the city's provided lodging options, competing with cities such as Indianapolis, Nashville, and New Orleans.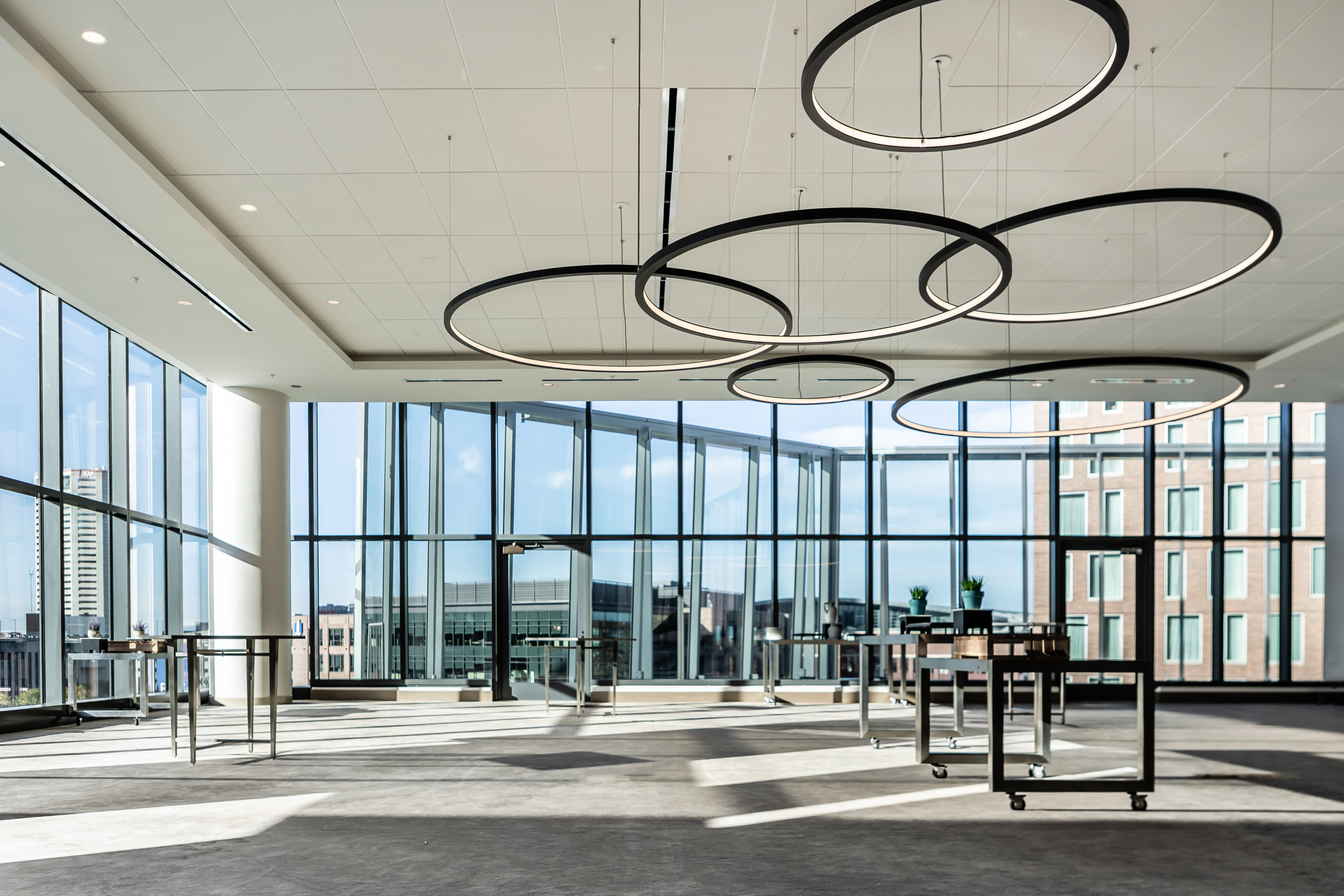 Dining Experiences
The expansion of Hilton Columbus Downtown introduces three new food and beverage concepts – FYR, Spark, and Stories on High – led by Sebastian La Rocca, executive chef of restaurants, Hilton Columbus Downtown. Born in Argentina with Italian roots, Chef La Rocca's illustrious background includes working with some of the world's most distinguished chefs at Barbecoa London by Jamie Oliver and Zodiac UK by Michael Roux.
Explore the New Food & Beverage Concepts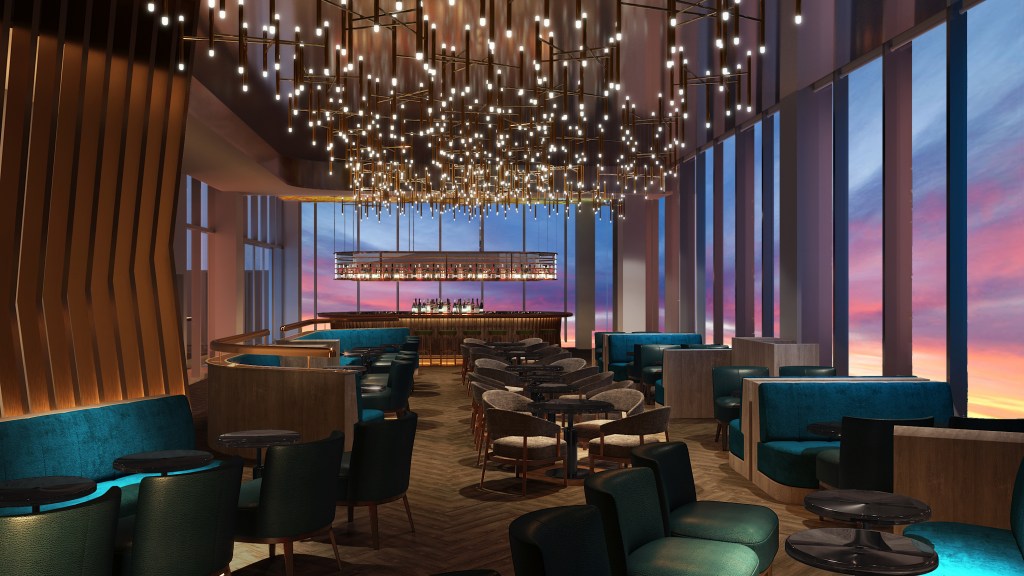 Stories on High
Stories on High, located on the 28th floor, will be the tallest rooftop bar in Columbus, boasting two outdoor terraces offering expansive 360-degree views of the city. Coming soon, guests can expect a swanky, cocktail-forward food and beverage offering where each carefully-crafted drink threads together its own story through the marriage of unique ingredients. The venue will feature an extensive wine list, a signature cocktail program, sophisticated bar bites, and small plates with a Japanese influence, such as yakitori, fresh sushi rolls and wagyu sliders.
Hilton Columbus Downtown participates in Hilton Honors, the award-winning guest loyalty program for Hilton's 18 distinct hotel brands. Members who book directly have access to instant benefits, including a flexible payment slider that allows members to choose nearly any combination of Points and money to book a stay, exclusive member discounts, free standard Wi-Fi, and access to the Hilton Honors mobile app.
The newly expanded Hilton Columbus Downtown is located at 402 North High Street. Make a reservation at the hotel online or call 614-384-8600.