EHL Hospitality Insights | September 22, 2020
When Warren Buffett's Berkshire Hathaway sold all of its airline stocks in April, it appeared as an affirmation to some investors that the future of travel was on the rocks – while for others, it reignited discussions on whether the widely respected Orcale of Omaha had 'lost his touch'. The travel and tourism sector has undoubtedly been facing tumultuous times in the wake of COVID-19, with the International Air Transport Association (IATA) itself announcing that air travel will not recover until 2024. However, it would be hasty to presume that the prospects of hospitality are all doom and gloom.
Newly released data from Cushman & Wakefield's Marketbeat: Europe Hospitality H1 2020 reveals that the European hotel investment market has stayed active during this crisis. Expectedly, investment volume for the region had fallen considerably by 55% compared to the same period last year. However, with major transactions still taking place and deals continuing to be agreed upon amidst these times, it seems that investors remain optimistic on the medium to long-term prospects of the industry.
European hotel investment overview
In the first half of 2020, the European hotel market recorded €5.7 billion in transactions (a year-on-year fall of 55%), spread across 169 properties comprising nearly 24,000 rooms – of which €1.2 billion (21%) of deals were agreed on after the pandemic outbreak. Among the key deals done include the (controversial) sale of the iconic 136-key Ritz London to an unnamed Qatari investor and the acquisition of the 304-room Hotel nhow in Berlin by Swiss-listed Eastern Property Holdings.
In particular, COVID-19 has been observed to have influenced a few transaction characteristics:
Investor origin: Given the uncertainty wrought by the pandemic, H1 2020 saw a marked increase in investors retreating to more familiar ground, with European investors accounting for a large majority of 78% of transaction volume in the region.
Investor type: Institutional investors, who are better positioned to tide through such crises, led the transaction market with nearly half (48%) of total volume. These investors are typically more well-capitalised, better able to weather temporary troughs and tend to have a longer-term investment strategy.
Asset type: H1 2020 transactions were more focused on prime assets in core locations (such as the Ritz), as COVID-19 concerns are expected to have a lesser impact on the long-term real estate values of such assets. Consequently, the average price per room amounted to €239,000 – a 26% increase from €189,000 per room over the same period in 2019.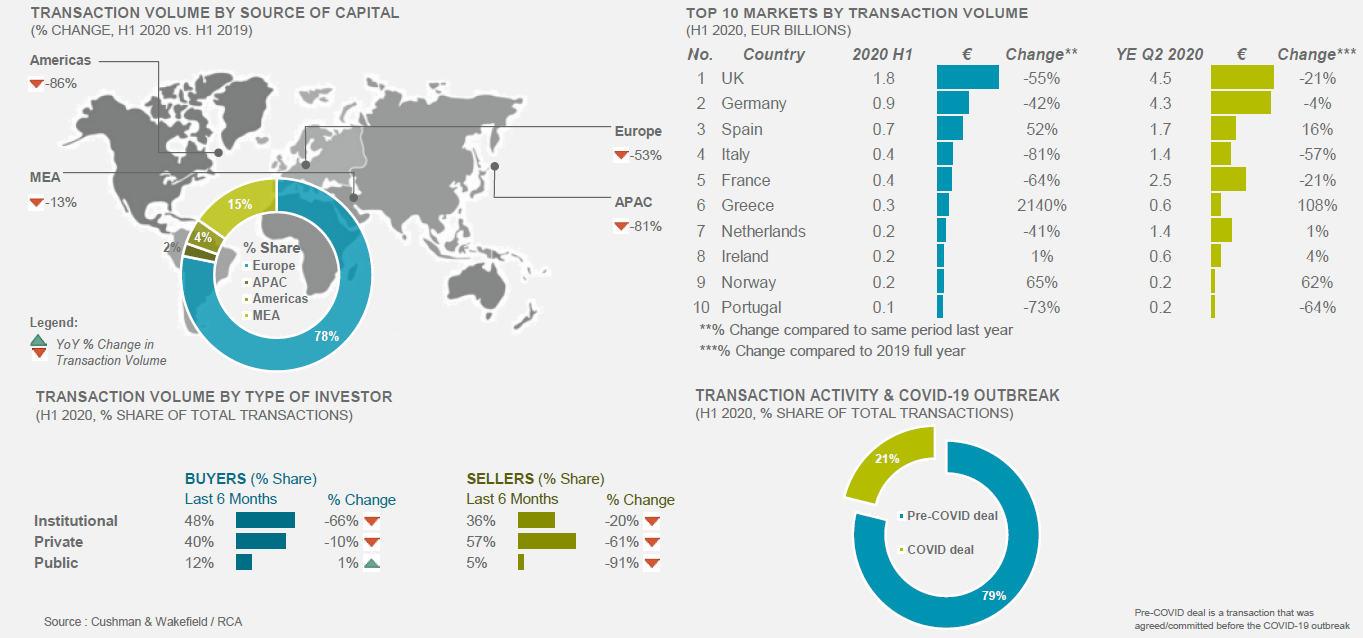 Excerpt from Cushman & Wakefield's Marketbeat: Europe Hospitality H1 2020. Source: Cushman & Wakefield
Varied transaction performance across markets in Europe
Naturally, not all countries enjoyed the same spotlight of attention from investors. The UK and Germany saw a 55% and 42% fall in transaction volume respectively – however, they still retained the top spots in transaction volume across Europe, reaffirming their positions as two of the most active and stable hotel markets in the region.
At the same time, some of the winners of H1 2020 included Spain which came third, recording a 52% increase in transaction volume, totalling approximately €0.7 billion in deals. This positive performance growth was bolstered by the acquisition of the luxury Madrid EDITION hotel for €220 million by Archer Hotel Capital from KKH Property Investors. Even more notably, Greece was relatively the biggest winner of them all, as investors Henderson Park and Hines joined hands to acquire a 1,094-room, c. 67,000 sqm resort portfolio, comprising five seafront hotels across the popular Greek island of Crete, while Belterra Investment acquired the integrated 990-room Porto Carras Grand Resort on the Halkidiki central peninsula for over €200 million.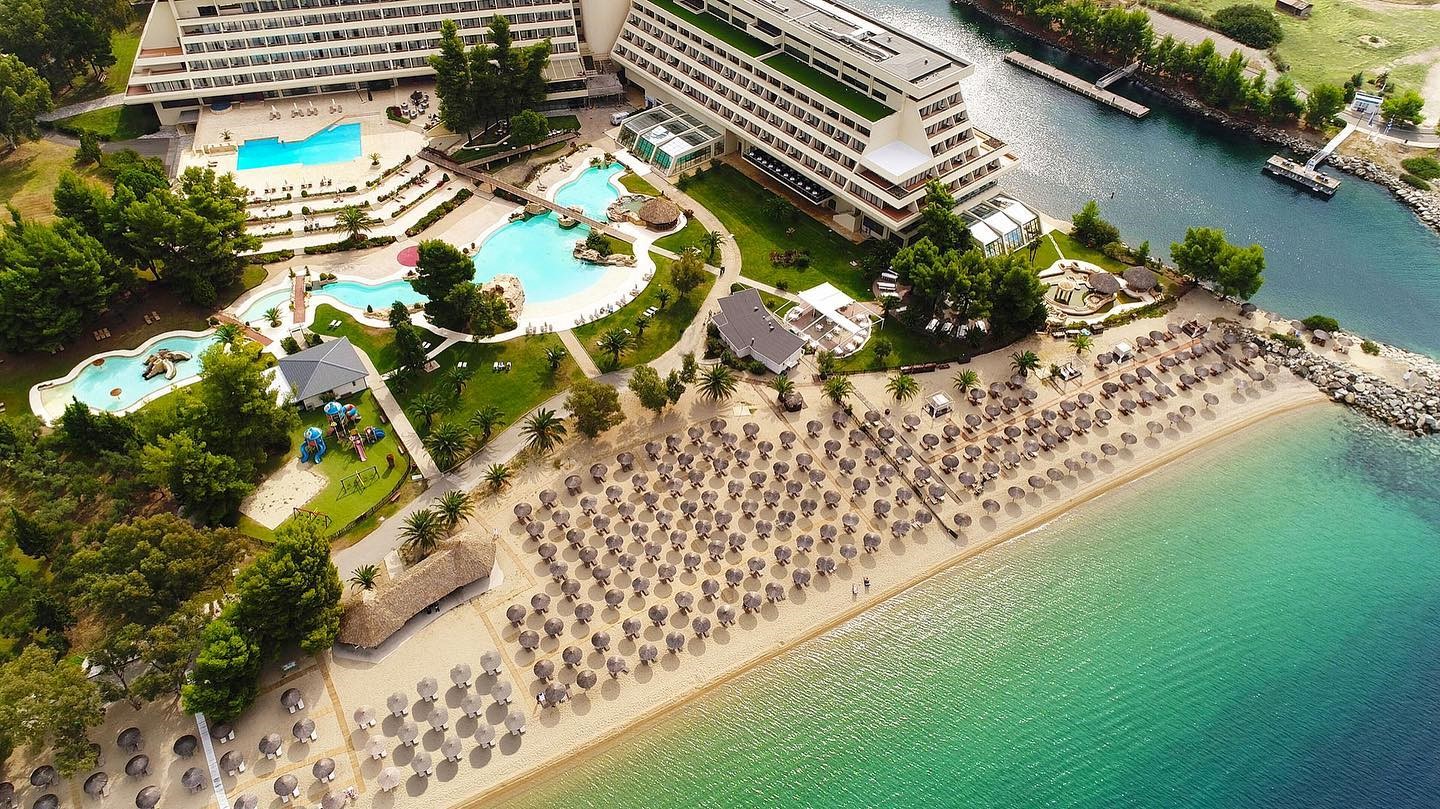 Porto Carras Grand Resort. Source: Porto Carras Grand Resort Website
Jonathan Hubbard, Head of Hospitality EMEA at Cushman & Wakefield, commented:
The hotel sector across Europe has been hit hard by COVID-19 lockdowns, which have understandably resulted in a sharp drop in investment volumes as investors take stock and await signs of a trading recovery. However, investor sentiment for the sector remains positive for the medium term and the transactions that have occurred demonstrate this confidence. Nonetheless, with a very uncertain trading outlook in the short term, many well capitalised investors are holding out for pricing adjustments or some distressed sellers to unlock more upside in their acquisitions and this is likely to be a feature of the market in H2 2020.
Looking ahead: Recovery for hotels and the investment market
Results for the European hotel investment market in H1 2020 show that investors remain cautiously optimistic, as they continue to be on the prowl for good deals. The 2008-2009 global financial crisis (GFC) saw a number of distressed hotel deals which reportedly accounted for over 60% of all U.S. hotel transactions at the time. However, these unprecedented times have also seen unprecedented efforts from governments to help the travel and tourism sector keep afloat, such as VAT cuts or co-paying wages. Similarly, banks have entered this crisis with a much healthier balance sheet, making them better poised to support businesses' financial difficulties than during the GFC. Therefore, the eventual short-term impact of COVID-19 on hotel real estate is still yet to be seen, as we stay tuned for full-year 2020 data which will perhaps paint a broader picture of the extent of the pandemic impact on hotels.
Regardless of the uncertainty, however, there is one thing that remains certain. Travel restrictions have induced a temporary shift in travel patterns, with travellers switching from urban to suburban; international to domestic – which above all, is an indication that the human desire to travel still persists, as people continue to find means and ways to take trips. As more hotels re-open and hotel performance gains momentum, it seems that the current investor confidence is not unfounded and as some will say, "travel will come back".
After all, there is no known vaccine for when the travel bug bites.