Kimberly Yoong | June 24, 2021
By Kimberly Yoong
The United Nations Environment Programme (UNEP) reported that in 2019, emissions from building operations had reached record-high levels and estimated that direct building carbon emissions must be halved by 2030 in order to reach 2050 net-zero targets. Meanwhile, from the hotel sector's standpoint, the situation is not anymore rosy: as the industry's global footprint continues to grow rapidly, hotels will need to reduce their absolute carbon emissions by 66% by 2030 and 90% by 2050, to avoid a corresponding increase in carbon emissions.
A social awakening on all levels
For decades, we have been putting off environmental and social protection in the name of economic growth – governments and corporations alike have had a vested interest in driving the numbers than safeguarding our planet. But the standstill that COVID-19 has brought us to in the last year has emphasized one clear message: we are, ultimately, at the mercy of our natural environment.
More than ever, our economy appears to be seeing a social awakening on all levels: consumers are demanding greater sustainability efforts and are more adept in identifying greenwashing tactics; investors are turning to seek results not only on their financial returns, but also on environmental, social and governance (ESG) metrics; while corporations are being pushed to deliver on both of such expectations. And as this trend continues, it seems that we are on the cusp of great impending change.
But let's not forget: the notion of a morals-driven economy is not new. The concepts of corporate social responsibility (CSR) and socially responsible investing (SRI) emerged over half a century ago in the 1950s and 1960s respectively, while the term 'ESG' was first coined in 2004 – yet, social and environmental degradation have continued climbing to astronomical levels with every passing day. Today, the slew of legislations and corporate announcements in favour of championing ESG are a promising indication that now, the world is truly committed to making a difference – but how can we ensure that this time we are driving real change?
Systemic problems require systemic solutions
As it is often said, 'the love of money is the root of all evil'. We live in a capitalist economy entrenched in a systemic problem, where we have long been acclimatized to pursue short-term personal gains over long-term collective goals.
Consumers have habitually sought affordability while companies have chased the profits; 'the greater good' is an almost indulgent moralistic principle that some increasingly proclaim to be willing to pay a premium for – but it would be naïve to believe that the majority in the commercial world would wheel its own way into a sustainable future, without financial or legislative motives.
To create long-term solutions, a two-pronged approach would thus be necessary:
Consumer-driven: Where there is no demand, there will be no supply. Consumers have a duty to 'vote with one's wallet' – and additionally, consciously seek out green options, rather than simply going with what is convenient or inexpensive
Legislation-driven: Legislations will be crucial in enforcing a systemic reset of the traditional mentality of pursuing short-term financial gain, by normalizing ESG considerations as something to be done out of necessity than just 'goodwill'
In fact, for investors in particular, rising legislations such as the newly-implemented EU Taxonomy Regulation and Sustainable Finance Disclosure Regulation (SFDR) are already clear indicators that ESG-compliance is fast becoming necessary rather than just desirable. From a short-term perspective, buying a cheap asset today may seem like a no-brainer, but how much more will it then cost to bring it up to ESG standards; and how will your exit value be impacted in 5 or 10 years, when buyers – the majority of whom will likely be bound by such regulations – begin putting 'brown discounts' on your non-compliant assets?
Where are we now?
Of the three ESG factors, the 'E' is undoubtedly the most pressing. On our current trajectory, global warming is set to increase by 4-degrees Celsius, which will have destructive, irreversible impacts on our planet and communities. Accordingly, the U.S. and EU have recently committed to reducing their carbon emissions by 50% and 55% respectively by 2030. Globally, the overall target is to become net-zero by 2050, in order to limit global warming to the desired 1.5-degrees Celsius. But far away as 2050 may sound, the world is still leaps and bounds away from achieving this target.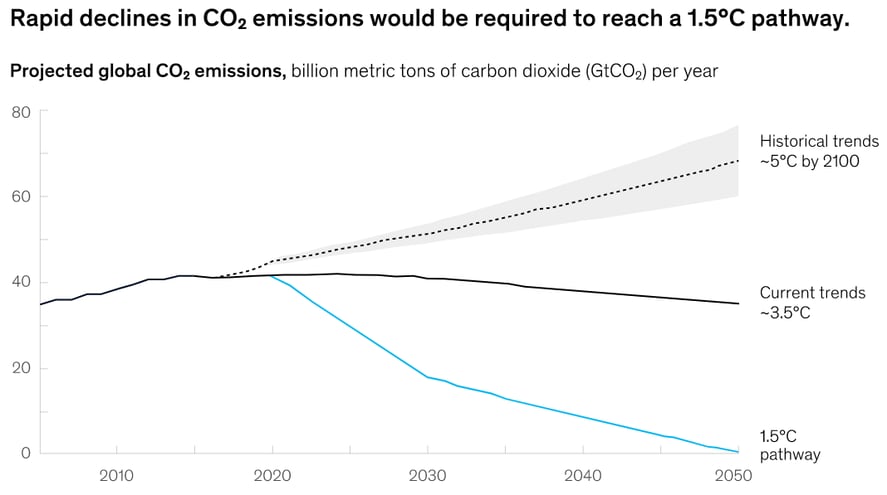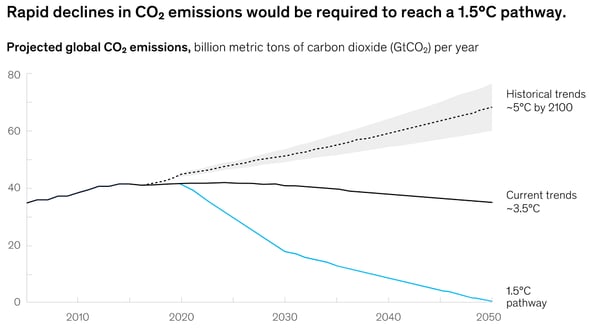 McKinsey 1.5-degree scenario analysis. Source: McKinsey & Company
Therefore, efforts and legislations will become more pronounced over the next decades, such that the direct and indirect penalties on stakeholders for non-compliance will only become greater. And as a significant driver of the global economy, the hotel real estate sector will be spared no exception. To achieve these targets, one of the most crucial steps is in ensuring the careful management of the key stakeholders in our industry, to ensure that our engine for change runs like clockwork.
Mapping the stakeholders in the ESG ecosystem in hotel real estate
As with any other industry, the stakeholders in hospitality are closely interlinked and a joint effort is necessary to achieve ESG goals. In this article, we outline four key relationships to driving ESG in hotel real estate.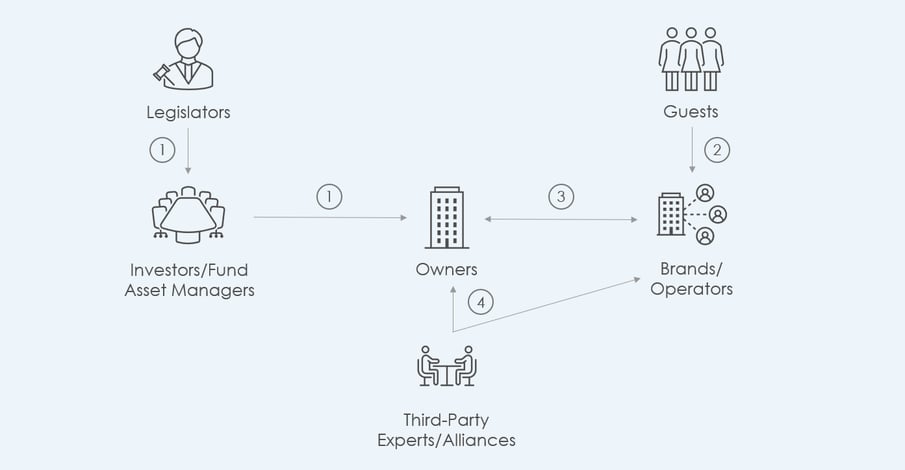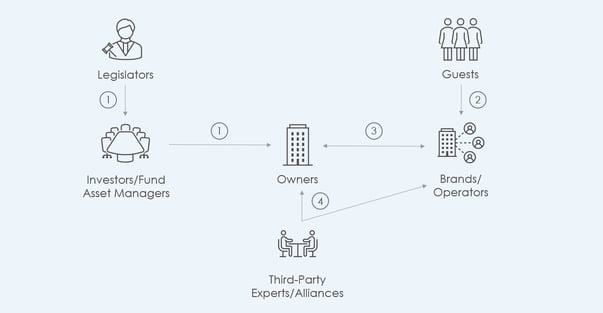 ESG stakeholder map in hotel real estate. Source: Own illustration.
Legislators vs. Hotel Investors/Fund Asset Managers vs. Owners
Collectively, hotel investors, asset managers and owners are the biggest agents of change in executing ESG initiatives across their portfolios to achieve sustainability goals.
Legislators thus need to leverage these players right, by guiding them towards the desired targets with standardized metrics or reporting guidelines, such as through the EU Taxonomy Regulation. Legislations may also enforce players to take action, with one example being the SFDR that requires asset managers to disclose statements on their website, after classifying each of their funds under one of three categories:
Article 6 (do not promote ESG factors or objectives);
Article 8 (promote E or S characteristics, but not as the main objective); or
Article 9 (specifically promote ESG targets as their primary objective)
An estimated EUR 2.5 trillion have already been classified under Articles 8 or 9 – a number that is only set to increase. Public disclosure creates transparency, adopting a 'name-and-shame' tactic to evoke change by indirectly rewarding compliance whilst penalizing non-compliance.
Similarly, investors should begin normalizing the incorporation of ESG metrics into their underwriting and due diligence processes, as it will only be a matter of time before ESG legislation is hit hard. ESG considerations should stem from the very beginning of the acquisition process, in order to better assess an asset's true value and understand how it can be protected against climate transition risks as we increasingly shift towards a decarbonized economy.
Consequently, hotel owners too need to be mindful of such legislation, which will have an indirect influence on the sale of their assets to these investors. To protect the value of their assets, hotel owners thus need to begin actively considering ESG and how it plays out into their exit strategy.
Guests vs. Hotel Brands (vs. Legislators)
As more consumers seek to make socially and environmentally responsible purchases, with some even willing to pay premiums, hotel brands will be further incentivised to meet this demand. However, this is currently hindered by a lack of tools and information transparency.
'Sort by green-ness'
Online travel agents (OTAs) and booking engines have become key intermediaries in the travel sector, improving the accessibility of information and facilitating the decision-making process for travellers. In addition to perhaps their most widely used function, 'sort by price', however, these sites are missing one key filter: sustainability metrics such as BREEAM or LEED certifications, or carbon footprint indicators. Bookdifferent.com is one example of a green OTA that has sought to close this gap by assigning a 'green rating' for each hotel and disclosing their estimated carbon footprint, allowing travellers to make more informed decisions – but such tools have yet to be seen from the major OTAs.
These initiatives could be more effectively enforced through legislations or backed by hotel brands who can encourage the expansion of these initiatives by partnering with green OTAs, or with major OTAs. This would enable travellers to actively make green considerations part of their decision-making process and reward hotels who are able to pull ahead in the race for sustainability.
Standardize green ratings for a greener future
Next, legislators can further enable consumers to make green choices by requiring hotels to be publicly certified for their level of sustainability. After all, even our refrigerators have green check-marks indicating how 'energy-efficient' they are – why not for an industry worth over USD 550 billion?
Such a standardized metric will not only serve as a form of public disclosure for hotels and push them to become more sustainable, but also bring greater clarity and standardization across platforms. The benefits of this are three-fold:
Guests can simply filter for hotels through the number of 'green leaves' that they have;
Hotels will not have to go through separate certifications for each distribution channel that they use; and
Brands will be able to take ownership of the certification process, improve where necessary and build transparency within their portfolio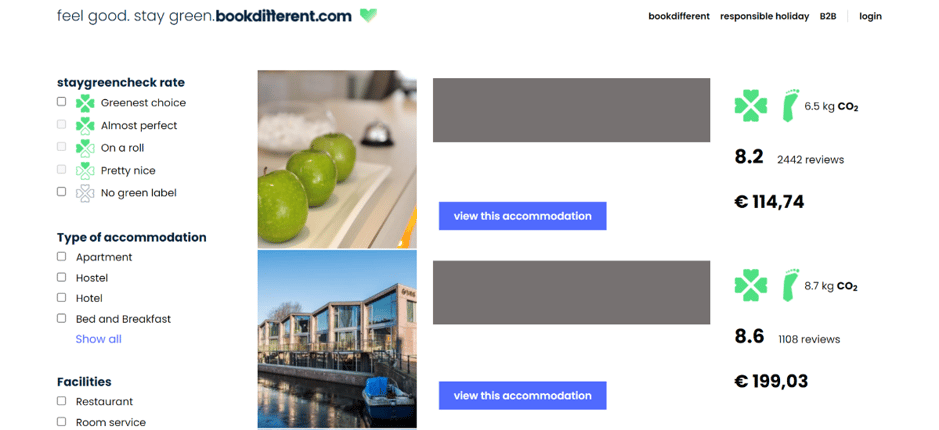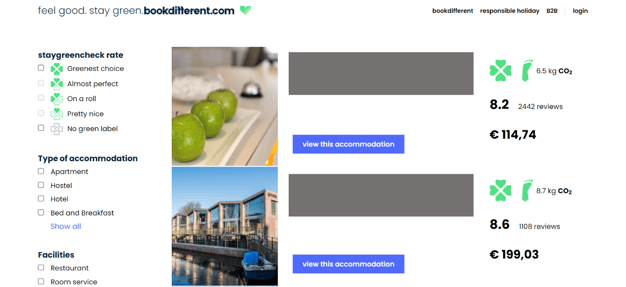 Hotel Owners vs. Hotel Brands
The relationship between a hotel owner and their contracted brand or operator can be likened to a long marriage – the two parties have to work together to make it work, and both must demonstrate their commitment to ESG. However, the big elephant in the room on ESG implementations in hotels remains: who should pay for them?
As outlined in our previous article, ESG plays varying roles at each stage of a hotel's asset lifecycle, and can be beneficial for both the hotel operator (higher revenues and profitability, generating better fees) and the owner (improved cash flows and protection of the asset's long-term value). Therefore, if the benefits will be reaped by both parties and accordingly, the costs too should be shared.
For example, brands may introduce brand standards that require higher CapEx from owners to fulfil certain ESG criteria – while on the other hand, operators may play their part through operational implementations, such as using natural cleaning products or adopting a mindset of 'circularity', whereby resources are repurposed and reused as much as possible before being discarded. Further examples of balancing the costs and commitment towards ESG initiatives are outlined below: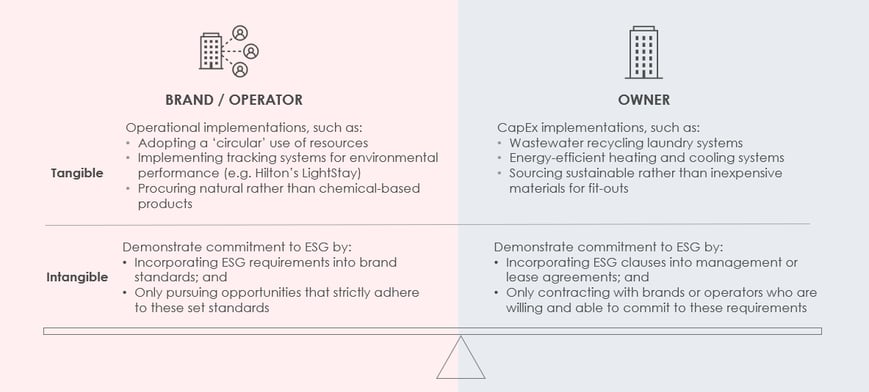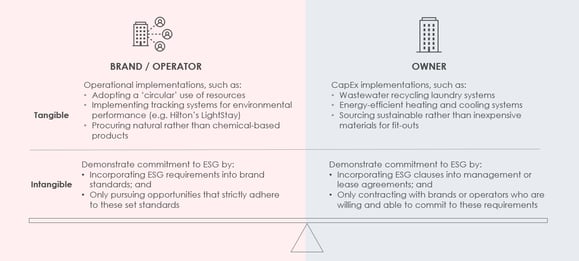 Possible ways to balance the costs and commitment towards ESG implementations. Source: Own illustration
Third-Party Experts and Alliances vs. Hotel Owners and Brands
Third-party ESG experts: Outsource your way into in-depth expertise
ESG is a tough terrain to navigate – but with the right partners and know-how, devising an ESG strategy perhaps isn't as tough as you think. As ESG concerns increasingly come to the fore, there is growing expertise in the field from third-party experts who can assist with, for example:
Crafting long-term ESG strategies
Short-term initiatives such as CapEx plans, in areas like optimizing costs and ESG goals, or applying for ESG grants
When it comes to ESG strategies, ESG standards and regulations are frequently subject to change – so rather than reactively trying to patch the boat when new rules come along, it is essential for hotel owners and brands to leverage the right expertise to create comprehensive long-term strategies that proactively address ESG issues. In that way, changing requirements would be of lesser concern, as such forward-thinking would constantly keep them a step ahead of the game.
Going forward, as expertise in this field expands, a greater consolidation of skills and tools, and the establishment of more 'one-stop-shops' that can cater to your every need will be ever-more valuable for hotel owners and brands in finding the most suitable and efficient partner(s) to help optimize their ESG efforts.
Industry alliances: Teamwork makes the dream work
One key challenge that the sector currently faces is the lack of clarity and standardization of ESG metrics. Therefore, initiatives such as the Cornell Hotel Sustainability Benchmarking Index (CHSB), the hotel industry's largest annual benchmarking of energy, water, and carbon, as well as Energy & Environment Alliance's (EEA) collaboration with BREEAM to create a hotel industry-specific certification, will set important precedents for the way forward. Such initiatives will help players chart their progress, promote their commitment to ESG, and ensure that the industry is continually moving towards ESG goals.
Meanwhile, industry alliances such as the Sustainable Hospitality Alliance (SHA) can also be leveraged in two ways: (1) applying 'peer pressure' on stakeholders, prompting them to participate in contributing to ESG goals; and (2) amplifying results through collaborative efforts like SHA's youth employment program, by pooling resources together and accelerating our progress towards a more sustainable future.
At what cost?
As the cliché goes, 'a chain is only as strong as its weakest link'. ESG is a multi-faceted, multi-step, and multi-player battle that can only be won with a cautiously planned long-term strategy.
It would be easy to take a myopic view and focus on today's costs of implementing ESG. But it is equally important to consider: what is the cost of not implementing ESG? And we're not just talking about the financial costs, but also the environmental and social costs. After all, ESG compliance is not just about protecting the value of our assets – it's also about fulfilling our duty to protect the planet.
Because while the world is currently shovelling its way out of a health crisis, let's not forget that we are still stuck in an even bigger tunnel: a catastrophic climate crisis. Environmental and social sustainability will always be the kind of endeavour that you wish you had started yesterday – but clocks never run backwards, so start today.
(To read more on the role of ESG in hospitality, see our previous article: ESG in Hotel Real Estate: Understanding ESG & the hotel asset lifecycle.)